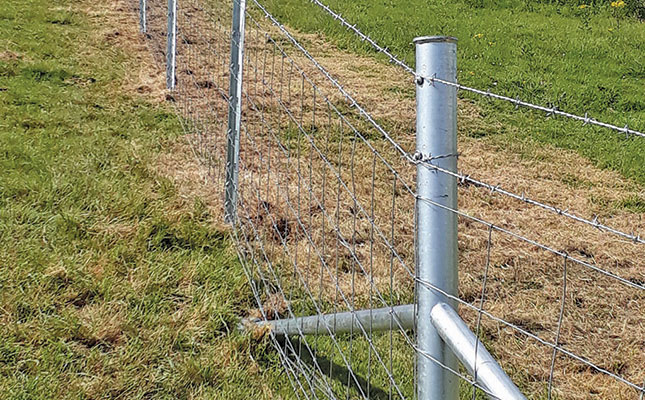 More than 40 000 people and 700 exhibitors, showing the latest farming machinery, equipment and technology, attended the 2020 LAMMA Show, which took place in Birmingham in the UK on 7 and 8 January. Among the displays were the winners of this year's LAMMA Innovation Awards.
The innovation awards, which are open to all exhibitors, take into account design innovation, practical impact on the farming industry, product sustainability, environmental impact, and safety features.
In the category for Livestock Innovation, one of six categories, the McVeigh Parker Triple X fencing system, won gold, while Kuhn's Intellimix feeder wagon transmission garnered silver.
Cost-effective fencing
What appealed most to the LAMMA judges about the Triple X fencing system was the value for money the system offered in relation to its life expectancy.
The fencing is quick and easy to erect, with every wire strand supported by the catch system. Compared with other metal systems, the Triple X features no "fiddly components to break or lose, no stapling is required and ground disturbance is kept to a minimum".
On its website, McVeigh Parker states that the Triple X system offers up to 50% cost savings over its guaranteed 30-year life.
"The Triple X system offers long-term sustainability and can be recycled at the end of its life," the company states.
The system is lightweight, which means a reduction in transport costs to the site and heavy machinery time on site. In addition, installation requires less time, which results in a smaller overall carbon footprint.
Intelligent feed solution
Kuhn's feeder wagon transmission system, Intellimix, is found on many of the company's feed mixer wagons. Thanks to a continuously variable transmission that puts less strain on the PTO and engine of the tractor, it enables smaller, less powerful tractors to operate an auger mixer wagon.
The transmission also reduces the strain on the gearbox and running gear of the wagon, giving farmers the opportunity to upgrade their feed wagon without changing tractors.
According to Kuhn, the system does this by reducing the start-up torque of the tractor even when the mixer wagon is fully loaded.
Other features include a programmable weighing system; front cross conveyor with the option of rear left, right or central distribution doors; and a wide range of additional options to suit any requirements.