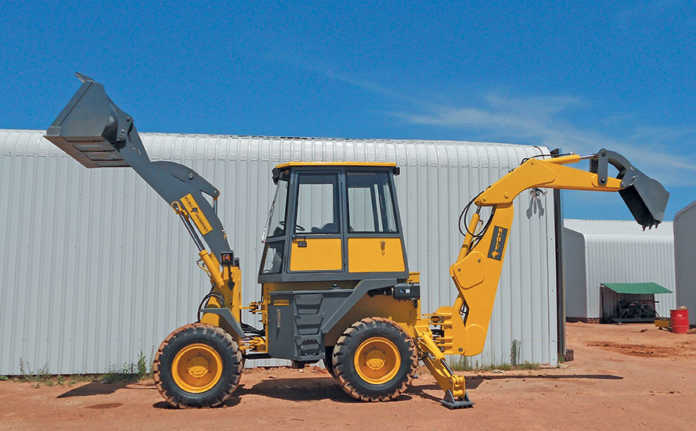 Pretoria-based Wuhlf Equipment started out in 2005 as Qualiprod, and soon established itself as a leading importer of reliable, affordable, heavy-duty equipment.
The company was renamed two years ago and has since ventured into manufacturing.
READ Big winners at Agritechnica 2017
The ZA Skerpioen ('Scorpion') tractor-backhoe-loader (TLB) is built specifically to meet local requirements, and is outstanding value for money when compared with similar imported units. It is available at a special launch price of R520 000 (excluding VAT).
The Skerpioen is powered by a 70kW turbo-diesel engine. The torque converter, gearbox and differential are the same as those in the Wuhlf ZA20 front-end loader.
The four-wheel-drive and articulated design make the TLB highly manoeuvrable; it has an industry-leading turning radius of only 5 800mm.
The loader bucket is 1 900mm wide, its rated load is 2 000kg, and the heaped capacity of the bucket is 1m³. Dump height is 3 250mm, dumping reach is 1 270mm and dump clearance is 2 700mm.
READ Tractors, equipment, machinery at the 2017 Eston Show
The backhoe can dig down to 3 400mm, and maximum reach is 4 500mm. A 500mm-wide bucket is standard, but optional sizes of 300mm to 700mm are available for special operations.
The boom slews 160° and the stabiliser legs fold up for a transport width of 2 260mm. The backhoe folds up compactly, reducing the overhang weight. This greatly improves stability for front-end loading work or driving on the road.
For farming operations, the front-end loader can be fitted with a bale handler or forklift.
In-field support
Wuhlf has sold more than 2 000 units of various types in South Africa. The company provides full backup and support, and its teams operate countrywide.
Joe Spencer is the mechanisation editor of Farmer's Weekly.