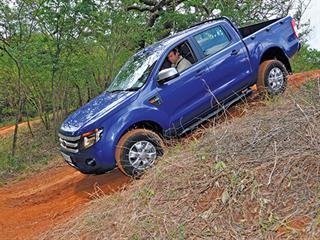 Four-wheel drive vehicles that are essentially converted one-ton pickups have become very popular, especially in double-cab form. They are more expensive than the many soft-roaders that are front- wheel driven but bring the rear wheels into action when wheel-spin occurs. They are also far superior in off-road ability than the latter, and not far behind dedicated 4X4s that feature a permanent four-wheel drive arrangement.
All these pickups feature a selectable choice between high-range 4X2, high-range 4X4 and low-range 4×4. A solid drive between the two axles eliminates the need for a central differential, but makes it undesirable to employ four wheel drive mode on tar or concrete. Drive-train mode selection in the Ranger XLT is by means of a rotating electrical switch. This is convenient, but many people will prefer a manual selection that is inherently more positive and reassuring. The XLT version of the Ranger also has an electrically activated rear differential lock.
Safety features
The Ford Ranger XLT Automatic 4X4 is equipped with most of the active and passive safety items that one can expect in a vehicle costing more than half-a-million rand. Extra electronic systems worth mentioning are hill-start assist, which automatically prevents rolling back when pulling-off on a hill, and trailer sway control, which brakes the vehicle automatically to bring a misbehaving trailer under control.
The maximum power developed by the 3,2-litre five-cylinder turbo-diesel engine is 147 kW at 3 000rpm while maximum torque of 470Nm is in the 1 500rpm to 2 750rpm range. This constant torque delivery is a modern trend, achieved by controlling the boost delivered by the turbo unit. Five-cylinder inline engines have become popular since Mercedes-Benz pioneered the layout in the 1960s. It offers economy, smoothness and cost compromise between a four- and six-cylinder engine.
The claimed Euro-cycle fuel consumption is 9,1 l/100km. The engine has a unique and endearing beat not unlike that of a V8. It pulls strongly through the gears, and the high ratio of 0,691:1 in 6th gear results in the rev counter indicating only 1 600rpm when cruising at 120km/h. This turns the XLT into a relaxing motorway cruiser, at least at up to 120km/h. Above this speed, the wind noise from the huge side-view mirrors grows to an irritating level. The six-speed automatic changes faultlessly and offers a choice between fully automatic and manual selection.
Front suspension is by double wishbone and coils, while the rear axle is suspended on a traditional semi-elliptic leaf spring setup. The ride is good in town, but can get very uncomfortable on a gravel road, partly due to the Conti Cross Contact M+S 265/65 R17 112 T tyres on the alloy wheels. The huge tread blocks must be highly efficient in mud or snow, and I expected them to be noisy at speed, but the hum was pleasantly subdued.

A spacious, comfy cabin
The interior offers above-average space. It is one of the few double-cabs that passes the sit-behind-self test. This entails your adjusting the driver's seat and steering wheel until you feel comfortable, and then getting into the seat behind and evaluating the leg room. Most double cabs, as well as many other vehicles, do not do well in this test, but the Ranger offered me outstanding leg room, in spite of the fact that I'm fairly tall.
The comfortable seats are tastefully covered in leather, and the driver's seat has the usual adjustments. The steering wheel is adjustable for tilt and carries the sound system and cruise-control buttons on the spokes. A medium-size cubby hole and a two-level storage compartment sits between the seats. The rear-view mirror includes an exceptionally clear display from the camera mounted just below the Ford badge on the tailgate.
It appears as soon as you select reverse gear and displays a rearward view bordered by colour-coded lines that delineate the space that you are reversing into. The neat tailgate is lockable, but this only makes sense if a tonneau cover or canopy is fitted. The XLT costs R509 900, carries a four-year 120 000km warranty (five years unlimited for corrosion) and a five-year 90 000km service plan. It offers unlimited roadside assistance for three years and needs servicing every 15 000km.