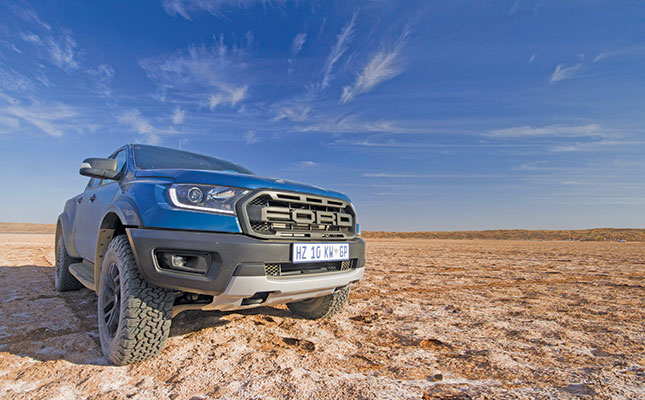 The new Ford Ranger Raptor has been designed to handle extreme off-road driving conditions. This includes desert driving and the roughest of South Africa's rural roads.
It is a vehicle that will, according to Neale Hill, managing director of Ford South Africa and sub-Saharan Africa, "flatter the novice and reward the expert".
The 2,0-litre bi-turbo diesel engine delivers 157kW power at 3 750rpm and maximum torque of 500Nm at 1 500 rpm to 2 000 rpm. Little effort is required from the driver, as the 10-speed automatic transmission does all the work.
Taking the rough and the smooth in its stride
There is barely a shudder in the cabin when the Raptor transitions from tar to dirt, showing off the vehicle's high-speed off-road capability.
The Raptor is fitted with position-sensitive damping shock absorbers designed for it by FOX.
These, according to Ford, provide higher damping forces at extremes to enhance off-road driving, but conversely allow for lower damping in more moderate conditions for a smoother ride on the road.
The Raptor has no shortage of technology on board: it comes with standard driver-assist technology, as well as applications specifically geared towards off-road driving.
The terrain management system includes several drive modes, including the new Baja mode inspired by the conditions encountered in the famous Baja Desert Rally in Mexico.
Catering for even the most daunting off-road challenge, it works by paring back certain vehicle systems, such as traction control, for more spirited off-road driving. At the same time, it optimises gear selection for maximum performance.
In essence, this means that even someone with no dirt-driving experience can travel confidently off-road at speed, while a driver with the necessary know-how can rely on lightning-fast responsiveness from the vehicle.
Front braking is performed by twin-piston front callipers. Ford has also introduced a separate brake actuation master cylinder to the rear brakes for the first time on a Ranger model.
No ordinary farm bakkie
The Raptor has been designed as a sports model that will excel in 4×4 conditions. Inevitably, the sportiness has resulted in a few small sacrifices. These include a lower-than-anticipated maximum towing capacity of 2 500kg (albeit via a heavy-duty tow bar), and a load capacity of less than one ton.
But let's be honest. The Raptor is not your everyday farm workhorse; it's a stylish 4×4 pickup with sporty handling and superior, safe off-road capability.
All Ford Rangers come standard with Ford Protect, comprising a four-year/120 000km comprehensive warranty, three-year/unlimited distance roadside assistance, and five-year/unlimited-kilometres corrosion warranty. A six-year/90 000km service plan, with 15 000km service intervals, is included.
Ford Ranger Raptor
Engine: 2,0-litre twin-turbo diesel
Power: 157kW at 3 750 rpm
Transmission: 10-speed auto
Fuel economy: 8,3ℓ/100km
Visit ford.co.za.