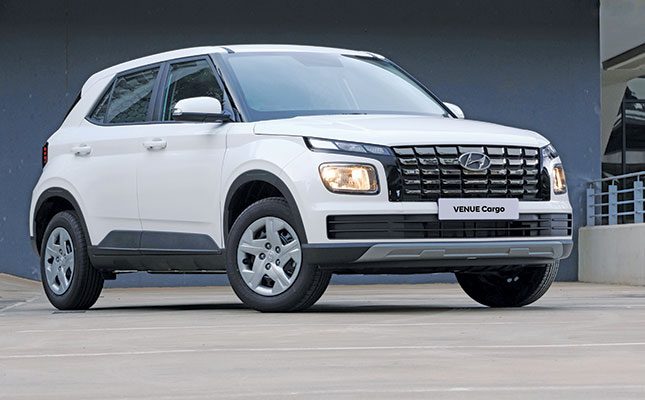 Hyundai launched a refreshed Venue model range in 2022, and the Cargo is based on the entry-level derivative, the Venue 1.2 Motion.
Equipped with 361mm steel wheel rims, the Cargo comes in Polar White. The lower section of the hatch door has been widened to enable easier loading of large items in the rear compartment. The cargo area can be enlarged by removing the rear seat bench, and a steel mesh grille can be fitted behind the front seats for extra security. Smaller grilles are fitted to the rear side window openings and the rear window.
The interior is remarkably spacious: the cargo compartment behind the front seats is 1 200mm long, 1 200mm wide, and 900mm deep. This results in a capacity of 1 296ℓ.
An infotainment system features an eight-inch (203mm) display audio touchscreen system and a rear- view monitor in the front console. The system works with both Apple CarPlay and Android Auto for intuitive operation of smartphone applications, including app-based navigation, a useful feature for a delivery vehicle.
Buyers will also appreciate the USB cell phone charging ports, a Supervision 4,2-inch (107mm) LCD display to show useful information, and Bluetooth hands-free phone operation.
Safety
The Venue Cargo's passive safety features include two front airbags and three-point seatbelts for the driver and passenger.
An anti-lock braking system helps to keep the Cargo under control during sudden stops and in difficult road conditions. It is complemented by electronic brake-force distribution, which balances braking forces at each wheel when the car is dynamically loaded, and brake assist, which provides maximum braking force to the driver during an emergency stop. All these safety features are standard.
Engine and suspension
The naturally aspirated four-cylinder Kappa 1,2-litre MPi petrol engine, delivering 61kW maximum power and 115Nm maximum torque, drives the Venue Cargo through a five-speed manual transmission.
The vehicle has an average fuel consumption of 6,5ℓ/100km, measured in a mix of open-road, highway and city driving.
The Cargo's suspension configuration and tuning create a good compromise between ride comfort and confident vehicle control. The suspension and steering deliver a combination of control and balance, and the vehicle offers decent ground clearance.
MacPherson-type struts with a stabiliser bar and coil springs are used for the front suspension, while a coupled torsion beam axle with coil springs is designed to cope
with a large cargo load and contribute towards secure road-handling.
Warranty
The Hyundai Venue Cargo is priced at R329 900 (VAT inclusive). A VAT-registered business can claim back value-added tax on the purchase.
"Compared with the alternatives available from competitive brands at a similar price, the running cost of a Hyundai Cargo vehicle is very low," says Stanley Anderson, sales and operations director of Hyundai Automotive South Africa.
"Moreover, it is backed by an industry-leading warranty for seven years or 200 000km, which makes a lot of sense considering the high mileage covered daily by such a commercial vehicle."
Service intervals are at 15 000km, or annually when applicable.