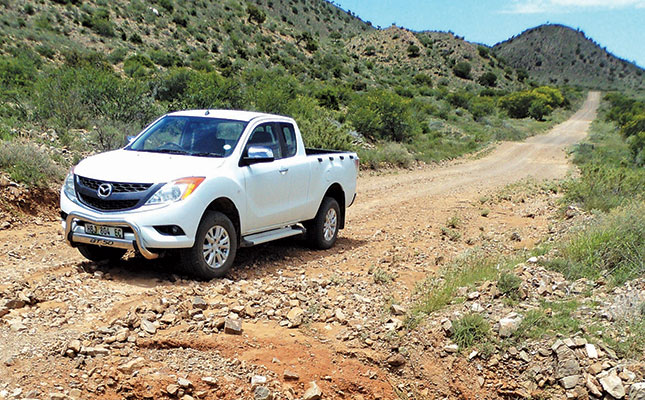 If a dirt road is something you regularly encounter, or potentially encounter en-route to your upcoming holiday destination, then it's best you know exactly what to expect.
First, let's uncover a few myths about your tyres when travelling on a dirt road:
Myth: When you have wide tyres, driving on sandy terrain is easier.
Fact: What really makes driving on sand smoother is reducing your tyre pressure. When your tyre pressure is reduced, its footprint on the road lengthens.
This results in your tyres having the preferred flotation for travelling on sandy dirt roads which makes your driving experience that much easier. Wide tyres, in fact, prevent your tyre's footprint from lengthening.
READ Testing tyres in the wet and dry
Myth: Tyre pressure doesn't matter when driving over rocks
Fact: Similar to sandy roads, reducing your tyre pressure is a good start to driving smoothly on a rocky dirt road. The theory behind this is that when the tyre pressure is reduced, the tyre becomes softer which makes it less susceptible to punctures caused by stones or debris. You'll discover that the tyre traction is also better.
Myth: Investing in your tyres is an unnecessary expense
Fact: If you regularly travel on dirt roads then it's essential that you buy specialised tyres. For instance, mud tyres are perfect for driving through the mud while reducing the risk of damage to your vehicle or tyres.
It's important to note that these tyres are not recommended for use on dry terrain.
READ Is agritourism the answer for your farming business' woes?
There are also certain tyres that are great for driving through sand whilst others aren't, so it's best you choose your tyres wisely and according to the road you're likely to travel on.
Specialised tyres are generally used seasonally or for a specific time-period and it's important not to use them as all-terrain tyres.
Now that you know a bit more about what tyres to use when travelling on dirt roads, here are a few more tips for driving techniques to consider:
Don't speed: Depending on the area you're in, there may be animals roaming around so be prepared to stop when necessary. Dirt roads are also likely to be uneven so it's best that you drive at a low speed until the terrain is levelled and safer.
Increase your following distance: Keep at least a six-second distance from the vehicle in front of you when driving on dirt roads. This reduces the risk of dust clouds which are a common occurrence on these roads and may obscure your and other drivers' vision.
Ensure your headlights are on: Particularly when there is dust, rain and fog, turn the lights on so that other cars can see you.
Take breaks regularly: When driving on a dirt road, visibility is often decreased which adds, even more, pressure on the driver to ensure a safe drive. Take a break to stretch your legs or have a snack to give yourself a break every now and then.
Remember, travelling on dirt roads can have a negative impact on your vehicle. After your drive, make sure you clean the outside of your car immediately as mud and dirt can cause rusting if it's left unattended long enough.
You could also enrol in an advanced driving class if you're a bit nervous about driving on a dirt road, especially at night.
Having car insurance is important so that if you require roadside assistance or need to fix your vehicle, you can drive knowing that you're covered.