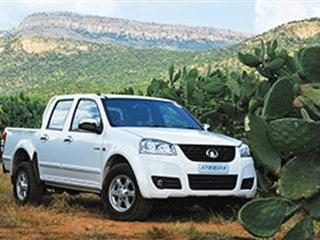 No doubt it's been fairly tough for General Wall Motors to gain a solid foothold in SA's keenly contested bakkie market. However, excellent marketing and bakkies designed for rugged work environments and sensitive bank accounts have seen GWM finally make its mark.
Enter the company's new Steed 5 2.0 litre VGT range of 4×4 and 4×2 double-cab bakkies, which are currently priced under R260 000 each.
Both models are powered by a diesel-fuelled 2l Variable Geometry Turbo, common rail and direct injection 4-cylinder engine, fed by a 70l tank. GWM says this reduced-emissions and quieter engine is capable of generating 110kW of power at 4 000RPM, and 310Nm of torque at 1 800-2 800RPM. A 6-speed manual gearbox gives the driver control of the power – although the gears are sticky.
Off road
While the Steed 5 is no racehorse on the roads, and isn't meant to be, it still provides an effective, responsive and safe means to get from A to B. Only on the steeper and windier climbs will it be necessary to drop down to fourth gear, but for the rest of the time the Steed 5 provides a pleasant on-road experience.
However, it's during slow-speed off-road work where the Steed 5 really surprises – and shines. I was able to play with both the 4×2 and 4×4 models in boggy as well as rocky terrains. While the 4×2 was obviously not quite as capable as its 4×4 counterpart, they both impressed. In fact, I reckon I wouldn't have become stuck in a shallow mud-hole in the 4×2 if the vehicle had been fitted with all-terrain tyres instead of the standard Savero HT Plus 41cm road tyres. On the positive side, these provide a quieter, more fuel-efficient ride, and on the 4×4 still generated great grip.
Both models were able to idle through slippery, muddy and watery swamp grass in 4×2 high range. Over uneven rocky terrain the 4×2 needed more careful driving and rev management than the 4 x 4, but both managed my unofficial local off-road 'trail'.
The only downside is that neither of the models have differential lock to better handle particularly slippery or uneven surfaces. But careful driving should get you out of most difficult spots, especially with the 4×4. A Steed 5 4×4 driver can switch between 4×2 high-range and 4×4 high-range and back at the press of a button at any speed up to 70km/hour. A 5-second stop and the press of another button engages or disengages 4×4 low-range mode.
Inside
Both models have almost identical body construction, with the most significant difference being in the gearbox. Ground clearance is a respectable 198 millimetres. Approach angle is 30º and departure angle 24º. The 4×2's kerb mass is 1,72t, its gross vehicle mass is 2,77t and its gross combination mass is 4,67t. The 4×4's kerb mass is 1,84t, its GVM is 2,89t, and its GCM is 4,77t.
An independent double-wishbone front suspension system and a variable rigidity, unsymmetrical leaf spring rear suspension help carry loads effectively. Be warned, though: without a load the stiff rear suspension allows you to feel almost every imperfection on the road. Fortunately, the Steed 5's comfortable seats take a lot of the edge off.
What I enjoyed about the Steed 5's interior is that it provides a number of creature comforts and safety features without being impractical for often dirty working environments. These include power steering, air-conditioning, leather seats for easy cleaning, dual front airbags, an anti-lock braking system and electronic brakeforce distribution, electric windows, remote central locking, and a CD/MP3 sound system with USB-capable input and steering-mounted audio controls. Other goodies include height-adjustable headlights, front fog lamps, and electric side-view mirrors.
I also appreciated the fact the cabin is uncluttered and easily cleaned. There are, however, still various conveniently situated hidey-holes for bottles, cups, wallets, cellphones, a GPS and other items. Another nice touch is that this vehicle has both a 12V cigarette lighter power-point and a dedicated 12V power-point, meaning that a GPS can be operated and a cellphone charged at the same time.
Conclusion
One gripe concerns the air-conditioner. Running it for an extended period on a long trip resulted in an ice build-up on some component or other under the front passenger side dashboard. At the same time, the air-con lost efficiency, with the air coming out of the vents warmer than it was when the air-conditioner was first turned on and the ice hadn't built up yet.
While I have great admiration for both the 4×2 and 4×4 2.0 l VGT Steed 5s, perhaps the biggest test remaining for this Chinese-made vehicle is that of durability. Nobody wants a vehicle that performs well for the first year but then starts falling apart as a result of the rigours of everyday farm work. Here's hoping GWM's Steed 5 will maintain its early positive impressions over the long-term and become a trusty and respected workhorse on SA's farms.
View the Steed 5 gallery and video.
The GWM Steed 5 2.0 l VGT 4×2 model currently retails for R234 900 (including VAT and Environmental Levy) and the 4×4 for R259 900 (including VAT and Environmental Levy). A new Steed 5 purchase comes with a 3-year/100 000km warranty and a 2-year Roadside Assist service. For further information call 031 100 1000/011 805 6621, or

[email protected]

. Website: www.gwm.co.za.