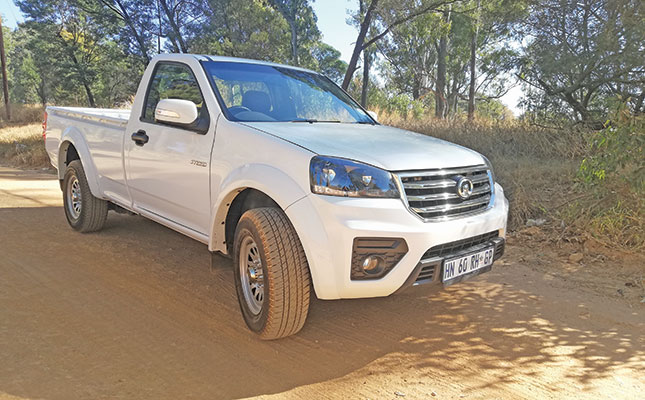 The new Great Wall Motors (GWM) Steed 5 single cab range offers two 4×2 options and one 4×4 option. The road test vehicle was the 2,0- litre turbocharged diesel 4×2, which produces 78kW at 4 000 rpm with a torque of 225Nm at 1 400 rpm to 2 800 rpm.
It may not be the fastest bakkie on the road, but its torque makes it more than capable of pulling heavy loads with ease.
At face value, the Steed 5 may not seem as impressive as some of its rivals. However, once you get behind the wheel, it's a different story.
The quality of the interior is equal to, if not slightly better than, that of other similarly priced bakkies. The cabin has few frills, but it's spacious, and the controls are well laid out and simple to use.
The seats are comfortable, although taller drivers may struggle to find the ideal driving position. Interior features include electric windows with one-touch opening on the driver's side, air-conditioning, a radio with USB port, and power-assisted steering. There are no airbags or ABS/EBD, however.
The load bin does not come with a tonneau cover and is not rubberised; this is offered as an optional extra.
Driving impression
The 235/70/R16 tyres are large enough to contend with most potholes without fuss.
With a 3 050mm wheelbase, a large, double-insulated load bin (5 015mm x 1 800mm x 1 735mm) and a 1t carrying capacity, the bakkie offers ample space for big loads, especially when combined with the torque.
Like many a workhorse, the Steed 5 is equipped with leaf springs in the rear, giving the unladen bakkie a bumpy ride. But the bucket seats help to smooth out this vibration, and the interior is relatively quiet, with minimal wind noise entering the cabin.
Even at faster speeds, the Steed 5 felt stable on dirt roads.
Value for money
At a highly competitive price, the Steed 5 single cab should draw the attention of any farmer in the market for a new bakkie. In short, this vehicle is a good option if you're on a tight budget and need a reliable, hard-working vehicle.
The Steed 5 comes with a three-year/100 000km warranty and two years' unlimited-kilometre roadside assistance as standard.
Steed 5 Single Cab 2,0-Litre WGT 4X2
Engine: 2,0-litre turbo diesel
Power: 78kW at 4 000 rpm
Transmission: five-speed manual
Fuel economy: 8,1ℓ/100km
Recommended retail price R189 900. Steed 5 single cab range starts at R159 900.
Visit gwm.co.za