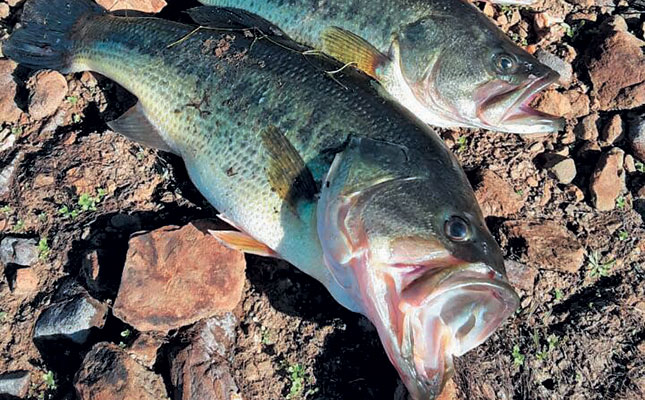 One of the best-known fish species in Southern Africa is the bass. Present in farm or state dams across the country, this popular sport angling fish originated in North America.
Largemouth bass (Micropterus salmoides) were introduced to South Africa in 1928, followed by smallmouth bass (M. dolomieu) in 1937, and spotted bass (M. punctulatus) some years later.
The former two species, especially the largemouth, have become widespread, whereas the spotted bass has either largely disappeared or hybridised (apparently) with the largemouth in certain areas such as the Eastern Cape.
Which is which?
Identifying bass is easy. The largemouth has a bucket-sized mouth extending to behind the maxillary bone at the side of the fish's head. There are two strains of largemouth: Northern and Florida, with the latter growing somewhat larger.
The smallmouth has a smaller mouth, and a much more deeply divided dorsal fin.
The spotted bass has a dark, blotched lateral line marking, and numerous dark spots on the fish's upper flanks.
All bass can survive a wide range of water temperatures, from above freezing to well into the low thirties. Due to this tolerance, they have established themselves in many water bodies on the Highveld that are too cold for tropical indigenous species, such as the blue kurper (Oreochromis mossambicus).
While the largemouth bass prefers still water such as impoundments or large pools, the smallmouth is usually found in rocky habitats in the flowing sections of rivers, where they feed on crabs and other live organisms.
Because of their predatory nature, bass, along with changing land use, spread of alien vegetation, catchment degradation, pesticide use, and water extraction, can contribute to the gradual elimination of some indigenous fish species.
But although bass are present in all the Kruger National Park feeder streams, they have failed to gain a substantial foothold in park waters, or indeed in any similar, natural tropical ecosystems within South Africa.
Downstream of South Africa, bass are also largely absent in Mozambique rivers and have not succeeded in colonising Lake Kariba in Zimbabwe, despite being abundant in the upper catchment.
Bass in aquaculture
The fish is highly palatable, as most anglers will tell you, with clean, boneless, white flesh. Bass can be bred easily enough, but are difficult to feed on dry pellets, unlike trout, which readily adapt to artificial feeding.
Some years ago, I bred millions of Tilapia rendalli fry and fingerlings in small green-water ponds, and fed these daily to my bass (also housed in small ponds), which grew rapidly on this diet.
There is undoubtedly potential here for commercial production.
If you are interested in bass aquaculture, please contact me at [email protected]. Subject line: Aquaculture.
Nicholas James is an ichthyologist and hatchery owner.