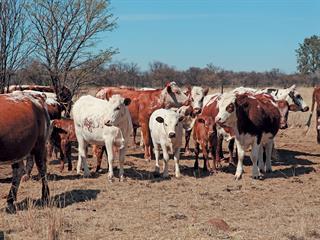 Emile Kotzé, who farms on Oudedorp near Potchefstroom in North West, has bred Simmentaler stud animals for nearly half a century.
For the last 10 years, however, his focus has been on an unusual project: crossbreeding his Simmentalers and Ngunis with a rare European breed, the Pustertaler. His journey is by no means over, but he is satisfied with his progress thus far.
For Emile, the story began when he heard of an SA Simmentaler Society project to save the nearly extinct Pustertaler breed.
The breed originated in the 18th century in the southern Tyrol region of Austria, an area that now forms part of Italy, and is a cross of the Eringer breed and the local spotted red cattle.
Following a plea by European breeders to breed societies worldwide to help save the Pustertaler, the SA Simmentaler Society, after noting similar traits between the Pustertaler and Nguni, decided to implement a breeding programme that crossed Nguni cows with imported Pustertaler semen to ultimately breed a pure Pustertaler. A handful of farmers became involved in the project.
Pustertaler genetics have also been successfully used in South Africa in crosses with the Nguni to develop the Supertaler.
Emile bought Pustertaler semen in the early 2000s when the project started, but decided to follow his own approach and cross some of his Simmentaler stud cows with the Pustertaler.
Background
Emile received an agriculture degree from Stellenbosch University, and subsequently completed an MSc (Agric) and PhD (Agric) at the University of Pretoria.
He went on to work at the department of agriculture following his studies. In 1968, he relocated to Germany with his wife, Bettie, where he worked at a cattle research station and later at an artificial insemination (AI) station for a year.
In 1983 he returned to Germany to attend a course in embryo transplants at the University of Munich, which taught him the skills to carry out the procedure in his own herd.
On his return to South Africa, Emile imported five Simmentaler cows from Germany to establish his own herd, and later imported 47 heifers and cows. Today, he keeps only a small nucleus herd of 50 Simmentaler breeding stock.
The beginning of the Pustertaler project
Emile recalls how he decided to take the extra step of crossing Pustertalers not only with Ngunis, but with Simmentalers.
"When I was still working with Bonsmara/Simmentaler crosses, I realised a difference in the results when mating Bonsmara bulls with Simmentaler cows, as opposed to Simmentaler bulls with Bonsmara cows. The first combination outscored the latter."
He now aims to produce a hardy, veld-reared animal with good meat and milk production. It must be functional in terms of conformity and calve easily. He prefers red spotted animals, but stipulates that colour and phenotype are secondary to the genotypic production characteristics.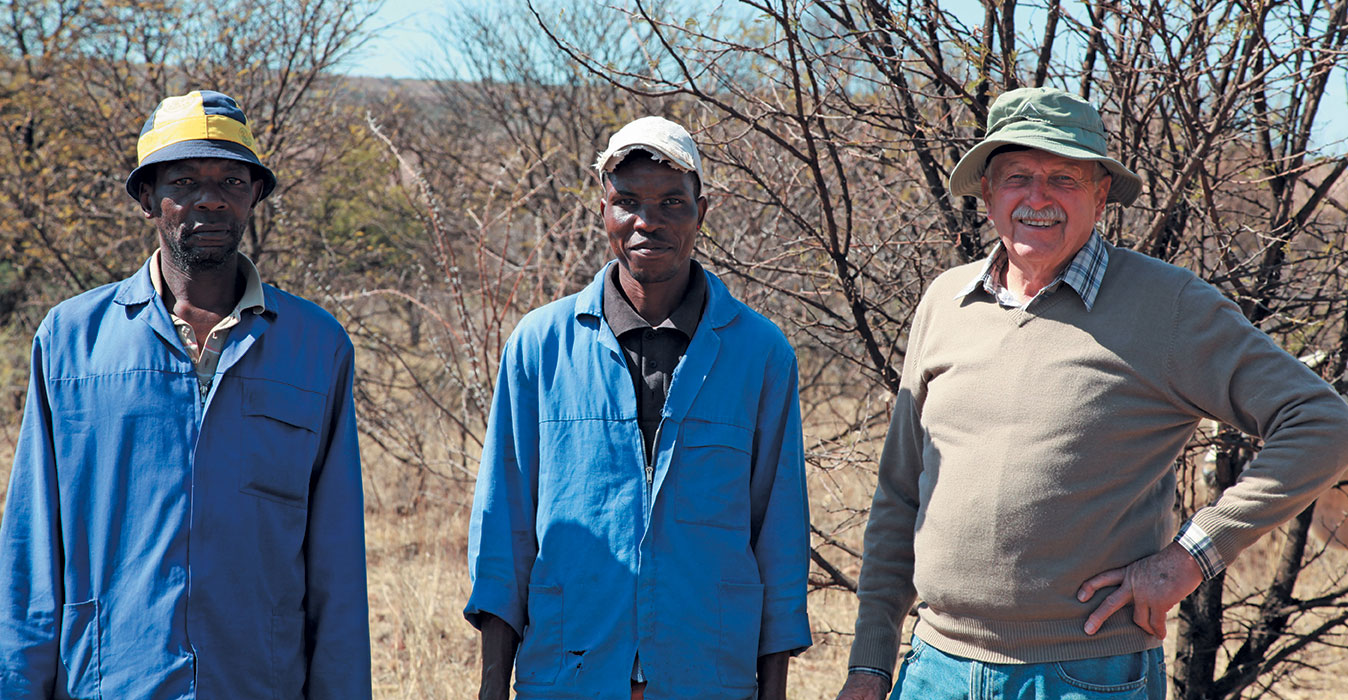 To begin, Emile used imported semen from the Pustertaler stud bulls Frik and Ozo, crossing them with several Simmentaler cows as his base. He then bred these crosses with three Nguni stud bulls – Thabo (4 NG 3317), Nick (NI 99 423) and Skopgraaf (JLS 9785). Nick and Skopgraaf were from the Thabaphaswa Stud owned by Deon Richter.
Two bulls from Nick's progeny were then selected, including Kalipe, which Emile uses today. Kalipe's dam was a Pustertaler x Simmentaler cow.
"I already have F2 offspring and will do line-breeding with them. My main aim is not to do much inbreeding. I won't establish a breed, but at least I'll establish a type," Emile says.
Combining the F2 daughters with F2 sons means that Emile will have an array of genes and phenotypes. However, he will attempt to establish a type through selection, with Kalipe's colour and phenotype as the base. He admits that this part of the process will be tricky.
"While overseas, I learnt that the Germans value selection for production characteristics higher than for the conformation of the animal. This is probably due to the way they farm livestock. At university in South Africa, I learnt more about live breeding and some inbreeding as tools to form a new breed. My goal is to achieve phenotypic uniformity."
He says that many breeders still follow this.
"The Germans believe in outbreeding to enhance the production ability of their animals. This is performed by crossing different bull lines and cow families. In essence, we're inclined to emphasise exterior uniformity higher than a genetic makeup for the best production criteria," he adds.
Phenotypically, Emile aims to follow Kalipe's appearance, with good meat production, growth, small birth weights, high fertility and good milk production. These will take priority over colour.
The current crosses have, in many cases, produced white calves. This is not Emile's plan, but the red colour can always
Be introduced later by using the dark red colour of the Pustertaler.
According to Emile, both the Pustertaler and Supertaler are hardier than the Simmentaler. However, he warns against underestimating the latter, as centuries of grazing the Alps at high altitude means that the hardy animals were naturally selected.
He says that his years of working in German AI stations shaped his approach to breeding.
"Where cousins may be mated with line-breeding or inbreeding, the Germans saw the need for more genetic distance. They wanted heterozygosity, which is when two unrelated animals are mated and an 'explosion' of good traits takes place. This is similar to breeding maize, where two unrelated cultivars are bred, and results in strong offspring.
"However, using the hybrid offspring to breed may result in low quality. With heterozygosity, one achieves an increase in milk, fertility and meat production. But as soon as you have an F2, you achieve enormous variety in both good and bad traits. This is where selection is critical; you have to combine the best with the best," he says.
Emile stresses that at some point, new genetics may have to be introduced.
"If I see no improvement, I'll bring in new genetics. For example, with an F1, you expect a 15% improvement in meat production. When using two well-selected F2 animals, you may have a slight improvement. This may not always last, but at least I would have moved from zero to a 15% increase in production. Essentially, I would try to maintain the improvement and consolidate it. But if I realise that I'd moved backwards, I'd bring in new genetics."
Emile has no plan to establish a new breed. But since starting this project, he is close to accepting the norms for establishing a breed.
"In the US, the F3 is accepted. Locally, the F5 used to be accepted, but now the F4 is. Although I'm at F2, my selection for improvement is slow as I have a small herd. To establish a good selection basis, you need at least 400 cows to select from," he says.
Improvement
Emile uses his Simmentaler stud as a yardstick to assess the improvement of his crossbreeds. "They may not yet be genetically equal, but I'm satisfied with their performance. I'm achieving satisfactory weaning weights."
His first crosses showed significant improvement in meat and conformation.
The next crosses, in some cases, brought more of the Nguni type to light.
"Meat traits are more heritable than milk, for example. In choosing for traits, I focus more on difficult heritable traits.
"My line-breeding is a combination of animals that are more closely related to each other than one usually has between breeds. I take the half-siblings' progeny and mate them. I'm trying to establish Kalipe's colour. But if a white animal gives good milk and growth, I don't cull it because of its colour," he says.
Experience has taught him to select for conformation characteristics that some did not initially find ideal.
"At university, we were taught to select for a flat rump because it looked better. We now prefer a sloping rump. Here, you see a bent ankle and hocks, which is an indication that the birth canal is bigger. I've observed in the wild that animals have bent hocks and ankles, and sloping rumps.
This is a result of years of natural selection for an open birth canal that leads to calving ease. It improves the functionality of the cow," he says.
Phone Emile Kotzé on 082 926 1110.