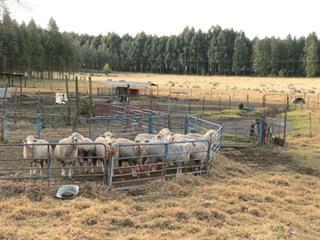 A trip to Linton Farm in the KwaZulu-Natal Midlands is guaranteed to provide visitors with an awe-inspiring insight into just how enthusiastic and effective well-trained sheepdogs are in controlling livestock.
Responding to a series of spoken and whistle commands from the handler, these dogs alternate between zigzagging across a field at lightning speeds and then suddenly slowing down to guide a sheep flock in the desired direction. Most remarkable is the absolute concentration of these dogs – their eyes don't waver from the sheep flock.
Sisters Ragni and Ingrid run a 200 ewe and 30 to 50 follower Dohne Merino flock on 22ha rainfed kikuyu pasture on Linton Farm they lease near Mooi River in KwaZulu-Natal. They produce wool and sell it to BKB, and lambs they sell to local feedlots.
Handy helpers
Ragni and Ingrid run all aspects of their sheep enterprise alone with the help of their Border Collies.
Ragni has nine Border Collies, of which one is retired and another is a pup soon to start training. The remaining seven dogs are all in various stages of working competency and take turns at being worked and trained.
Ingrid works with one Border Collie that was trained by Ragni.The sisters' experience with Border Collies as working dogs began in the mid-1980s. They grew up on a farm in the Mooi River area. In the early 1970s Ragni married the late Izak Pretorius who farmed crops and livestock in nearby Middelrus. In the mid-1970s Ingrid took over their father, the late Theo's, pig farm near Mooi River. It was during the mid-1980s that Ragni bought her first Border Collie, Tass, to help ease her workload in Izak's sheep and dairy enterprise.
"Izak managed the crops and I managed the sheep and dairy enterprises, and I often lost out to him on labour allocation," laughs Ragni. "So I decided to get a working dog to help me. Tass was untrained, so I researched training methods and joined the Natal Sheepdog Society. Between my own trial-and-error training methods, and attending the society's training days, I managed to turn Tass into an efficient worker."
Ragni admits that the lessons ran both ways between Tass and herself, because Tass' instinctive working ability gave Ragni a meaningful insight into the capabilities of the Border Collie breed. Ragni used these insights to tap into the full potential of her many future working Border Collies. Over the years since she first trained Tass, Ragni has become a well-known and respected Border Collie trainer and handler.
In addition to training and working her own dogs, she shares her knowledge by teaching other handlers and their dogs. Ingrid has learned a lot from her sister over the years. In 2003 Ragni trained Ingrid and her dog Spy to work the sheep flock that they were developing. Ingrid and Spy's skills would be especially necessary when Ragni was away from the farm for more than a day. However, most often they can be seen with their dogs working the sheep together.
Ragni says, "All seven of my working dogs participate in sheepdog trials around the country. There are four classes in these trials – Beginner, Junior, Senior and Top Dog. To progress to the next class, a dog must meet the minimum scores of its current class. I have 1 Junior, 2 Seniors and 4 Top Dogs. Spy is qualified up to Seniors but she now only does farm work with Ingrid."
A day in the life of…
A typical working day begins with the sisters and their dogs sending the dry ewes, two groups of ewes with lambs at foot and the replacement ewes out to their own camps. To minimise the risk of stock theft and loss due to predation, all sheep are kraaled at night near the homestead. So in the late afternoon the dogs bring the sheep back from their grazing camps.
"During lambing season we also go out at least three to four times a day with a dog at heel to inspect the sheep. If a particular sheep needs attention, the dog is there to block the animal for us to catch or drive back home," explains Ingrid. "We also use the dogs to herd a particular group of sheep into the crush for dosing, vaccinating and hoof trimming. It's been said that a good handler with a well-trained sheepdog can do the work of three to four people."
When exposed to sheep for the first few times, many young Border Collies might fly in and nip, chase or scatter the sheep as these youngsters are simply following their hunting instincts. Ingrid adds that it's as if their instincts are telling them to do something with the sheep, but the dogs don't yet exactly know what this is.
Contact the South African Sheepdog Association on 017 735 1844 or visit www.sasda.za.net.