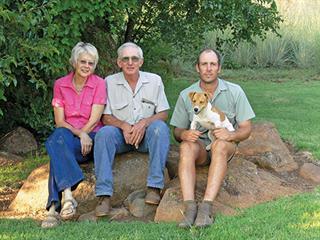 Four decades ago, Johan Geldenhuys joined his father Johannes in running a Red Poll herd on the farm Uitvlugt in the Belfast district of the then Transvaal. Although highly fertile and with excellent milk production, this dual-purpose British breed did not have what was needed to boost the beef component of the Geldenhuys enterprise.
Then, in 1976, they bought their first Bonsmara bull – from Louwtjie and Frik du Toit – and it sired such impressive calves that no bull other than a Bonsmara would ever set foot on Uitvlugt or the Geldenhuys' other farm, Spitskop, again.  Bonsmara cows bought from Ivy and Timal Bonsmaras, as well as bulls from John Liechti, Paula van Deventer, Johan Breugem, Dr Okkie Ehlers of Ehlerskroon, Dr Tom Boshoff, and Les Schultze of Bronrich, laid the foundation for the Geldenhuys Familie Trust Bonsmara stud, registered in 1986.
Today, 28 years later, the operation, headed by Johan, his wife Annette and son Michiel, continues to go from strength to strength on portions of Spitskop and the adjoining farm, Klipfontein, in the upper reaches of the Steelpoort River. Neither easy nor forgiving cattle country, the broken terrain and mixed sourveld forage make for a strong environmental selection to weed out the slightest bovine weakness. The outcome of this sustained selection pressure is a stud herd and commercial herd of hardy, fertile and highly productive medium-framed Bonsmaras, running together on the same veld camps under the same management regime.
The Geldenhuys Bonsmara herd numbers 300 breeding cows and 85 replacement heifers, served by around 12 sires.
Of this herd, about  270 are registered Bonsmara and 30 are commercial females. Approximately 92% of mating is by natural service in single-sire breeding herds at a ratio of 35 cows per bull. Heifers and cows are mated in slightly staggered seasons: heifers from 1 November to 30 January and cows from 1 December to 28 February.
Dr Neil Fourie conducts pregnancy tests by rectal palpation on heifers in March and on cows in May. Any animal that is not pregnant is slaughtered. "Our basic approach in selecting for fertility is firstly to use a short breeding season, with the first to calve generally being the most fertile animals," Johan explains.
Cows calve in a number of small vlei camps below the homestead, where they are more easily supervised. To strategically introduce new genetic lines to the herd, Johan and Michiel artificially inseminate selected cows with selected semen. Michiel explains that this is the most economically efficient way to introduce appropriate genetics. They buy semen shares in carefully selected bulls, including those from Les Schulze of Ohrigstad.

Cows and their calves in a vlei camp. In addition to the numbering system, a green ear tag denotes a calf born in 2013 and a white tag identifies a 2014 calf.
After unsuccessful attempts at heat synchronisation, they now use the observation method, spotting cows coming on heat and inseminating twice a day. Although more time-consuming, this approach yields excellent results and a conception rate of 60%, averaging a single straw of semen per calf produced. Bulls serve those cows not conceiving through AI, achieving a 90% conception rate.
Precise record-keeping
As required by the Bonsmara Society, the stud keeps individual records of each calf, linked to its identity number, from birth to when it leaves the farm. In the case of heifer calves, these are birth date, birth weight, 205-day corrected weaning weight, 365-day weight, 540-day weight, dates of calving as well as weights at calving, weight at weaning, and cow:calf weight ratio at weaning.
In the case of bull calves, these are birth date, birth weight, 205-day corrected weaning weight, 365- day weight and 540-day weight, as well as Phase D test data, ADG and ADA data where applicable. Calves are tattooed and ear-tagged for identification soon after birth. The ear tags carry the year of birth and accession number. Different colours enable the year of birth to be identified from a distance.
After weaning, each calf is branded on the left buttock, as required by legislation.
Since its establishment, the Geldenhuys stud has participated in the National Beef Cattle Performance Testing Scheme. It submits phase D test data on between 37% and 40% of the bull crop, but does not submit bulls for Phase C testing.

Performance: 2003 to 2013
The record illustrating progress in the stud since 2003 speaks for itself. The average (205-day corrected) weaning weight of heifers has increased from 180kg to 222kg and that of bulls from 210kg to 237kg. The 365-day weight of heifers has increased from 207kg to 225kg, and that of bulls from 215kg to 245kg. Average birth weight has remained unchanged.
The average inter-calving period (ICP) of the cow herd has decreased from 411 days to 381 days.
Using the number of females mated as a basis of comparison, the crucial performance figures have improved dramatically. The conception rate has improved from 85% to 93%, and the calving rate has improved from 83% to
91%. The weaning rate has improved from 80% to 87%.
Calf survival from birth to weaning has improved from 85% to 95%, which means that of every 100 calves born, 85 and 95 respectively were weaned. The average age at first calving for heifers is 34 months. An average of 98% of calves are born alive, while 2% of births in heifers have to be assisted. But a low rate is not necessarily a reason for culling, explains Johan.
The data demonstrates the long-term success of their selection. Some seasons yield exceptional figures. For example, during the below-average 2011/12 rainy season, the cow herd achieved a conception rate of 97,3% and weaning rate of 92%. First-calving cows weaned their bull calves at 268kg – an astonishing 56% of their own weight – and heifer calves at 253kg, or 53% of their own weight. The longer term (last five years) average weaning weight of 237kg for bull calves and 222kg for heifers is remarkable in this sour and unpalatable highveld grassveld environment.
Over these five years, the ICP averaged 381 days. Birth weight averaged 34kg (heifers) and 36kg (bull calves). The weight of cows at calving averaged 448kg and their weight at weaning 474kg. The calf:cow weight ratio at weaning averaged 48,4%. The average reproduction index for all the cows in the herd averaged 103.
Obstacles to sustainable farming on spitskop

Crime: The combination of the nearby Siyathuthuka township and a high unemployment rate increasingly exposes local commercial farmers to crime. On one particular night in 2011, an entire heavy-duty holding pen and handling facility for more than 200 cattle were stolen. This consisted of a crush, passage, neck clamp, loading ramp and gates – constructed from 40mm diameter, thick-walled steel pipe with the uprights set in concrete.
In a well-planned operation, an unidentified gang had entered the farm in a truck and carrying tools, including an oxyacetylene cutting torch to cut through the upright poles just above ground level. By daybreak, all that remained were tracks and the stumps where the uprights had been. Johan and Michiel estimate the weight of the material stolen to be about 10t and the cost to replace the infrastructure to be R50 000. The culprits remain unidentified to this day.
Although less localised and on a smaller scale, the ongoing theft of fencing wire and droppers is equally serious. Fence patrols have to repair or replace the damage continually. Geldenhuys Bonsmaras loses an average of three animals annually to stock theft. Most are singletons stolen for slaughter, but occasionally more animals are stolen in planned operations.The recovery rate over a four-year period is 10%.

Honey locust (Gleditsia triacanthos). This leguminous tree, native to North America, provides valuable browse.
A noteworthy exception, fortunately with a happy outcome, was the theft of the superb Bonsmara bull GJS 07 072, recently bought from Mazel Bonsmaras.Offloaded in a paddock near the homestead one afternoon in January, it was found to be missing the next morning.
Later that day, Daan Smit from Badenhorst Auctioneers phoned the Geldenhuyses asking if they were missing a bull. He had seen one in the Belfast township and realised that it must have been stolen. Michiel went to the township, identified the bull, and brought it back.
Fortunately it had not been slaughtered as the thieves most likely realised that it was worth more than its meat value and wanted to sell it as a breeding bull. Despite a good relationship and co-operation with the local stock theft unit stationed in Middelburg, the thieves have not been identified.
Problem animals: The rugged, broken terrain favours wildlife, including problem species such as black-backed jackal, caracal, brown hyena, bush pig and the occasional leopard. Predation loss is mostly to young calves or calves being born. Between three and five are killed by jackal annually. In 2002, a wandering brown hyena killed 10 calves.Although the aardvark is a valuable ally in keeping harvester termites in check, its burrows can be a hazard to young calves that fall into them and to older cattle that step into them and break a leg. In the last 10 years, one calf has been lost and four rescued.
Physical infrastructure and services
As in many farming areas elsewhere in the country, the road to Belfast is poor and often practically impassable to large cattle trucks. The farm has Eskom power but no Telkom service. However, the family uses cellphones and there is Internet connectivity.
Herd health: Redwater is the most serious cattle disease in the area. Calves are inoculated with redwater blood from the age of three weeks. Although an expensive process, it is economically justifiable.
Mining's legacy: Over the decades, mining in the area has resulted in water and dust pollution, rendering many thousands of hectares of land unfit for animal or plant production. Although Johan was fortunate enough to continue farming, he says his brother Piet lost his farm and livelihood to mining activities.
Phone Johan or Michiel Geldenhuys on 082 324 9633 or email [email protected].