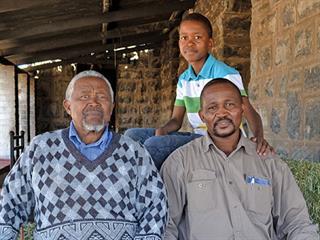 One's own father is probably the best mentor in the world. However, not everybody is blessed with a caring father who has enough knowledge to help his children succeed. Freddie Bonga, the Northern Cape finalist in the DAFF ARC Emerging Beef Farmer of the Year award, considers himself lucky to have a father with hands-on farming experience to mentor him. Freddie farms on Nooitgedacht, a 2 650ha block of leased state land about 40km south of Reivilo in the Northern Cape. "I would like to buy this farm, as I love the land," he says. "This is, however, impractical, as land is just too expensive."
He runs 40 breeding Nguni cows and 106 breeding Bonsmara cows. As he doesn't consider himself successful enough yet, Freddie doesn't call himself a commercial farmer. He hopes to be there within five years, and that his son, Sakhu (12), will join the farming enterprise within 10 years. Sakhu currently attends school at Reivilo High School.
Building a legacy
"I am building this farm – our legacy – for my children," he explains. "My father and I have worked very hard and we hope our children, and their children, will reap the benefits." The Bongas are proud of their Xhosa ancestry and their roots are firmly planted in cattle farming. For this reason, Freddie doesn't regard himself merely as a farmer – he is a cattle farmer.
Father as mentor
"A pool of knowledge." This is how Freddie describes his father, Simon. At 75, Simon might live in Kimberley, but he lives for the farm. Simon was born on a farm near Makwassie (now in North West) where his father was a farm worker. When he turned 11, Simon also started working on the farm, which was later taken over by the owner's son, Bertus Rademeyer. The two have been friends since childhood, and are still close today. "We might say what we want about the old (apartheid) days, but I am thankful for the Rademeyers," Simon says. "They taught me skills that I can now plough back into my children."
In 1970, Bertus bought the farm, Helena, near Dundee in KwaZulu-Natal. Simon moved to the farm with the Rademeyers and this is where Freddie was born in 1974. The Bongas moved to the Northern Cape in 1980 when the Rademeyers bought a farm between Kimberley and Douglas. After the farm was sold, the Rademeyers moved to a smallholding near Bloemfontein, where Freddie learned to drive a tractor at the age of nine, before he could even drive a bakkie.
When Bertus decided to sell this property, he asked Simon where he wanted to live. Simon said Kimberley and that is how the family came to settle in the Northern Cape. Simon was then employed on the farm, Platfontein, near Kimberley.
Turning point
This was a turning point in Freddie's life. When helping his father on the farm on Saturdays, Simon would tell him about their family's cattle herding heritage. "He also told me about his dream for the family." When Freddie was in former standard eight, the Bonga household was shaken when Simon lost his job on the farm. "Although I was a child, I can still remember the tense atmosphere in the household," Freddie recalls. Simon used his R1 500 severance payment to buy sheep which he then resold in the township. "This business turned into the foundation on which our cattle farm would be built in the future," he says.
Freddie markets his weaners at seven months. 'This is a harsh environment,
so it is crucial to time the selling of animals perfectly.'
The value of education
Although Simon remains illiterate to this day, he taught his family the value of education. The money earned from sheep sales helped Freddie obtain a diploma in business practice at Pretoria Technikon (now Tshwane University of Technology). Two of his sisters are teachers, one is an office manager, the fourth is a radiographer, and his brother is a police officer.
Business basics
After receiving his diploma in 1988, Freddie started working as a line manager in a textile factory in Hammanskraal. A few months later, Simon suffered a heart attack and Freddie went home to look after the family business. Simon taught Freddie the ropes of the auction business. "My dad told me I had two months to learn everything about auctions," he recalls. At first he was daunted by the prospect, but soon got the hang of it.
Simon then gave Freddie 10 Bonsmara-type heifers and a bull that became the basis of his herd. The herd was initially kept in a camp on land leased from the municipality at the Vaalharts Irrigation Scheme near Jan Kempdorp. "It was only 150ha and I would drive from Kimberley every week to visit my animals," Freddie recalls. "Since then, every spare cent has been ploughed back into the farming business."
Later the opportunity arose to lease land near Nooitgedacht and Freddie grabbed it with both hands. At that time he had 60 breeding cows. The economy had changed and it no longer made sense to buy and resell sheep in the township. Freddie decided to focus all his attention on his first love – cattle farming – and moved with his family to the Nooitgedacht farm in 2007.
"It has taken time to build the farm to where it is today," Simon says. "The problem with today's youngsters is that they want instant gratification. You will suffer before you have money. Don't lose hope. If you keep on herding cattle it will eventually pay off."
Building a better herd
Freddie joined the ARC's Kaonafatso ya Dikgomo programme after attending an ARC workshop about two years ago.
According to Freddie, the programme has taught him the value of animal recording. By measuring animal performance, he has started to eliminate poor genetics from his herd, but admits that he will need years to rectify some of the mistakes made in the early days when he simply wanted to increase numbers.
"I still need to learn a lot. A farmer never stops learning," he adds. His land consists mainly of sweet grass. "Veld management is a very sensitive practice. We have had drought for two years and the veld is still recovering. I supply a protein lick in winter and phosphorus lick in summer."
The ARC programme
has been especially helpful in selecting breeding animals, and weighing them before and after weaning, he says. Currently, 76% of all Freddie's cows and heifers mated have calves and, he says, less than 1% of calves die before weaning. "We don't put heifers with bulls too early, as this leads to the next season being skipped," he stresses. "A heifer must weigh at least 300kg before mating for the first time."
No second chance
The herd's current intercalving period (ICP) is 425 days and Freddie is working with the ARC to decrease it. Heifers that don't conceive at first might get a second chance but Freddie doesn't allow this in his cows. "She cannot eat grass for 12 months to
14 months without producing anything. The only time I might have sympathy is when the veld is poor." Freddie says he doesn't have a scale on the farm yet, but there are plans in place for the local government department to install scales in
different areas on the farm within the next two months. "The farm does have a neck clamp to enable us to work on the cattle," he says.
Freddie keeps meticulous records of all aspects of the farm, including calving dates, weaning dates and weights, as well as heifer weight at 12 months and 24 months. Following a few incidents of stock theft, Freddie is now serious about branding his cattle. At birth all calves receive a tattoo and at eight months a brand. The animals are only branded at this age because weaners that are not retained on the farm, would have been sold by then.
Animals are marketed through local auction companies. "I phone around and find out when it is a good time to market my animals and where I can obtain the best prices," Freddie concludes.
Phone Freddie Bonga on 053 872 0014 or 078 037 1415.