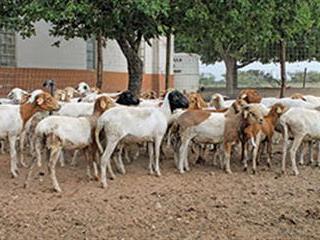 Stock theft is every cattle farmer's nightmare. During the 2011/2012 financial year, stock theft cost the South African economy an estimated R430 million. By any standards this is a massive loss of revenue. Chief Samuel Ramugondo of Mukula village near Thohoyandou in Limpopo, now 94 years old and blind, loses much-needed income while thieves appear to act with impunity and are not apprehended.
To add to the chief's woes, his son John was arrested and charged with murder after an altercation with a stock thief he apprehended on the farm. John is currently serving five years in prison. "He was to take over the farm but now he is in jail," says Samuel. "For about 30 years I farmed that land successfully, but today it saddens me to see what it has become."
During the farm's good times, the chief ran more than 300 Brahman-type cattle, and 600 goats and sheep. Today the farm is a shadow of what it used to be as stock thieves have taken advantage of the chief's disability and are systematically stripping the farm of its principal asset. The 1 819ha cattle farm, formerly one of the best performing farms in the Nwanedi area near Tshipise in the Vhembe district of Limpopo, is now a stock thieves' paradise.

Chief Samuel Ramugondo (94) has farmed in the Nwanedi area since 1981.
Every week more livestock disappears, fences are broken and stolen, and there is very little a blind man can do. The farm is his only source of income, but will not be for long if things continue in this manner. The police seem unable to help. "My cattle are being stolen weekly, while sheep and goats disappear every day," says the chief.
Title denied
Samuel is a beneficiary of a lease contract granted on government farms in 1981 under the old Venda government. The farms originally belonged to the South African government, but were transferred to the then Venda government in 1979. The Venda government leased the farms, with an option to purchase, to a few black farmers. When Samuel and the other farmers took over the farms, their lease contracts made it clear that they had an option to buy if they wanted to.
After the ANC came into power the contracts were turned into renewable short-term contracts of between two and three years, and the option to purchase was cancelled. "They didn't explain why the clause was removed," says the chief. "The minister of Rural Development and Land Reform, Gugile Nkwinti, announced two years ago that the government would no longer sell or give title to land reform beneficiaries."
This was a blow to farmers as it meant less control over what happened on the farms. Samuel says that farming without title puts farmers at a disadvantage. "For one, you cannot make an investment on the farm. Even improving farm security would be difficult because the contracts include a clause that states that a beneficiary will not be compensated for any improvements." This has stopped him from making permanent improvements to the farm, including upgrading security infrastructure.
Tragedy
When he went blind two years ago, Samuel employed someone to look after the farm but conditions did not change and stock theft continued unabated. "One of my sons, John, decided to take charge. Because he was married, John could not live on the farm but had to commute every day or every second day. We still had one permanent employee here." One morning John arrived to do his usual patrol at about 9am. "He checked the fences to see if they were still intact and none had been stolen during the night," explains Samuel.

The herd has decreased in numbers from 250 to 160 since Ramugondo's son was arrested. Most of the animals have been stolen.
"John also took care of routine maintenance. After he completed his rounds, he and the employee returned to the farmhouse and livestock kraals where they saw someone leaving the kraal carrying a sheep. "When the thief realised he had been seen, he tried to run, but the two men cornered him. There was a fight as they tried to apprehend him and John, who has only one arm, picked up a stick and hit the suspect on the head. The suspect fell to the ground and they tied him up."
The alleged thief then confessed to his crime, adding that he had stolen four other sheep, two goats and farm gates.
"He said he normally came at night but that day he had come early as the buyer was unwilling to wait," says the chief. "He also told them where he had sold the gates. "John and the employee went to the village to confront the people who had bought the stolen goods, leaving the thief tied up on the farm.
"They found most of the stolen property with the people the suspect had directed them to. Then they went to the police to report the matter and took the police back to the farm. During their absence the suspected thief had unfortunately died. John and the employee were arrested and charged with murder," says Samuel.
Favouring the guilty
The police recovered the stolen gates from the buyers and opened a case of theft. Last year John was sentenced to five years imprisonment. "Our employee was acquitted as he only helped to tie up the suspect," the chief recalls. "We are very disappointed and saddened by what has happened. I believe that John had no intention of killing the man but was defending himself after the thief attacked him. No consideration was given to the fact that the man was on our property stealing sheep.
He even allegedly confessed to stealing and selling the goods, which were subsequently recovered." Since John's conviction, no other case has made it to court. According to Samuel, the problem is that, although he has opened several cases of theft and suspects have been arrested, all have been released and none have appeared in court. "The justice system has failed us."
No assistance
John's wife Eunice, who took over the running of the farm after her husband's arrest, explains that the situation on the farm has deteriorated. Eunice and her three school-going children face an ongoing struggle. "It's really tough," she says. "Before John went to prison, we had 250 cattle; now there are 160. Neither the police nor the government are helping us resist these stock thieves. We have reported many cases to the police, yet no one has been arrested."

Once a productive farm, this land is a shadow of what it used to be due to the high stock theft rate in the area.
Samuel also questions the high rent the government charges for the farm. "I'm paying R11 000/annum to lease the farm but I see no value for it. Fences are broken and stolen all the time, and I can no longer afford to fix them. Because of the lack of fencing, the farm has become a communal grazing area. Government does nothing about the situation."
A barrier to development
Tshianeo Mathidi, Limpopo's National Emergent Red Meat Producers Organisation (Nerpo) and African Farmers Association of South Africa (Afasa) president, confirms that stock theft strangles developing smallholder farmers. "Many have left the industry because of this problem," he says. "The issue has topped our organisations' agendas for many years, but little progress has been made."
He blames lenient laws and poor law enforcement, which he says makes it easy for offenders to get away with their crimes. "In other African countries, stock theft is taken very seriously and offenders are given hefty sentences if they are caught. In South Africa, the chances are high that a stock thief will not even get to court. Many cases don't go to trial due to lack of evidence. As our system relies mainly on identifying cattle by branding and ear tagging, it is difficult to supply evidence if the skin is thrown away and cannot be found.
"Although suspects are arrested, convictions are minimal, which fuels the problem. Stock thieves know that they have only a smalll chance of going to jail and they are often repeatedly arrested then released for the same crime. We have organised workshops, forums and engaged the police, but nothing seems to work." Samuel sometimes feels the only way out is to give up and sell everything. "I thought of reducing stock, but with less stock I can't afford to pay the rent," he explains. "Giving up would also mean that the family would suffer, as it depends mainly on the farm for a living."
Police progress
Colonel Alpheus Mokale, head of Limpopo's stock theft unit, says the unit is making headway curbing stock in the province. "From April 2011 to March 2012, of the 6 991 cattle stolen, 3 881 were recovered; 4 690 goats were stolen and 1 711 recovered; 1 765 sheep were stolen and 460 were recovered. We arrested 1 188 suspects, including two police officers and five officials from different government departments, plus a former mayor. The highest sentence was 15 months' imprisonment and the maximum fine was R50 000."
Mokale says that from April to December last year, 4 549 cattle were stolen and 2 795 were recovered. "We arrested 1 597 people and broke a syndicate ring including business people, butchery owners, three police officers and seven government officials. Of these, 640 people were convicted of charges with the highest sentence being nine years imprisonment."
Contact Samuel Ramugondo on 082 296 2602.