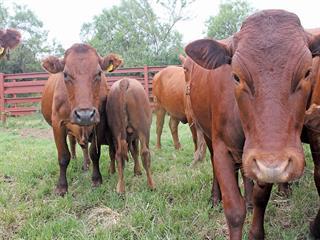 Farmers are much the same the world over, no matter where they live, what language they speak or what their race is, and the Mahlangus (father Paradise and son Temba) are no exception. Courteous and open, they warmly welcome a visitor before moving as fast as possible to the topic of farming.
Paradise, now in his late 60s, first started buying cattle when he was much younger and owned a taxi business. He continued buying cattle when he worked for the former Kwa-Ndebele government, where he served in various departments, one of which was water affairs. He was also a member of the Codesa negotiation team in the run-up up to the first democratic elections in 1994, and worked for the Mpumalanga Economic Development Corporation.
"I built up a herd of 250 animals out of my savings," he says.
Temba studied business administration and politics at the University of the North.
"Farming is where my heart is and I learn more about it every day from daily interaction with cattle, grass and soil, and from other people who know more than I do," Temba says. He explains that his tertiary education taught him the discipline to learn and gave him the skills he needed to seek information in the right places. He runs the herd as well as the farm's finances and administration. As provincial secretary of Nerpo, he also trains other farmers to keep herd records, to budget, and to track cash flow, as well as to manage herd health, and nutrition.
Paradise Mahlangu (pictured here) and his son Temba, designed the handling facilities with efficiency, robust capacity and good animal flow in mind.
Own your business
The Mahlangus lease the farm, Sybrandskraal in the Moloto region. "We leased it from the former Kwa-Ndebele government and were fortunate to have our contract extended when the new government took over in 1994. We've farmed here for about 30 years," says Paradise.
The rent was fixed until last year but there are now moves to charge a rental equal to 5% of gross turnover.
Paradise and Temba take care of the land and the grazing in the same way they would if they held the title deed, and are unconcerned about operating a business on leased land. "Many businesses work from leased premises," explains Temba. "Cattle are a mobile asset, which we have to be able to farm successfully wherever we are."
In any case, he adds, with a long-term lease, tenure is only guaranteed for the period of the lease. Despite this unsentimental statement, Temba, who has spent most of his life here, clearly feels an affection for the place. "I know every rock and tree on this farm; every bend in the river, every patch of grass," he says.
Plentiful supply of water
The veld on the 850ha farm consists of open acacia-dominated bushveld."This is good grazing country. We have mixed grassveld with 'sweet' grass in the valleys and 'sour' grass on the slopes," says Temba. There is some bush encroachment which they attend to on an ongoing basis.
The Elands River cuts through the Mahlangus' land, providing them with a constant supply of water and 4km of river frontage.
"This river doesn't dry up, so we have no problems with water, which is a great advantage," says Temba. One of the problems they have to contend with is the deadly gifblaar (Dichapetalum cymosum). Found in the northern parts of South Africa, this is one of the most lethal plants on the sub-continent. Ingestion is followed by cardiac arrest, a process that is accelerated if the animal drinks water. The plant is in leaf in late winter and early spring when there is a shortage of green feed. During the past spring, the Mahlangus lost 20 cows to gifblaar.
Temba pulls out his plant handbook to show how vast the underground root system of this seemingly innocuous shrub is. "We can never get rid of it entirely because of the enormous, deep roots, but we can keep it under control with chemicals," he explains.
Cattle that are salted to areas where gifblaar occurs don't usually eat it, according to Temba, but bought-in animals are vulnerable and will select it. The Mahlangus had made a decision to breed Bonsmaras and had brought in animals to establish a sound, core breeding herd. So the loss of 20 cows was a hard blow, reducing their herd to 80 cows in a single event.
"We bought animals on auction from Dr Gustav Toppelman of Lydenberg and Monique Maritz of Ouhout Bonsmaras, using a production loan from Nerpo," Temba says. Paradise adds that buying cattle from breeders of quality animals gave them credibility and they are now established as reputable sellers.
Temba Mahlangu with his favourite heifer.
Man and cattle
Bonsmaras are known to be hardy and have excellent beef quality. They are also never shown in the ring, which Temba sees as a bonus. "Breeders can keep their focus on being pragmatic and commercial without worrying about taking cattle to shows to build a reputation," he says.
This in no way detracts from the pride that the Mahlangus take in their animals. As they bring cattle into the holding area, Temba calls out: "Look at our calf crop. Look at this heifer, isn't she a beauty? Here's a cow that proves herself over and over."
Bringing the bulls up close, Paradise points out strengths in conformation, muscle, bone and capacity. One of the bulls, Maphem, is polled, a trait they see as beneficial and worth breeding into their herd.
Veld grazing forms the fodder foundation of the Mahlangus' herd, while conventional winter and summer licks, as well as a salt lick, are put out in grazing camps. "We plant Smuts finger grass (Digitaria eriantha) for extra grazing in winter," says Temba. "Animals are rotated between the grazing camps and spend a month in each.
We're probably understocked now, but it gives us room for growth." Bulls go into the cow herds at a ratio of 20:1 in November and are taken out in February. The calving season runs from August to November. The Mahlangus allow a cow to miss one season, giving her another chance before they cull for infertility.
Weaners are sent to the feedlot when they are seven to eight months old and weigh between 200kg and 250kg. They have no problem marketing animals, as demand is always strong, says Paradise.
Syndicates
The Mahlangus are eager to start participating in Nerpo's planned syndicate auctions. The syndicates will have a minimum of 10 farmer members and sell directly to buyers. Auctions will be held in March and November, and according to syndicate rules, each member must sell a minimum of 20 weaners a year. However, there is no limit to the number of animals that can be sold. "You can sell breeding stock to other farmers," he says.
Paradise sees the introduction of good breeding animals into black-owned herds as part of mentoring and a means of helping these farmers in the transition to commercial farming. The syndicates are a way of breaking the stranglehold that a few large companies have on the industry, he says. He hopes that Nerpo's farmer syndicates will shift mindsets and bring more people into the organisation so they can benefit from skills transfer and group power.
"We focus on knowledge – practical and technical. That's what emerging farmers need. We leave the politics to Afasa," he says.Temba agrees, saying that people need bread-and-butter issues resolved. He is optimistic about the future, but realistic, and sees functionality in the judiciary, police, public protector and SARS.
Turning to farming, he says: "Good strategies must be implemented now to bridge the gap between black developing farmers and commercial farmers." But he is too busy to dwell on the minutiae of these. "I have a farm to run," he says simply.
Phone Temba Mahlangu on 079 173 4601 or email him at [email protected].