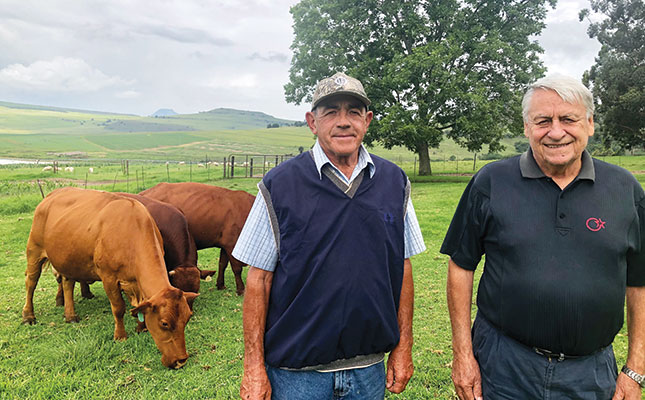 It is a little disconcerting to think that the lush, green valley at the foot of the Elandsberg, which rises to an elevation of 1 653m above sea level, was once the scene of extensive coal mining. Most traces of the Kempslust mining activity have, while still not fully erased, been hidden under a green cover of young vegetation.
Situated between the towns of Paulpietersburg and Utrecht within the Amajuba and Zululand district municipalities in KwaZulu-Natal, the Elandsberg area is one of South Africa's most significant water source areas and the primary catchment for the Tugela and Pongola river systems, which supply a great many downstream users.
As a result, the area received formal environmental protection in 2021 with the declaration of the 25 000ha Elandsberg Protected Environment. It comes as no surprise then that for Chris van Niekerk, Johan Kemp and Riaan Venter, who farm on the slopes of the Elandsberg, environmental protection is a primary focus.
Van Niekerk and Kemp have been business partners for 30 years, running a 3 500ha farm. Venter joined the farming operation as a third partner about 15 years ago.
These days, their main farming operation is beef cattle production. They also farm sheep, and are in the process of establishing a kiwifruit orchard and hope to start harvesting their first fruit within the next two to three years.
Getting started
About seven years ago, the business partners decided to start breeding their own bulls for their commercial beef cattle operation. This ultimately steered the business in a new direction.
"Before we started breeding Droughtmasters, we would buy Grassfields Beef bulls from the late Hubert Shaw and his son Rustin to use on our commercial herd. At one of their sales, they had Droughtmaster bulls and female animals on offer, and we were impressed by their temperament, uniformity and conformation," says Kemp.
In 2014, they started breeding Droughtmasters and bought two groups of F1 and base cows, consisting of 14 in-calf cows from F4 Droughtmaster bulls, at the Shaws' annual production sale.
"Right from the start we found them to be hardy and able to perform well in our extensive conditions," says Van Niekerk.
They bought their first Droughtmaster bull in 2014 from Underberg-based breeder Chippie Watson.
With the support of Ian Currin, a technical adviser for the Africa Droughtmaster Cattle Breeders' Society, the business partners sourced top genetics from well-known breeders to further improve the stud herd. The Shaws also assisted them by giving them access to one of their Droughtmaster sires.
"We later acquired shares in two of the Shaws' stud sires and used their semen to artificially inseminate some of the female animals in our herd. This helped us make faster progress in improving the genetics in our stud," Van Niekerk says.
In 2017, they bought a Droughtmaster stud sire from Hurwitz Farming and another bull from Watson in 2020.
"We are now in the fortunate position where we are able to breed all the bulls that we need for our commercial herd ourselves, which means we no longer have to buy in any bulls for the commercial herd," Van Niekerk says.
Their Elandsberg Droughtmaster stud has grown to include about 100 registered breeding female animals, while the commercial herd consists of roughly 600 Droughtmaster-type female animals, which are mated with two-year old stud bulls.
Grazing management
The farm is in a sourveld area, and the main grass type is red grass (Themeda triandra). Summers are hot and humid with maximum temperatures in the high 30s, and winters are mostly mild, but the area can experience very cold days with temperatures dropping to day-time lows of 5°C. While a rare occurrence, the area does sometimes get snow in winter, especially higher up in the mountains. Rainfall generally varies between 850mm and
1 000mm per annum.
"In our beef farming operation, we focus on preserving the natural veld; overstocking is not an option. We strictly abide by the carrying capacity of 3ha/LSU," says Van Niekerk, who is the stud master for Elandsberg Droughtmasters.
Camps are grazed on a rotational basis and are left for long enough intervals between grazing to allow the veld to rest and reseed. The farm is divided into 12 summer camps, covering an area of about 1 700ha, and 19 winter camps. They also make use of planted pastures, including 25ha of Smutsfinger grass and 14ha of Eragrostis that get harvested once for haymaking, after which the lands are fertilised so that grass can be used as standing hay.
There are also 28ha of ryegrass planted under irrigation, which gets rotated with silage maize. The silage maize is used as a finisher feed for cull cows that are sold from the on-farm feedlot for slaughter.
Because the farm is in a sourveld region, it is essential that animals are provided with licks during winter and summer, which the partners source from Lamprecht Feeds in Amersfoort.
Breeding and selection
"We only have one breeding season. Heifers are paired with two-year-old bulls from mid-September and the breeding season for cows starts on 1 November," Van Niekerk says.
He says trichomoniasis is one of the biggest challenges they face as state veterinary services are lacking in the testing, monitoring and treatment of trichomoniasis in communal cattle.
Other animal diseases that pose a threat include African and Asiatic redwater, black quarter, lumpy skin disease, gallsickness and bovine ephemeral fever (BEF). Animals are vaccinated for BEF, black quarter and lumpy skin disease every year. Animals are only dipped as necessary.
Heifers and cows in the stud breeding herd that fail to conceive after one breeding season are moved to the commercial herd where they are given another opportunity. If they fail again to conceive, they are culled from the herd.
The average birthweight is between 30kg and 33kg. Calves are weaned at eight to nine months weighing in at roughly 235kg.
Currin visits the farm every year to perform a careful selection to determine which animals born in the stud between the ages of 18 months and two years are to be retained in the stud herd.
"We select for temperament, fertility and body conformation. Bulls need to have strong, masculine heads, strong legs for walking, good length and depth, well-developed scrotums and good sheaths," says Van Niekerk.
One of the most important tests that they are running at the moment is to determine whether or not the Droughtmaster has a higher dressing percentage than the average beef cattle animal in South Africa.
To measure this, they are monitoring the daily feed intake of 150 long-yearlings that they have supplied to Heiner Hinze's feedlot in Commondale. After three-and-a-half months, these animals will be slaughtered at Allen's Butchery in Hluhluwe, where the dressing percentage will be recorded.
"We try to maintain a good balance between the stud and commercial herds. In order to make optimal use of the veld, we cannot grow the stud much larger than 100 to 120 female animals; instead, we focus on improving quality," says Kemp.
He says the Droughtmaster has become such a popular breed in South Africa within a short period of time because of its exceptional temperament and its ability to adapt to various climatic conditions. Experience has also shown that Droughtmasters have strong prepotency.
"Breeding with Droughtmasters has been an extremely rewarding and enjoyable experience for us, and we are very proud of the animals we have bred so far and the quality of our stud herd," says Kemp. They have not yet held their own production auction, but hope to be able to do so in about two to three years' time. They have, however, been selling bulls directly from the farm, after they have been successfully used on their own heifers. These bulls are sold as commercial bulls.
"Commercial beef producers are of the utmost importance to us, as they represent our primary market for quality bulls. It is our responsibility to supply them with breeding stock that will improve the genetic potential of their herds, and earn them better market prices for their animals," says Van Niekerk.
Phone Chris van Niekerk on 082 306 8784. Visit the Africa Droughtmaster Cattle Breeders' Society at droughtmasterafrica.co.za.