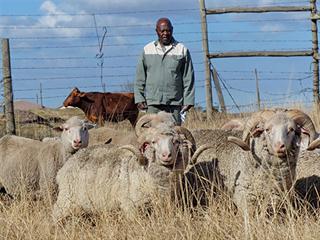 The Dudumashe Farming Co-op near Nqamakwe, in the former Transkei, has 209 farmers with more than 8 000 sheep. Most of the farmers are pensioners, and their faith in wool has been rewarded, thanks to the leadership of an enthusiastic headman, Colonel Dudumashe (73). It's largely due to his efforts that the co-op generated almost R350 000 from wool alone in the 2012/2013 season.
"Sheep have always been part of my family," says Colonel, whose great-grandfather first settled in the area – which now bears the family name – in the 1860s. Here, through the generations, the Dudumashes attended the famous mission schools of Lovedale, Healdtown and Blythwood, and embraced Merinos, as had many British settlers beyond the Kei River. When Colonel returned to Dudumashe on early retirement in 1991, he was determined to rekindle the area's association with sheep among the aging communal farmers.
"Once you engage yourself in livestock farming, you must be settled, as elderly people are,'' he says. "A young person will want to visit an aunt in Joburg or spend time in Cape Town – you can't farm livestock that way." Colonel himself spent 25 years away from Dudumashe – the vast majority of them on the Free State goldfields – and tells of a far more productive era in the former Transkei between the 1950s and 1970s, when migrant labourers invested their money in agricultural ventures back home.
Today, he says, people with money in the cities seldom invest in agriculture in the old homeland. They would rather build the sprawling homes seen more and more frequently in the region. Colonel remembers how, during his younger years, miners would return to plant and reap fields, and how trading stores offered stable markets for produce, including wool and grain. He saw how all this had changed when he returned to Dudumashe permanently in 1991.
The trading stores had vanished and the regular flow of money into agriculture had largely evaporated, leaving an aging farmer-class out of touch with the modern potential of wool. Farmers were selling their clip to rogue buyers but were not paid well for it. "Our greatest achievement was to change people's mind-set, and convince them there's money in wool," says Colonel.

Thanks to ram-breeding projects, the sheep in the district are now bigger and have better wool.
To enhance wool quality, Colonel knew that the farmers had to improve the genetics within the scraggly flocks of communal sheep, so he seized the opportunity to source rams via a Grootfontein Agricultural Development Institute (GADI) programme in 2002. From then on, Colonel arranged for six rams (mostly Dohne Merinos) to be introduced into the region's flocks each year until the GADI project came to an end in the community in 2012.
He currently sources rams from the National Wool Growers' Association (NWGA) ram breeding project funded in part by the Eastern Cape department of rural development. "Getting rams in has changed things," he explains. "Over the years, I've seen an improvement in conformation and the quality of wool." Apart from providing rams, GADI supplied valuable advice and
skills on breeding and general management – such as establishing camps. It also helped the co-op to lobby for cost-effective supplementation and inoculation regimes.
The Dudumashe flocks have improved to such an extent that some farmers in the co-op are even selling Dudumashe-bred rams at a premium to other communal farmers.
Female farmers reliant on sheep
Interestingly, most of the farmers in Dudumashe are elderly widows – a vulnerable group largely dependent on their sheep. In fact, according to Colonel, this is the only means of income for most of them. Lilian Zozo (84), for example, simply continued farming with the family's flock of about 70 sheep after her husband passed away 15 years ago. She says the introduction of quality commercial rams has done much to improve wool production and the conformation of her sheep. This makes sales in the busy traditional slaughter and ceremonial market easier.
"I've sold a lot of old sheep for the traditional market – especially older ewes and wethers – and wool is also very important to me, especially with the good prices this year," she says. Thanks to the ram-breeding projects, "the sheep are now bigger and the wool is better". Currently, the greatest challenge to production is vehicles hitting her sheep on the tarred road that bisects Dudumashe village.
"The road is a major problem," says Lilian. "If it weren't for the accidents, I'd have had a lot more sheep." Not far from Lilian lives another elderly sheep farmer, retired teacher Alfred Fanqa (89). He has farmed with sheep all his life and finds it impossible to relax in his old age. "I'm up at 7am to work until it's dark. I don't feel happy just resting and sleeping during the day," he says.

Mary and Nobingile Dudumashe going about their business in the Dudumashe shearing shed.
Alfred, who is forced to kraal his sheep every night due to the threat of stock thieves and predators, agrees with Lilian about the benefits of improved genetics. "We appreciate our income from the wool because it's usually very good," he says.
Alfred is also happy to acknowledge the role that Colonel has played in leading long-term agricultural initiatives in the community. "We have a good leader in him," he says.
A passion for dudumashe
Although he has spearheaded wool production in particular, Colonel has always been committed to the development of the area as a whole. In fact, he was working for Dudumashe even while in the Free State. It was from there, for example, that he applied to have the area supplied with electricity. By 1996, just two years after the country's first democratic elections, Dudumashe was connected to the Eskom grid.
Immediately after arriving home in 1991 for good, Colonel began looking at ways to develop Dudumashe's agricultural potential. One of these, he realised, was to build more dams for livestock. By 1995, six dams had been built with funding from the Development Bank of South Africa – and two more had been built by 1998, thanks to the Independent Development Trust.
Colonel also realised the importance of fencing and succeeded in sourcing almost R1 million rand from the Eastern Cape government via the Dohne Agricultural Institute (DAI) to fence large areas of Dudumashe. Extra funding from the German Development Service and GADI ensured that more fencing was erected – infrastructure that has proved critical, enabling farmers to separate and manage livestock effectively in the vast, largely unfenced communal areas.
In the end, says Colonel, his aim as headman has always been to bring about the agricultural revival of an area he cares for deeply. "When I stand on a stone like this now, then I am happy," says Colonel, as we gaze out over the Dudumashe area from a nearby ridge. He is unsure whether his sons, Festival Siyolo Dudumashe in Johannesburg, and Yongama Dudumashe in Cape Town, will follow in his footsteps. However, they are both in the process of paying for substantial improvements to their parents' home in the area, and Colonel is grateful for this.
"What I appreciate about my kids is that they value what I'm doing," he says.
Phone Colonel Dudumashe on 082 817 4996.