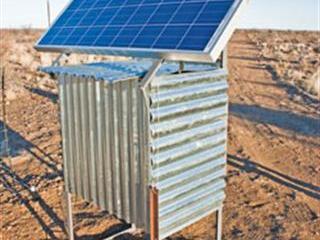 For decades, South Africans enjoyed among the lowest electricity tariffs in the world. Then, in the first years of this century, high growth levels, plus a vast programme to extend power into the townships, changed the game plan. Eskom launched a programme to upgrade its generation capacity – funded largely by massive tariff hikes. The utility was granted nearly 25% per annum over three years and recently asked the National Energy Regulator of South Africa for an annual increase of close to 15% for the next three years.
Businesses, including farmers, have seen their profits squeezed ever more tightly by these escalating costs, and energy efficiency has become the name of the game. In desperation, some farmers have even disconnected themselves from the grid. Meanwhile, in the Northern Cape's vast and arid Bushmanland region, hundreds of commercial livestock farmers have never known any other way of farming.
Johann Vollgraaff, who farms on Hoezar-Wes, 45km north-east of Brandvlei, says that Eskom power is simply not in their frame of reference. "I know of only two farms in the area which have Eskom power," he says. "But they are situated next to the power line that supplies Brandvlei with electricity."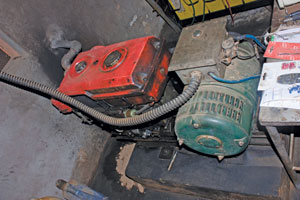 When the elements refuse to co-operate, Johann operates his diesel generator to supply 220V electricity to his home.
Johann, who was raised on Hoezar-Wes and eventually took over from his late father, runs his 32 000ha farm solely with solar, wind and, occasionally, diesel-generated power. "The only electricity costs I have are capital costs," he says. Other energy sources are purchased as they're needed: gas for the hob and anthracite for the Aga stove. His wife, Yolandé, who teaches grade 5 at Laerskool Brandvlei, uses a solar oven to dry out rusks and make meringues.
Farmstead
Johann's power system comprises solar panels, a wind turbine, batteries and a transformer. The panels and turbine generate the power, after which it is conducted to the batteries. From here, it is carried via the transformer to the house's electrical appliances. "The wind turbine works on the same principle as a vehicle's alternator, which generates electricity stored in the battery," explains Johann.
"The solar panels work on the same basis. I have 12 of them in all : six 60W panels, two 200W panels and four 120W panels." The size and quality of the batteries are important, according to Johann. "I have 450A/h batteries. It is not really enough, but I'm considering renewing all my batteries," he says. Upgrading to 600A/h batteries, though, will cost him R43 000.
The drain on the batteries depends on usage, and Johann explains that it has become a habit to switch off appliances completely when not in use. He admits, though, that it can be somewhat frustrating to wait for his DSTV decoder to retune itself after being switched off. He is also an avid radio listener. "I have a separate solar panel that charges a battery which I use solely for my RSG (Radio Sonder Grense) radio," he chuckles.

Predation is a major threat to livestock farmers in the Bushmanland. Johann uses electric fencing to keep predators such as jackals off his land.
The fridge and freezer are supplied from the transformer, with the fridge staying on all day and the freezer powered for three hours a day. For back-up, Johann keeps a diesel generator. "When the sun doesn't shine and the wind doesn't blow, I start it up and supply 220V electricity directly to the farmstead. I never use it to charge the batteries, though," he explains.
Pumps and predators
Water on Hoezar-Wes is pumped from boreholes by pumps powered by solar panels, as well as windmills. "The solar pumps extract about 3 100l per day," says Johann. "But of course they only do so while the sun shines." The technology does not come cheaply; a solar pump, with pipe, cylinder and solar panels, recently set him back R21 300. The farm also has more than 30 windmills, many fitted with force cylinders. These seal the top of the pipes connected to the aquifers, build up pressure and force the water over long distances.
Johann also harnesses the sun to keep jackals at bay; he has fitted jackal-proof electric wires – powered by a solar panel and small transformer – around 22 000ha of his farm, and combines this with careful animal management. "When the predators are around, I bring the pregnant ewes inside the electric fence. When the lambs are older, I move them and the barren ewes outside again," he explains.
Johann and his fellow farmers may be off the grid, but they're hardly off the map. As the old saying goes, a boer maak 'n plan, and in this far-flung region, adaptability and technology have clearly won through.
Contact Johann Vollgraaff at [email protected]