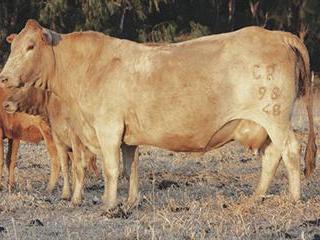 Cornelis Rautenbach runs a herd of 165 breeding cows and 44 open replacement heifers on the 540ha family farm Mooipan near Reitz in the Free State. He owns the 2010 Farmer's Weekly-ARC Best Elite Tuli Cow.
What's more, his Tuli cows represented their breed in the 2006, 2007 and 2009 competitions, making his one of the top herds of all breeds in the country in terms of cow performance. Born in 1998, his 2010 champion, CR 98 0048, is now 12 years old. Her ARC evaluation figures for the award showed a remarkable inter-calving period (ICP) of only 363 days, and she's given birth to nine calves in 11 years.
The ninth, her only heifer, was weaned earlier this year. Subsequently her 10th calf – another bull calf – was born on 8 August.Cornelis bought his first stud cattle – three cows and three heifers – from Johan Borman. He went on to import 24 top quality heifers and 26 bulls from different breeders in Zimbabwe over the next 27 years. Luckily, he managed to buy enough top-quality animals before the borders were closed to cattle importation following a foot-and-mouth disease outbreak.
Fertility is top priority
Cornelis explains that, from the start, his first priority in selection was for fertility. He wanted to start with a fertile breed in which cows would calve every year without fail. "Fertility isn't a highly inheritable trait," he explains. "Traits like growth and conformation are easy to improve on through selection, but not fertility. It takes a long time to breed back into your herd if the herd has lost it, or never had it."
A good Tuli cow can calve every 11 months. In Zimbabwe, their calving season was in December/January, which was the wrong time for the Free State highland grassland at Reitz. To correct this, Cornelis kept putting in the bulls a month earlier instead of carrying them over (not in calf) to the following breeding season. Now the entire herd calves between June and August.
In his directed breeding programme Cornelis uses eight bulls, selected for specific traits, on specific cows and heifers in single sire herds. The heifers run with the mature cows without any special treatment. The herd has a remarkable average ICP of 371 days.
Cornelis favours a smaller-framed cow that weans a heavy calf over a large-framed cow weaning an average calf. The former eat less, and can be stocked at more cows per hectare to be more productive and more profitable. "The ratio between a cow's weight and the calf's weight at weaning is significant," says Cornelis. "The cow should wean a calf of 50% or more of her own body weight." The average cow weight is 420kg, while the average calf weaning weight is 210kg to 270 kg.
Breeding for the market
Cornelis stresses the importance of breeding for what the market wants. His market includes stud breeders, but is mainly the commercial cattleman who needs a genetic prototype with a good slaughter percentage, good growth rate and profitable weaners. When a prospective buyer asks for figures such as slaughter percentage, Cornelis simply shows them the results of the culled cattle he's slaughtered – which are the rejects! He's found the Tuli slaughters out above 46% and that he gets R1,50/kg more for his cattle than the average price simply because the Tuli has a better meat-to-bone ratio.
"Buyers are not stupid. They see that the Tulis are going to slaughter well and they have a good temperament," says Cornelis. In addition to fertility based on records, Cornelis looks for specific functional characteristics in a breeding cow. She should be fertile, with a good strong mouth to eat plenty of food and she must have strong feet and legs. He's been selecting bulls over many years for good hooves, walking ability and testes. After these, he looks at the meat production qualities in the bull.
Indigenous and easy to care for
The Tuli has a very good temperament, Cornelis stresses. "Cows are very protective towards their calves when they're small. It's an easy breed to work with and you can get by with very little labour. They calve easily and veterinary costs are minimal. "The Tuli is a predominantly polled breed, making de-horning unnecessary and further reducing costs and handling problems. It's a very easy-care breed. Farming with Tulis is a pleasure."
It's an indigenous breed already adapted to South Africa's climate – and that includes hot conditions and sudden cold, as well as dry and difficult years. As Cornelis doesn't grow any crops, the cattle must be able to handle harsh winters on the veld with the small amount of hay he does produce. Over the years Cornelis has found that the Tuli can manage without any phosphate or lick supplement because it's so well adapted to the environment – which is fortunate, given the price of phosphate these days. He does supply a phosphate lick in the breeding season, which the cows eat very slowly, since he feels it helps to get them on heat.
Tulis have a natural resistance to disease. When his neighbours were losing cattle to three-day stiff sickness, Cornelis only had a few mild cases. Isolated cases of redwater and gallsickness are also normally mild and most of the cattle have built up a natural resistance to these diseases.
There are no dipping facilities on the farm, and he uses a pour-on acaricide once a year, just before the mating season. The Tuli's flat smooth coat does not give ticks any protection in the winter. Cornelis believes that Tuli breeders are privileged to work with such a fertile animal, selected by nature to handle any climatic conditions in Africa. "It will perform very well on any breed it is crossed with, and will pass its meat qualities and docile temperament to its offspring," he adds.
Contact Cornelis Rautenbach on 082 371 4390, or e-mail [email protected].