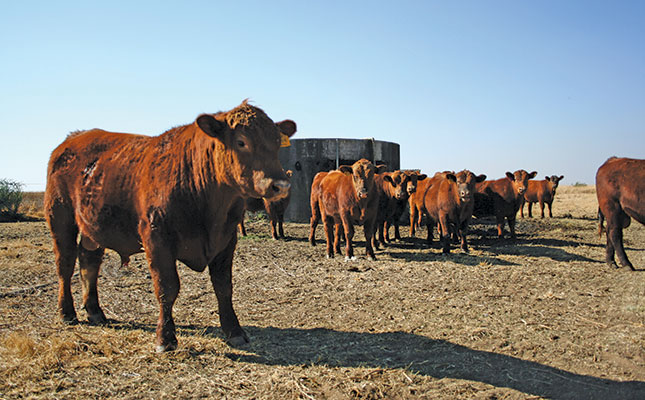 Dr Enslin Coetzee and his son-in-law, Issie Liebenberg, run the ZEC Angus stud on 396ha of leased land in the Bothaville district in the Free State.
Their bull ZEC 1710 'Match' recently beat 18 other bulls from various breeds to come out tops at the Vleissentraal/SA Stud Book Interbreed Bull Growth Test Class at the 2019 Bloem Show.
Dr Japie van der Westhuizen, the general manager of SA Stud Book, describes Match as a prime example of a bull with a balanced set of breeding values for the traits that are of economic importance.
"His strongest assets are for traits related to growth and growth efficiency, as well as carcass characteristics. Match has exceptional breeding value indices for pre- and post-weaning growth rates, namely 113 for weaning weight, 110 for yearling weight, and 108 for 18-month weight BLUP," he says.
All Match's traits related to growth and growth efficiency (average daily gain, Kleiber ratio and feed efficiency) show genetic merit of more than one standard deviation above the Angus breed's average.
Van der Westhuizen adds that Match is likely to breed progeny with exceptional carcass characteristics due to his genetic merit for muscling.
For example, he achieved an eye muscle area estimated breeding value (EBV) index of 135, a marbling EBV index of 104, a carcass yield EBV index of 132 for dressing percentage, 109 for meat yield, and a lower subcutaneous fat depth EBV index of 88.
According to Coetzee, Match typifies the ZEC Angus stud's mission to breed genetics that lead to economic efficiency, financial gain and long-term sustainability.
"After all, the objective of any farming concern is to realise optimum profits."
Compact and efficient
The ZEC Angus stud is run on sweetveld grazing that includes Eragrostis curvula and Themeda triandra. They lease an additional 422ha to produce grain stover in winter for 40 days, which forms a vital part of the fodder flow in winter.
The carrying capacity of the farm is 5ha/1 LSU. The herd is rotated according to the condition of the veld and stover, and is supplemented with a summer phosphate lick and a winter protein lick.
A month before the breeding season starts, a production lick is supplied. The annual rainfall varies from 300mm to 700mm. Temperatures reach below freezing in winter, and about 40°C in summer.
Liebenberg says that as they farm on a small piece of land, they have to focus on improving efficiency. This can only be achieved through exceptional genetics, stringent selection, and meticulous management to breed the best-performing animals that realise the highest prices.
Genetic selection
Coetzee started the stud in 2002 with only two cows from the Vansia and Anvos Angus studs. Liebenberg joined him in 2013.
The herd was built up systematically over the years, mainly by means of artificial insemination (AI). They select the genetics to be introduced to the herd with extreme care.
In the beginning, they made use of South African genetics for the most part, but started to include genetics from Canada, among others. According to Coetzee, AI makes sound financial sense for a small herd such as theirs.
It now consists of 60 animals, including 10 replacement heifers and 13 young bulls being put through a Phase D growth test at the time of writing. For this, the post-weaning growth rate of young bulls is evaluated by means of performance tests under controlled conditions.
Coetzee says they decided to go for stud breeding from the start in order to add optimal value.
"It costs virtually the same to rear a stud animal as a commercial animal, but the return on investment for the former is considerably higher. However, stud breeding is the type of business that calls for the breeder's intimate involvement every step of the way."
Function and form in breeding
He says he chose Angus because of the breed's adaptability, natural polledness, excellent temperament and meat quality. Bulls are selected for low birthweights and high weaning weights, balance and functionality.
AI allows for genetic variation, which forms the basis of the ZEC operation. Coetzee adds that as the Angus is the biggest beef cattle breed in the world, breeders have access to a plethora of genetics to suit every genetic requirement possible. Match, for example, was bred from a Canadian bloodline.
They follow a fixed-time AI programme: the cows are synchronised for two breeding seasons, from November to January, and between July and August. Those that do not conceive during the first synchronisation cycle are synchronised and artificially inseminated again. Cows failing to conceive after the second cycle are put to the bull.
Those that fail to successfully raise a calf per year are culled.
ZEC's objective is to breed cows that wean calves weighing at least 40% of their dams' weight. Their average weaning weight is 265kg at seven months.
Using two breeding seasons enables Coetzee and Liebenberg to auction bulls at 24 to 30 months. In this way, they cater for buyers who prefer more mature bulls that can perform more effectively on arrival at their new destinations.
True reflection
Detailed record-keeping is the only way to attain a true reflection of individual animals' true potential, says Liebenberg. Effective feeding can hide a multitude of genetic flaws not visible to the naked eye, and breeding values are a proven selection tool, he says.
Coetzee and Liebenberg maintain an average birthweight of 36kg, and the average inter-calving period for 2018 was 376 days.
"According to our statistics, the ZEC is reckoned under the top 30% of beef cattle breeds in the country as far as inter-calving periods are concerned," says Liebenberg.
Commercial beef producers are ZEC's main clients, and they therefore consider it their responsibility to sell animals that can produce the maximum number of kilograms of beef per hectare.
As commercial producers buy bulls from stud farmers to increase fertility as well as production, stud breeders need to have well-defined breeding objectives to ensure genetic improvement of traits of economic value to ensure more profitable and sustainable beef production.
Testing
Heifers are selected on weaning at seven months and at 18 months, according to the official Angus breed selection indices. Only heifers that realise a score of 95% or more are retained in the herd.
Strict selection criteria are also used for the selection of ZEC bulls, which are put through a four-month-long Phase D growth test at weaning. All animals with an index of below 95 are culled.
Average daily gain, efficiency ratios and body measurements, among others, are tested during the Phase D growth test.
After the test, the bulls are put through a veld adaptation process: they are provided with a fodder ration that is gradually lessened until they are fully adapted to survive on the veld without additional feed.
They are moved to smaller camps three months before the annual Kroon Angus auction, and kept on backgrounding rations.
Email Dr Enslin Coetzee at [email protected], or Issie Liebenberg at [email protected].