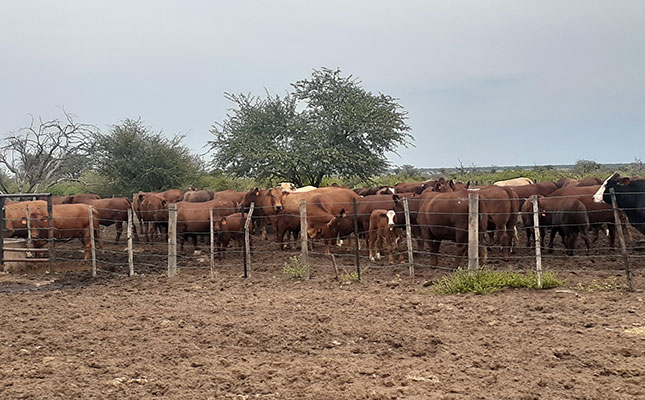 Kgomotso Bantsho, a cattle farmer in Vorstershoop in North West, says his aim is to produce weaners with heavy carcass weights within the shortest period possible.
He does this through careful selection for proven genetics and by placing emphasis on using top bulls.
Bantsho first started farming as a hobby in 2011 when he bought goats from his late father, who had decided at the time to retire from being a part-time smallholder.
In 2017, Bantsho left his job as a supply chain manager and started farming full-time.
"After I bought my father's goat farming business I continued to work and employed a farm manager to take care of the piece of veld near Morokweng, situated on communal land, which I inherited from my father," says Bantsho.
He says that by continuing to work at his previous job while building up his farming business, he was able to invest some of his salary in setting up the farm.
In 2013, he started buying in cattle. He took out a personal loan and bought five cows and one bull from cattle farmer Willie van der Merwe in Vryburg.
After a successful breeding season with his newly purchased cattle, Bantsho started selling weaner calves at auctions.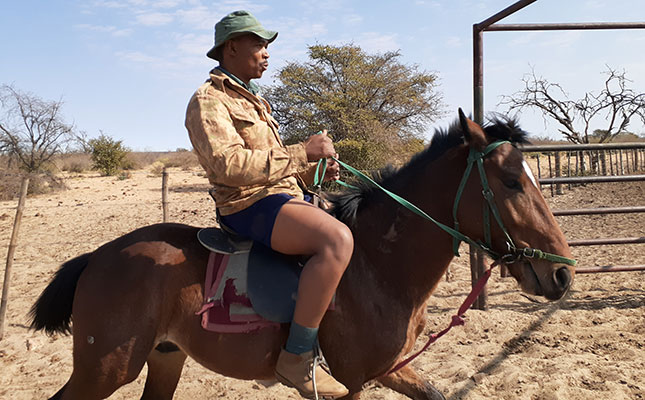 "With every opportunity of excess cash from the sale of weaners, augmented by my salary, I kept buying about three head of cattle a year, until I decided to leave my job."
Shortly after embarking on his full-time farming venture, Bantsho applied for access to a state-owned farm through the then Department of Agriculture, Forestry and Fisheries' land reform programme.
His application was approved in 2018, and he received a 30-year lease for about 1 298ha of land near Vorstershoop on which he runs about 130 cattle.
Infrastructure and electricity challenges
The farm is divided into eight camps of 163ha each. There is one water point for every four camps.
"Since I started farming here, I have constructed a cattle handling facility, breeding camps and kraals for the goats."
One of the challenges he has faced, says Bantsho, is access to electricity.
"Daily fixed network admin charges from Eskom are too expensive and will cripple a lot of farmers, because you have to pay them regardless of whether you used electricity for that day or not. Apparently these charges go with the use of three-phase electricity transformers, which are the backbone of electric power distribution,'' he explains.
"I therefore moved off-grid. Since the installation of a solar-powered pumping system, I'm not worried about electricity cut-offs due to non-payment of an Eskom account," he says.
Growing the herd
Since starting to farm full-time, Bantsho has continued to increase his breeding herd, selling all the weaners produced by the herd and using this money to buy "ready-to-breed" cattle.
In 2017, he had 23 cattle of mixed breeds. Since then he has invested in Bonsmara genetics and his herd now consists of 65 cows and two bulls.
"I only replace a cow when it's no longer productive at a rate that is acceptable to me. A productive cow should produce at least one calf per year," he says.
If a cow aborts, she is given a second chance to make allowance for external factors such as drought. If she aborts again, she is sold.
"I buy in around eight replacement cows per year. At the moment I am able to market 45 weaners a year."
Bantsho says he chose to breed Bonsmara cattle because the breed is strong, reliable, adaptable, and resilient.
"They are also easy to handle with a calm temperament. In my experience, the Bonsmara's feed conversion rate is amongst the best of all beef cattle breeds and the animals deliver the required weaner weight within the requisite period," he explains.
He buys his breeding cattle from renowned Bonsmara breeders, and usually buys cows around the ages of five to seven years.
"I buy stud bulls with proven performance. The bulls that I have in my herd now were bought from the Proveld Bonsmara Group."
Herd management
The cattle are all kept together in a single camp and rotated between camps throughout the year.
The herd spends around one week on each camp to allow camps two months to recover before being grazed again.
"At the moment I do not separate bulls from the rest of the herd," he says.
Vorstershoop is a low rainfall area, but the farm's sweetveld grazing provides sufficient nutrition. Bantsho thus only supplements with mineral, protein and phosphate licks throughout the year.
Weaners are sold at seven to eight months at auction.
Bantsho believes that record-keeping is key to any operation, so he keeps records of every activity on the farm, including breeding and financial records, as well as records of all administered vaccines.
The herd is vaccinated with Supavax in September, before the summer rain. Supavax offers protection against anthrax, botulism and blackleg.
His herd is also tested for brucellosis on an annual basis.
While the state veterinarian administered the vaccines in October 2018, Bantsho has since been administering the vaccines himself.
No one-size-fits-all solution
"I always encourage other farmers to use the farm management techniques that work best for them. Agriculture is not a one-size-fits-all industry.
This is the mistake that some government officials sometimes make, to think that they can follow a blanket approach to assist farmers, and then they end up wasting money on providing help and support in such a way that it is not useful to those they are trying to support."
He and the farmer next door, who is only 5km away, have completely different business plans, and for this reason, he reiterates, "any support or help for farmers must be tailor-made for each one; you cannot follow a standard approach".
"My plea to government departments in charge of overseeing farmer support, especially when it comes to support for young and emerging farmers, is to make sure they address individual needs.
"Do this and you'll see this industry blooming in the hands of the young farmers of this country," he says.
Bantsho says his passion and desire to learn and grow is what drives him. In the foreseeable future, he would like to see himself running a profitable operation with healthy and productive Bonsmara cattle.
''I also want to start paying more attention to my goat operation; not that it has been a subject of neglect.
"In addition, if all goes well, my broiler chicken operation should have taken off in about two years from now. This will put me in a position to employ more people and ensure food security for my family and also the country. That's what farming is about," he adds.
Bantsho says he receives a lot of support from other farmers, including neighbours Tebobo Nelson, Kabelo Chukudu, Tshepo Bloom, and Duncan Serapelwane, as well as from from the wider farming community, such as the Tholo Tsa Molopo Farmers' Association, which he is a member of, and a WhatsApp group for Boer goat farmers.
"No person can exist in isolation; we need to support each other, pay each other visits, and use all communication channels available to us to offer advice and dish out positive criticism where necessary,'' he says. ''There is no formal literature on how to survive in this industry; it's a learn-by-doing exercise so one must be willing to be hands-on and pull through the mud.
"Passion and hard work come first and reward follows. When all hope is gone, passion should be the driver. Never give up!"
Phone Kgomotso Bantsho on 072 158 2173, or email him at [email protected].