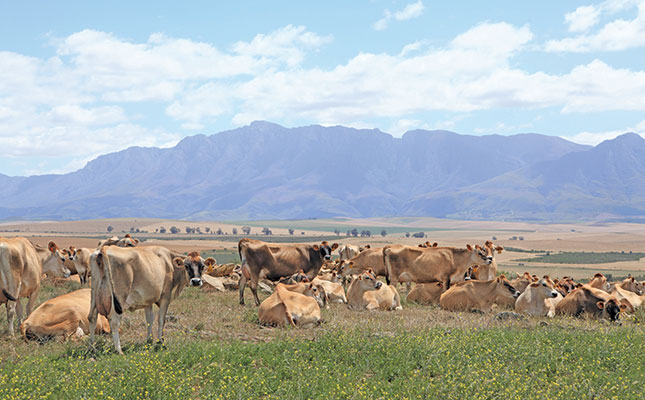 Kluitjieskraal Jersey Stud has established itself as one of South Africa's top Jersey studs, and has a string of SA Stud Book Elite awards to prove it. The Schoonwinkel family, who owns the stud, has been farming Jerseys on its mixed farms near Swellendam in the Western Cape, and selling its milk to a nearby cheese factory, for many years.
As the family had always kept thorough records of each animal, the Schoonwinkels decided to register the herd as a stud in 2007.
"Doing this made sense, as it enabled us to make better-informed breeding decisions by
giving us access to more genetic information.
"This is important, as everything boils down to genetics when it comes to Jersey production," says Arno Schoonwinkel, who manages the farm's dairy division.
To identify the optimal genetic matches for the stud, the Schoonwinkels use the World Wide Sires program Select Sires Inc, which is free and open to any breeder. Schoonwinkel particularly likes the fact that it is unbiased and includes genetic suggestions from a broad range of companies.
To do this, it uses artificial intelligence to simulate the results of mating various sires from a register of the world's 100 top-performing Jersey bulls (according to the Jersey Performance Index [JPI]), with individual cows in a specific herd.
The seven to eight sires that would result in the best genetic progress, based on predefined
criteria entered by the farmer, are then flagged. Schoonwinkel adapts his breeding programme every four months to accommodate changes in the JPI.
"Our aim is to get a mixture of the best qualities of the sire and dam, focusing on improving, or at least maintaining, traits associated with milk production volume, the solid content of milk, and udder quality."
He also aims to improve or maintain somatic cell count, fertility and udder index. This
last measure describes the genetic potential for udder conformation in terms of a number of sub-indices, namely udder height, width and depth, as well as placement, length and thickness of the teats.
Reproduction management
The farm does not have a specific breeding season. Rather, cows are inseminated every day
of the working week to ensure a constant supply of milk. The stud comprises 1 600 animals, and an average of 750 heifers and cows are in milk throughout the year. The cows are milked twice a day in a fishbone parlour, with a capacity of 48 animals at a time.
All the calves are weighed at birth and the top 40 bull calves are selected immediately after birth for rearing, based on their genetic records and physical traits. The rest are culled.
"Our top bull calves are in high demand and generally sold out before they're ready to leave the farm because of their excellent genetics," says Schoonwinkel.
Kluitjieskraal uses the services of Jersey SA breed adviser John Terblanche, who classes the cows during first and second lactation based on various physical traits, including build, conformity and hooves.
The results are incorporated into the breeding records, and cows that don't make the grade are culled. Heifers are weighed again at 12 months, by which time they should have reached their target weight of 260kg, and inseminated. Cows are inseminated 50 days after calving.
Those that fail to conceive are inseminated again, up to a maximum of four times, after which they are placed with one of the farm's bulls. Heifers conceive after an average of 1,5 inseminations, and cows after an average of 1,8 inseminations.
Schoonwinkel and his team administer hormone treatment (as a fertility booster) to cows that have not shown signs of heat by 60 days of being in milk.
The stud boasts an average inter-calving period of 365 days and a lactation cycle of 305 days. The female animals produce an average of 8 815ℓ milk per lactation, with the milk
containing on average 5,03% butterfat, 3,99% protein and a somatic cell count of 136 000.
Nature vs nurture
Having top-rate genetics means little without efficient herd management. Schoonwinkel uses three separate software systems to assist him with this: Devisa Milk, the ALPRO herd
management system, and CowManager.
Devisa Milk helps with record-keeping by integrating all production details, including genetic, milk production, weight and calf records, and updating them. The program also links with SA Stud Book.
ALPRO's system measures the milk production of each cow and manages the milking system by switching it off once production slows to under 400ml per minute. The program also manages the volume of protein supplement supplied to each cow in the parlour, based on her average production of milk over seven days.
The stud produces an average of 28ℓ milk/cow/day over seven days, with about 150g of concentrate provided to each animal in the parlour on top of the feed she receives in the camps. According to Schoonwinkel, the only drawback of the ALPRO system is that it cannot measure whether the cows consume all the rations supplied to them.
The rations are carefully pre-formulated to accommodate the nutritional needs of the cattle. The feed concentrate in the parlour contains about 17% protein and a variety of essential minerals and vitamins; in the camps , the cattle receive a high-protein ration comprising oats and maize silage produced on the farm, in combination with lucerne and
cotton seed that are bought in.
The Schoonwinkels have been using CowManager for the past four years. The program uses machine learning to monitor cow health, fertility, nutrition and location based on ear temperature, cow activity, rumination, eating and resting time. The measurements are taken through an ear sensor, which is attached to the cow after calving.
A farmer can access the data, which is continuously updated, via an app on a smartphone or a computer.
"Being herd animals, cows usually don't show symptoms of disease until it's almost too late. CowManager enables us to identify these animals earlier by flagging them when there are unexplained changes in their temperatures, eating habits and movement," says Schoonwinkel.
The program also helps reduce production costs by flagging cows on heat. "It takes some of the guesswork out of heat detection, allowing us to use straws at the right time."
Great care is taken to ensure that calves get off to a good start, as they are the farm's
future income generators. The cows, and especially the heifers, calve in camps near the main building to allow Schoonwinkel to address complications more easily.
The calves receive colostrum within three hours of birth.
"Colostrum contains antibodies and immunoglobulins that help protect the calf against disease until its own immune system has developed," explains Schoonwinkel.
While the farm has a colostrum bank, as there are cows giving birth daily, Schoonwinkel
prefers each cow to suckle her own calf, as the quality of the colostrum degrades with time.
The calves are taken away from the cows and placed in calf crates when they are a day old. Each receives 1,5ℓ of milk twice day, which is gradually increased to 2,5ℓ twice a day by the time it is three weeks old.
From 10 days, the calves are given feed and finely ground hay to simulate rumen development. The feed comprises a premixed formulation, SS 200, combined with canola
oilcake, molasses, maize, barley and lucerne.
Calves are removed from the crates at 2,5 months, by which time they are weaned off milk. They are then kept in a small camp for up to two weeks to get them used to sharing feeding and drinking troughs.
"Moving the calves into small groups before sending them off to the rest of the farm helps reduce weaning stress and improve calf health," says Schoonwinkel.
The farm's main disease threat is cryptosporidium, a microscopic parasite that causes diarrhoea and can also lead to pneumonia.
"We've tried many tricks to root out this disease, but with no success so far. We're now
contemplating building new calf crates," he says.
Cows are kept for an average of 2,5 lactations, with top performers retained longer.
"The genetics improve so fast that it doesn't pay to keep the cows longer. They need to be replaced by their significantly better-performing daughters. In fact, the genetics improve annually, so we want to ensure we have the most profitable cows in milk with each cycle," says Schoonwinkel.
Email Arno Schoonwinkel at [email protected]