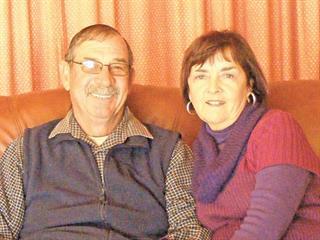 Carel and Anita Nel farm in the hilly country – grassland interspersed with rocky hills and some bushveld-type grazing – between Brandfort and Bultfontein. The good rain earlier this year resulted in lush grass cover and vast stands of Themeda triandra (red grass). It is difficult to believe that the same area suffered a devastating drought in 2012 and 2013, with the earth left barren and virtually devoid of life.
"The Drakensberger's exceptional hardiness and feed conversation, coupled with a rotational grazing system, meant that I was able to pull my cattle through without any losses or additional feeding, apart from the normal winter and summer licks," says Carel. "I didn't have to sell any animals, either. That's why I'm so passionate about the breed and named my stud Grasmunt (making money from grass). The Drakensberger is the top breed for optimum production from the veld."
Veld capacity
The Nels' farm consists of 500ha maize lands, 300ha Smuts finger grass pasture and 900ha veld grazing. Maize accounts for 50% of the farm's income, while the Drakensberger and 400-strong Dohne Merino studs bring in the balance. However, the drought changed this to 30% from maize and 70% from livestock. Although the official veld carrying capacity is 6ha/ MLU, Carel stocks at 8ha/ MLU to ensure sufficient forage for any eventuality.
Average annual rainfall is 400mm. The grazing and pasture is divided in 17 camps, each with its own watering point. Carel is the third generation to farm on this land; his family has been here since 1908. "My father was a sheep farmer and kept a few head of cattle of indeterminate origin," he explains.
Carel was one of seven children, and the land was shared between him and three of his brothers when his father retired.
"I started farming on 620ha but soon realised I had to add value to survive. Having decided to farm with cattle, I wrote to Danie Bosman, the well-known animal scientist, for advice on which breed to choose. He advised me to consider the Drakensberger and I haven't looked back since."
Carel and his three brothers initially ran a combined Drakensberger stud after buying a group of 60 cows and heifers from Piet de Villiers and Willem Pieterse in Vrede in 1974. Two years later they split up, and this led to the establishment of Carel's Grasmunt Stud.
"In 1974, I didn't even really know what a Drakensberger looked like," he says. "Then we went on a reconnaissance to the eastern Free State and I was astonished that just about every Drakensberger cow was in good condition, with a calf at heel despite the harsh winter. After the split from my brothers I bought my first group of cows and heifers from Koos Botha and Jaap van Niekerk of Dwarsspruit."
The Drakensberger
The Grasmunt Stud today numbers 100 cows with 20 replacement heifers. It maintains a ratio of one bull to 40 cows with a single summer breeding season. Carel is committed to functionality and breeds Drakensbergers to look the way they are supposed to. The Grasmunt bulls are strong, hardy, masculine and functionally efficient, while the cows are wedge-shaped, feminine and highly fertile. This breed was developed to perform under harsh conditions and to adapt to all veld types. It has remarkable resistance to ticks and diseases.
The cows are known for easy calving, exceptional milk and longevity. As an example, a Grasmunt cow weaned her 18th calf at 225kg at the age of 21. The Drakensberger is also known for its excellent temperament, and high-quality and quantity meat. Average weaner weights are between 260kg and 270kg for bull calves and 253kg for heifers. Grasmunt animals are renowned for an exceptional feed conversation rate (FCR).
"I've been selecting for FCR since 1981 and have bred and used several bulls with a rate of 5:1 and lower," Carel explains. "Since 1981, Grasmunt bulls have received 51 Gold Merits and 34 Silver Merits in Phase C tests. Seven bulls have so far represented the breed in interbreed performance classes. The females have also inherited this trait – they are consequently highly adaptable and can retain condition even under the most unfavourable conditions."
The herd's average ICP is below 400 days. "I've bred one Platinum Award bull and three Farmer's Weekly-ARC Best Elite Cows since 1981. We market our animals at an annual production sale and at the National Drakensberger Sale, the next of which will take place on 11 September 2014.
"I sold a bull for R100 000 at the 2014 National Drakensberger Sale in Parys."
The stud animals are run on maize stover for eight to 10 weeks during winter, and veld and planted pasture for the rest of the year. It has access to a winter protein lick, a summer phosphate lick, and a salt lick. The rotation is determined by the number of animals and the condition of the veld, but Carel spares the sweetveld and bushveld areas for the drier months.
Treating for disease
The herd is inoculated annually against diseases such as lumpy skin, Rift Valley fever and anthrax. "What sets my health regime apart is that my heifers are inoculated against brucellosis from a very young age," says Carel. They are treated with RB-51 at six months, 12 months, 18 months and 22 months. Carel is adamant about preserving his Drakensberger genetic base, specifically the Dwarsspruit genetic line.
"I came across this line in 1978 and was impressed," he recalls. "I obtained five heifers, each from breeders Koos Botha and Jaap van Niekerk. I'm the only breeder in the country still with pure Dwarsspruit cattle." The main unrelated strains are Gryshoek, Dwarsspruit, Meulstroom, Kranspoort and Mambane.
"Dwarsspruit animals fulfil all my requirements. They're hardy, fertile animals – real boerbeeste that are easy to handle. They're ideal for ranching under extensive conditions," Carel explains, adding that his ultimate goal is to supply the best genetics to add value to breeders and commercial producers. "To achieve this, I conduct well-planned line breeding. Animal and performance recording is absolutely crucial."
According to Anita, Carel has a virtually infallible eye when it comes to selecting high-potential animals from a young age. "His intuition has stood him in good stead over the years – one of the most important factors for the Grasmunt success."
Phone Carel Nel on 082 828 1984.