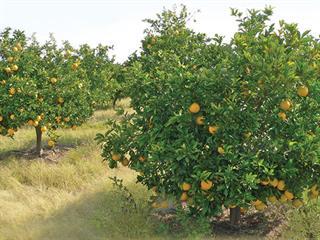 South African farmers are understandably rattled by Minister Gugile Nkwinti's '50:50' proposal. In this, the farmer keeps 50% of his asset while 50% goes to his workers, who are allocated share percentages based on years of service. Payment of the expropriated 50%, funded by the state, goes into a jointly owned investment and development fund.
READ:R11,3 million mushroom project launched in Ghana
Recently interviewed by senior SABC journalist Freek Robinson, the minister said he had asked the agri-sector three years ago to come up with a viable plan that took economic variables into account. With no such plan on the table, he told viewers that he had taken a political decision. Predictably, his proposal has generated a hostile reaction and shaken the already weakened confidence of South African farmers. This may be behind his decision to give organised agriculture another 12 months to come up with alternatives.
"This (his proposal) might be off the table," he says, in reference to the possibility of an alternative that satisfied government. Theo de Jager, deputy-president of Agri SA, says that Nkwinti demanded a 'one-size-fits-all' plan from Agri SA, which has the greatest number of commercial farmers in its membership. But he adds, nonetheless, that there is enough goodwill and support from the Department of Rural Development and Land Reform to make alternative, more viable proposals work.

Early proposals
The current round of debate and proposals on land reform began at the ANC national conference in Polokwane in December 2007, where the party scrapped the willing-buyer, willing-seller rule. Members said that the government should have the right to pay below market value for land if it saw fit to do so.
"Since market value is only one of the aspects listed in the Constitution, it would be possible for government to do this," says De Jager. "We pleaded with [minister] Nkwinti not to carry out this plan because of the impact it would have on financing agriculture, and he said he would give us the opportunity to come up with an economically sensible model that would also help him in his imperative to redistribute land."
One of Agri SA's proposals was for government to have the right of first refusal in any arm's-length transaction. "From a court date-stamped purchase agreement, government would have three months to buy the farm for land reform or restitution," explains De Jager. This proposal would have allowed government to choose the farms they wanted to buy.  "But some Agri SA members said the plan was unconstitutional and interfered with the market, and we could not get a mandate."
Government proposal
In October 2012, at Afasa's annual dinner, President Jacob Zuma proposed a land reform model in which government would purchase 50% of earmarked land, with the shortfall to be taken up by commercial farmers on a voluntary basis. In a quid pro quo, farmers would be protected from losing their land, and simultaneously get BEE status. "[Other advantages] could include 40-year mortgages at preferential rates for new entrants as well as land bonds that white farmers and others could invest in," said Zuma.
According to De Jager, opposition and even outrage greeted Zuma's speech, but behind the scenes, leading members of the farming community urged representatives of organised agriculture to give the proposal some consideration. "At first, one wondered how government could expect farmers to pick up the bill for a national imperative, but we decided to see how we could adapt President Zuma's model so that it made more economic sense," he says.
Nkwinti's current proposal means that every farmer will effectively lose half his balance sheet without compensation, explains De Jager, adding that 58% of total agricultural land value (R89 billion) is tied up as collateral with banks and co-ops. "On top of this, it's difficult to roll out land reform and redistribution while restitution claims threaten security of tenure for commercial farmers."
Transformation model 
Into this environment, commercial agriculture has launched a pilot project to test a model that maintains the land's market value. "This is critical, because land is used as collateral for agricultural finance, and if the bank has no certainty about loan recovery it will stop financing," says De Jager. In April last year, organised agriculture went to the National Planning Commission with several ideas:
Giving farm workers the opportunity to buy 50% shares in the business;
Offering farms under land claim to the state at 60% of market value and arranging for these farmers to lease them back for 40 years, with provisos protecting state and farmers against earlier lease termination;
Using land bonds to finance land reform from the private sector at guaranteed returns on investment.
All these schemes required some incentive from government, says De Jager. "In December, the planning commission proposed that we implement a pilot project. If the project were successful, they would take it to government and propose it as a better model that would not disrupt production."
The driving force behind this plan, developed over time and during discussions, is Prof Mohammad Karaan, the well-known and highly respected agricultural economist and Dean of the Faculty of AgriSciences at Stellenbosch University.  The Land Bank, the National Agricultural Marketing Council, Agri Mpumalanga and several large-scale commercial farmers are all involved in the project.
The Land Bank developed a loan product, offering finance at 2,5% interest over 40 years, that could be used for land purchase and for development of the parent farm, explains De Jager. "Let's assume that a farmer buys a farm worth R20 million for land reform and black empowerment. Government would pay R10 million and the farmer would borrow R10 million from the Land Bank at the preferential interest rate."
The low interest rate would apply to the foundation farm because of the erosion of the farmer's production capacity during the past 15 years of uncertainty over land reform. One condition would be that for every R500 000 borrowed, a permanent job must be created.
Citrus farmer lights the way
Letsitele-based Piet Smit, who heads up one of South Africa's largest citrus export businesses, the Bosveld Group, has volunteered to run the accelerated land reform pilot project. "Farmers should know that we propose voluntary participation. The bigger operations will take part because we draw the fire," he says. The Bosveld Group's policy is to focus first on production and then extend involvement into the entire value chain. Smit describes this as being "from the nursery to the markets and back", ensuring that any extra profit to be made accrues to the farmer's business.
"At the very least, producers should understand why they are paying someone 7% commission. My experience is that advisors to small black citrus farmers mostly have a vested interest and don't necessarily act in the farmer's best interests." The 'transformed' farm will slot into an efficient, existing system and will gain from all the advantages associated with being part of a big group.
Smit explains that agri-businesses can expand through the creation of partnerships with skilled people who already know the system, and who, as co-owners, will be profit-driven. Smit served on the steering committee of the National Agricultural Marketing Council, looking at solutions to the problems of land reform and transformation.
"When the need for project land was identified, we looked at buying a farm in Mpumalanga to increase our hectares under production," he says. "We offered this land to the committee for the pilot and took possession of the farm in early March."
Bosveld Sitrus (a member of the Bosveld Group) funded the land acquisition with a loan from a commercial bank. "We had to take a leap of faith," says Smit, "trusting that when government approves the project, it'll fund 50% of the purchase, and Bosveld Sitrus will be able to fund 50% by borrowing money from the Land Bank at the preferential rate."
Expansion
De Jager explains that as economies of scale catch up with smaller farmers, they are faced with the choice of expanding, for which they may not have the capacity, or getting out of farming. "This model offers the smaller commercial farmer the opportunity to expand. Through business involvement with his neighbours, he can be part of new land acquisition, bring in partners from the beneficiary community and grow the enterprise to a sustainable scale in five years."
For the first time, he says, there is real benefit for both farmer and beneficiaries. When the business becomes profitable, the beneficiary can buy out his partners, in which case the 'host' farmer gets his money back and can expand elsewhere.
"Throughout the process, market value prevails," stresses De Jager. "The Land Bank's commercial book is worth about R30 billion. If the bank sold its book to the commercial banks, it could raise enough money to finance this model without a cent coming from the fiscus."
10-year example
In one undoubted transformation success story, 70 Eastern Cape and KZN dairy farmers under the guidance of dairy owner Jeff Every began transforming their industry in 2004. Today, many commercial dairies, managed by black dairy farmers with black and white shareholders, are running profitably in an industry intolerant of mediocrity. De Jager concurs with this approach.
"[We must] ensure we have a new class of profitable black farmers in as short a time as possible," he says. "We're not proposing, as some have said, that we buy our own farms for land claimants. This is about land reform and transformation in the agricultural sector."
Phone Theo de Jager on 082 332 2110 or Piet Smit on 015 345 8500.
This article was originally published in the 4 July 2014 issue of Farmers Weekly.