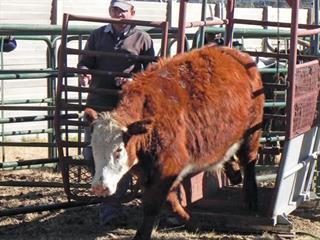 On Tuesday 8 July, beef farmers from the greater Queenstown area in the Eastern Cape, including Tarkastad, Cathcart and Dordrecht, arrived at Meat Traders Abattoir in Queenstown. They brought with them more than 60 bullocks, oxen and cows of all ages and a variety of breeds to participate in a block test with a difference. The first of its kind in South Africa, the test featured animals ready for slaughter, including:
A-grade oxen – Hereford/Brahman/Santa Gertrudis crosses, Drakensberger and Simmentaler crosses;
AB-, B- and C-grade oxen – Beefmaster, Hereford/Brahman/Santa Gertrudis crosses, Hereford, Bonsmara, and general crosses;
C-grade cows – Beefmaster, Brahman/Nguni crosses and Nguni/Jersey crosses. Organised by the Queenstown Commercial Farmers' Union in partnership with the Eastern Cape RPO, the block test saw animals being judged on the hoof on 8 July and their carcasses on 10 July, having been slaughtered the previous day. All attendees were invited to participate in each stage, as well as a steak-judging evening on 24 July.
The goal
The block test's key aim was to promote optimal red meat production on the veld; all animals taking part were veld-raised. The test also aimed to demonstrate that veld-raised or grass-fed cattle of all ages, with or without supplements, have an important place in the beef value chain. According to many farmers, this type of meat is not sufficiently accommodated in the current beef classification and marketing system. Director of Meat Traders Abattoir, Jack Miles, offered to host the block test
because, he says, there has to be "a lot more thought and discussion about the whole beef industry and what we should be doing".
He stresses that through the RPO, the industry must develop feedlot and veldraised market options. "There's very little understanding of what makes for quality meat, and about white fat versus creamy or yellow fat. We need the RPO to get involved in block tests like this countrywide. This will stimulate research into the taste and health attributes of veld-raised beef, of which people like Professor Tim Noakes are strong proponents," he says.
Meat Traders was named the Shoprite Group of Companies' Supplier of the Year for 2011 in the meat market division, and Jack describes himself as passionate about meat. "It's my line of work. I love it and I've put plenty of thought into what makes for the best beef; from the producer to how we manage the animals at the abattoir – with the least stress possible – to how we manage the carcasses," he explains.

(From left): Dr Pieter Prinsloo, hoof judges Shaun and Mark Cockin with Angus and Wagyu x Angus breeder Chris Purdon.
Shaun Cockin, who did the hoof judging with son Mark, concurs. "It's so good for us all to see different cattle of all ages here at the block test to better understand the options for beef farmers, and where we should be heading," he says. Shaun, a fourth generation Tarkastad farmer, has been a block test judge since the 1980s. "This block test goes much further than Queenstown. It addresses the current grading system with a practical demonstration of why we believe it needs to change.
We're aware that the grading system is being addressed at a symposium in Pretoria on 7 November and we hope the two-tooth, currently classified as AB, will be upgraded to A-grade. We also hope farmers will be properly compensated for keeping animals on the veld and selling them as two- to four-tooths."
He stressed that quality veld-raised animals should be bought from the farmer at the same price as weaners going to the feedlots. "We appreciate the feedlot system, but for quality, taste and health reasons – including no growth hormones or antibiotics – veld-raised animals must be promoted through the RPO. At the moment it doesn't pay to keep your animals on the veld, so even though veld-raised or grassfed beef is a very good concept, it's not economically viable."
Mark explains that AB grade animals have far tastier meat than A-grade animals. This, he says, is acknowledged around the world, but not in South Africa. "The SA market needs to start become properly educated about beef, so that it knows what it's buying," says Dr Pieter Prinsloo, RPO chairperson for the Eastern Cape. At the block test, the judges were not looking for the fattest animals, but for those with the best conformation and an even spread of fat across the whole carcass.
"We're starting to educate retailers and consumers about veld-raised meat, and we had great success with this at the Kirkwood Game Festival, where we partnered with Deli Spice," explains Pieter. "Farmers face a situation where there's discrimination against the more creamy-coloured or yellow fat, and retailers pay less for these animals. They say white fat is more desirable, but what they don't know is that creamier, more yellow fat is scientifically proven to be healthier, with the right balance of Omega 6, and that all grass-fed, veld-raised or naturally fed animals, across all age groups, have creamier fat that's more yellow in colour."

The winners
The cattle were judged in their grades, and oxen were judged separately from cows. Agri businessman David Osborne's A-grade Hereford/Brahman/ Santa Gertrudis oxen won first and second place in the single ox competition on the hoof, as well as the group C-grade oxen competition. The Prinsloo Boerdery A-grade Beefmaster oxen won the group A-grade oxen competition on the hoof.
David explains that six weeks prior to the block test, he continued grazing the cattle on good veld but also gave them a full ration of Molatek Beef Fat 33, Molasses Meal and Hominy Chop. An approximate 1t mix comprised 200kg Molatek Beef Fat, 800kg hominy chop and 50kg molasses meal."On 8,5kg of the supplement per animal per day, they gained an average of 1,3kg a day," Pieter explains. "Six weeks later, their average weight at the block test was a gain of 54kg during this period.
We received R32,50/ kg for these carcasses, excluding VAT. For the 54kg that they gained, the abbattoir paid us R1 755 per animal and the cost of the supplement for that period was R1 189 per animal. On 54kg alone, the average profit per animal was over R500." The average slaughter weight of the four was 240kg and Prinsloo Boerdery was paid an average of R7 800 per carcass, excluding VAT. Using the cafeteria system, Prinsloo Boerdery grows out 30 to 50 A-grade bullocks for slaughter each year. In addition, it sends approximately 120 B-grade or four-tooth oxen to the abattoir annually.
"We send the B-grades straight from the veld to the abattoir. At two-and-a-half years old, they weigh 580kg to 600kg. Their slaughter weight is about 300kg at R25 / kg," says Pieter. The farming operation also sends 150 weaners to the feedlot annually. They shop around for the best prices and keep heavier steers for their oxen system. The overall winner in the carcass competition was the group of four A-grade Hereford/Brahman/Santa Gertrudis oxen of Herman Vigne, who manages two farms in the Tarkastad district for David Osborne. The farms are a combination of sweet- and sourveld, and are 3 050ha and 2 500ha respectively in size.
Herman's 16-month-old animals were awarded a group carcass average of 90,63 points. The best carcass in his group – an A2-weighed 442kg on the veld and slaughtered out at 268kg – had a 63% dressed weight and a points score of 93,12. The animal also came second in the A-grade group on the hoof. Second in the carcass competition was an A2, weighing 448kg on the veld and slaughtering out at 269kg, achieving a 90-point score. It did not place in the hoof-judging sector. Herman received R32,50/ kg for his carcasses, which averaged at R8 700 excluding VAT. From this, he deducted the R2 850 for supplements.

Wagyu cross Angus heifers with a three-quarters Wagyu calf. A Wagyu cross Angus, bred by Chris Purdon from the Cathcart district, was included in the block test for interest, to demonstrate its marbling.
"I fed one ton of supplements to the four oxen from 1 April, while they ran in a camp with decent grazing," he says. "In the last three weeks before the block test I increased their daily supplement ration from 2kg to 4kg each. I use a Voermol mix that BKB in Queenstown makes up for me. A mix of about 2t consists of 400kg SB 100, 160kg Voermol Molasses Meal, 1 380kg of either germ meal/hominy chop or yellow maize, and 50kg of Voermol HPK. "I wanted to show that it can make financial sense for farmers to supplement their animals, and that A-grades can profitably be sold off the veld if they're managed well," explains Herman, whose average weaning weight was 247kg at seven months.
"I believe in looking after cattle, ensuring they're healthy and looking good. In winter I give my cows a good Dundee-type protein lick, at 350g/day." Herman manages herds of approximately 800 breeding cows on the two farms.

The tasting
At the steak-judging evening at Blue Boulders Barn outside Queenstown, farmers, chefs and retailers tasted the top-judged carcasses. Queenstown restaurateur Andrew Nel prepared the winning carcass of each group, as well as the Wagyu. Andrew used nothing but salt and prepared them as medium. He served six steaks on a platter per table, with a flag specifying its grade, plus the Wagyu.
"We've been asked to make a poster presentation of this block test at the 7 November symposium," says Pieter. "It'll include a summary of the data – from weight loss during transport to slaughter percentages, right up to the taste and tenderness. Hopefully, this test will contribute to the growing body of knowledge on SA beef production and will ultimately increase the options for cattle farmers."

Phone Queenstown Commercial Farmers'Union on 045 839 4716,or RPO chairperson for the Eastern Cape, Dr Pieter Prinsloo on 045 839 5990.