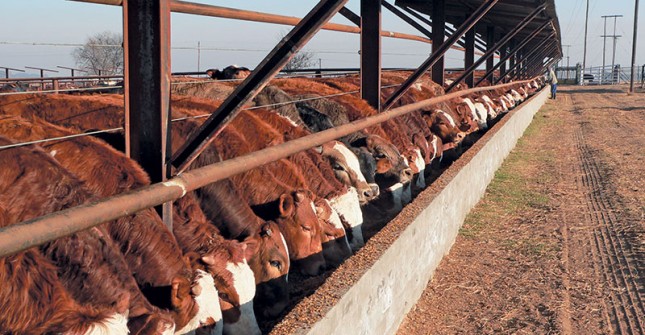 Johan Dannhauser and his family of Goedgedacht farm near Parys in the Free State run a 4 000-commercial cow herd, a Simmentaler and Africa Droughtmaster stud consisting of 200 animals, and a feedlot finishing 2 500 calves for slaughter in two cycles per year. The Dannhausers have farmed the 10 000ha farm since 1882. Between 1950 and 2005, the family focused on grain, but in 2005 they began converting their lands to pasture for cattle.
Good winterfeed vital
"To avoid a dip in production, correct winterfeed is essential. If you get winterfeed spot-on, you enter summer with cows in good condition, which leads to good production," Johan says.
When a cow in poor condition gives birth, the calf's immune system may end up being weak, which could prove fatal.
Cows that calve in spring produce colostrum in winter, and good winterfeed is therefore vital to ensure that calves receive good quality colostrum after birth. This translates into a heavier weaner and higher weaning percentage, Johan says.
Female animals' ova are also formed during this time in preparation for conception in summer. A cow in poor condition will have fewer, lower quality ova reducing the chances of conception. The production cycle for the following season therefore already starts in winter, he explains.
Frost and precipitation
The vegetation in the Parys area is a mix of sweet and sour veld, with an average rainfall of 750mm/year. With the past three years being dry, this average dropped to 650mm/year. "It sounds like a lot of rain, but timing of rain is essential. We had low rainfall from December to February when grass should grow," Johan says.
First frost typically arrives in the middle of May. This means that the protein levels of grass is greatly reduced and feed quality declines, which means winterfeed has to be made available during this time, he says.
When the farm moved from crop to beef production, the Dannhausers gradually transformed 4 000ha croplands into 300ha pasture. Johan favours a Rhodes (Chloris gayana) and Smuts finger (Digitaria eriantha) grass mix.
"Some of the pastures my father planted to this mix, 30 years ago, are still grazed today," he says. The Rhodes grass establishes quickly, and Smuts finger grass takes over after a number of years.
Carrying capacity
According to Johan, carrying capacity on the farm amounts to roughly 4ha/LSU. This consists of 3ha of pasture and 1ha worth of stover per LSU. He believes it is essential not to utilise the farm to its full carrying capacity.
"In wet years we build up veld. All veld must be utilised at some stage, as pasture and tussocks that remain untouched for three years will [succumb to] fungi that grow due to longer grass keeping sunlight from the tussocks," he says.
Three-camp system
Johan uses a three-camp system. "One camp is rested during summer, while the other two are grazed. After the first frost, the camp that had been rested is grazed to the bone.
The following year, one of the other camps is rested to enable root growth and recovery, and to enable sweetveld to dominate sourveld. [The result is] long periods of rest combined with long periods of intensive grazing. This method also grows carrying capacity," Johan says.
"The crux of winterfeed is that buying it isn't profitable. Currently, bales sell for R600/bale. A cow eats 15kg/day, therefore a bale lasts two weeks. A cow effectively eats her own value. If you get to the point where cattle die from hunger, it is more beneficial to feed, slaughter, wait for the veld to recover, and rebuild a herd," he says.
If a farmer knows he is pushing carrying capacity to the limit, he must build supplies for dry years. "In good years, we forget how bad it can be. You should farm as if the next dry year is around the corner. In winter I help young animals with additional feed, as they struggle more than cows that have become tough," Johan says.
He bales 15 000 to 20 000 bales of hay per year, using them for both feedlot and commercial purposes. "Bales are a precaution for drier years," he explains. "But the best winterfeed is pasture used as standing hay, which saves on baling costs.
How much nitrogen (N) per hectare we use is the main driver, then diesel, cut-and-bale costs, and labour. Labour costs depend on how many t/ha we bale. In a wet year, we bale 40 to 50 bales/ ha if we administer 120N/year/ ha. In a dry year with the same N, we bale only 25 bales/ha. It works out to roughly R100/bale to R150/ bale, depending on rainfall."
Hay bales only have monetary value in dry years when you can sell them, Johan says. "Someone once told me that you bale to manage your grass. If it is a dry year and you don't have enough pasture, and it is too expensive to bale, you can leave the grass as standing hay. But if there's too much grass as a result of good rains, and you can't utilise it all, you bale so that you don't lose it to disease or fire."
Strategic use of hay bales is essential, and Johan bales close to where the hay will be utilised to minimise transportation costs. However, he prefers not to bale on rocky lands as this causes wear and tear on machinery.
He uses these lands for grazing only. He also rotates the lands to be baled to give the grass time to seed itself and for root systems to recover.
"You can't cut and bale a land every year. It would be similar to overmining it," he says. Johan says that firebreaks are also essential to stop fires from causing damage to bales and pasture.
Feedlot winterfeeding
Feedlot rations remain relatively uniform throughout the year, depending on the price of chop, maize, and molasses.
Feedlot roughage, in the form of grass, makes up 15% of young calves' total feed, and 10% for larger calves.
"If maize prices are high, we use more chop, and vice versa. This, with molasses and HPK (protein concentrate), makes up the other 85% to 90% of the feedlot ration," he says.
According to Johan, yellow maize is more palatable and nutritious and he buys all his maize from neighbouring farms.
Lick is essential for commercial herds, with different groups of animals receiving licks that address their specific needs. Johan uses Telwiedre licks for all his cattle.
In winter, he gives Futa 45 winter lick to older cattle at 400g to 500g/ animal/ day. First-calf cows and weaned heifers receive a Mispah energy lick in summer. Johan does not treat his stud animals differently to his commercial animals in winter.
"That's the secret of a [successful] stud. A stud animal must be treated the same as commercial animals, otherwise the genetics aren't adapted to the conditions of your farm.
But if a stud animal falls ill, I'll contact a vet, whereas a commercial animal must recover or be slaughtered. The stud receives the same feed and lick in winter, with only bulls being fed differently for Phase C and D tests."
Drought recovery
During the drought, Johan had to utilise his winter feed for longer as pastures took longer to recover. "Licks are also more expensive for winter use. In summer, I normally feed 120g phosphate (P), while in winter I feed around 500g.
"These past two years I couldn't move to P before November [Johan usually moves over to P in October] and there were times during January when I went back to winter lick. I then returned to P after it rained."
During the past two years, Johan has had to use hay bales to help the animals through the winter. He usually uses 4 000 bales/ year, but during the drought he had to use 8 000 bales/year. Older bales are sold while new ones are kept for use on the farm. Johan does not plan to change the way he approaches winterfeed after the recent drought.
"If we survived the last two years, our methods must have been correct. We can, however, adapt to new technology, for example, new cultivars being launched," he says.
He recently carried out a trial with blue buffalo grass, but says that the Rhodes/Smuts finger mix is best for the region, as very cold snaps below -10°C kill off other grass types. The mix consists of 3kg Rhodes seed and 8kg Smuts finger seed applied with 5kg P/ha and 5kg N/ha. The cost works out to about R1 400/ha.
Healthy animals
Johan administers Multimin early in summer and at the beginning of winter to prevent mineral shortages in winter. "You must also keep animals parasite-free. If you see that an animal doesn't pick up weight, it's usually because of parasites that affect feed conversion negatively," he says.
He adheres to a strict vaccination programme to prevent all possible diseases. The crux, he explains, is to prepare for the worst, because you never know when the next drought will be.
Phone Johan Dannhauser on 082 655 4271, email [email protected], or visit www.deovolentesimmentalers.co.za.