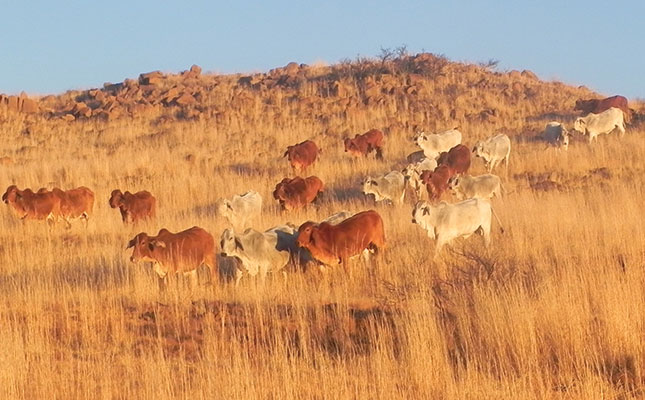 What sets the Namibian stud breeding industry apart?
Livestock production here is practised under tough, semi-arid to arid conditions. The rainfall is low and highly variable, from 75mm in the south-west to an average of about 550mm in the north-east. Livestock is the mainstay of agriculture in the country.
Commercial crops are grown in a small area – on about 2 000ha at the Hardap irrigation scheme close to Mariental in the maize triangle of Otavi, Tsumeb and Grootfontein.
READ: Dormer sheep: for the greatest return on your investment
Livestock stud breeding isn't a hobby in Namibia. To stud farmers, it's their bread and butter, and an integral part of their livestock production. Their commercial herds are linked to their studs and it's all managed as an integrated system.
Nowhere in Namibia is the livestock stud a secondary industry that's run as a sideline to crops or any other form of agricultural production.
More than 95% of stud breeders are bona fide farmers. But it's true that due to the existing climatic and economic conditions, stud breeders and commercial producers are forced to diversify.
How many stud breeders, animals and species are represented by the Namibian Stud Breeders' Association?
Even before independence, stud breeders expressed the wish to be in control of their own affairs. At that stage, all livestock registration and performance recording were still done through SA Stud Book.
A group of stud breeders met on 25 February 1986, drafted proposals and started organising themselves. In 2002, an investigation was carried out to find an alternative registration and performance-recording system.
The Australian Breedplan and Intergis 2000 systems were evaluated and on 9 August of that year the AGM decided to implement the Breedplan and International Livestock Registration systems.
It was important to the NSBA that the three components – registration, performance recording and evaluation – were contained within one system.
Since its inception, the NSBA has grown from 202 breeders from 11 breeders' societies owning 25 016 animals to where it currently serves as the registration authority for 35 societies – 23 cattle, two goats, four sheep and six horse breeds.
That's a total of 700 breeders who own more than 79 000 head of registered livestock. The Namibian Brahman Breeders' Society was the first to sign up as a member.
What is the biggest breed society and why are specific breeds so popular in Namibia?
The Brahman breed society has the most members, with a membership of about 140 breeders owning 21 000 head of registered cattle. Thirty-five of these breeders are emerging commercial or communal farmers.
The Brahman has the largest influence within the commercial beef sector. It's estimated that about 70% of the commercial cattle herd are Brahman crosses or infused with Brahman.
The Brahman is popular, especially as a crossbreed, because of the excellent mothering ability of the crossbred dam, while bulls are in demand because of the adaptability of the breed and its good growth characteristics.
Brahman crossbred progeny are favoured in feedlots. The Bonsmara is also popular within the commercial sector, both as purebred animals and breeding bulls.
Their medium-frame size makes them useful for production in semi-arid environments. The Dorper is still the most popular sheep breed. As purebred animals and crossbreeds, they contribute about 80% to the sheep population. The registration of animals is done in South Africa.
The Boer goat is the largest goat breed, with more than 140 registered breeders and close to 20 000 registered animals.
The Afrikaner cattle stud and Boer goat stud at the Omatjenne Research Station are probably amongst the oldest herds in the country, dating back to the late 1940s. The newest breeds are the Veldmaster sheep and the Droughtmaster beef cattle breed.
What are the greatest challenges facing stud breeders?
The biggest concern is the veterinary status of neighbouring countries, especially South Africa. Namibia currently has the highest disease-free status on the continent.
Its breeders can export animals to any country within Africa on condition that the animals comply with the veterinary import regulations of the country of import.
When South Africa was not accessible to Namibian stud breeders due to foot-and-mouth disease (FMD) – from February 2011 to May 2014 – breeders of the smaller breeds in Namibia struggled to obtain new material.
This forced them to import expensive semen from abroad. There's close cooperation between the NSBA and other livestock registering federation authorities in South Africa. We all use the Breedplan system for registration, performance recording and certification.
When information is requested, either from SA Stud Book or on animals imported into Namibia or exported to South Africa, this is exchanged.
Who are Namibian stud breeders' main clients?
These are commercial beef and emerging commercial sectors as well as farmers from the communal sector, including the Northern Communal Areas.
Namibian beef producers demand bulls that will add to the production of weaners with good growth potential for the feedlot industry and the production of slaughter oxen with a 230kg to 260kg carcass, produced from the veld at the age of 30 months to 36 months (AB-grade or B-grade).
They also need bulls that will provide well-adapted crossbred females that can be bred from 21 months to 24 months, calve early under extensive production conditions and produce a good-quality weaner calf every year.
During the past decade, stud breeders developed markets in Angola, Botswana and Zambia.
Every year, a number of breeding bulls (and breeding females from time to time), are exported. Angola is currently the biggest market. Its cattle population decreased drastically during the war, and producers are looking for well-adapted animals to restock and improve herds.
It's easier and cheaper for them to buy quality animals in Namibia. The Bos indicus breeds are particularly sought-after.
Widespread incidences of brucellosis and trichomoniasis are increasingly reported in Southern Africa. What is their possible impact and how does the stud industry manage them?
Due to its meat exports to the European Union, Namibia has to comply with stringent vet requirements. Inoculation against brucellosis, anthrax and black quarter is compulsory and proof of all vaccinations and inoculations has to be produced upon inspection.
The Livestock Producers' Organisation has an ongoing sensitising programme to warn farmers against problems associated with these diseases.
At auctions of stud cattle, sellers must hand in health certificates to prove that animals are free of brucellosis, trichomoniasis and vibriosis, and in the case of bulls, a fertility certificate not older than 30 days.
The outbreak of FMD earlier this year in the Northern Communal Areas of Namibia occurred close to the border with Angola when infected cattle entered from that country. It was the areas' first recorded case of FMD in 50 years.
Although it did cause a stir within the commercial farming sector, it never posed a threat. This was due to immediate action taken by the Department of Veterinary Services (DVS) within the Ministry of Agriculture, Water and Forestry as well as efforts by commercial producers to contain the disease.
The movement of all livestock was banned within these areas. The transportation of animals for ceremonial slaughter was done under the supervision of DVS staff members.
Large-scale testing was carried out to find any more infected cattle and a vaccination campaign launched, with government providing the funding.
The commercial sector inspected the veterinary control fence (red line) and repaired the damaged section. All of this proves how effectively the farming sector and government can work together.
What is the best-case scenario for Namibia's stud-breeding industry in 10 years?
This would be if Namibia, South Africa, Botswana Zimbabwe and Zambia – the main livestock-producing countries – could have FMD-free status.
It would simplify the flow of genetic material within the SADC region. There is a market for genetics from Southern Africa, particularly in South American countries, but the prevalence of FMD acts as a barrier to exports.
Hopefully, 10 years from now Namibia will also have an independent artificial insemination and embryo transfer industry.
What is the worst-case scenario?
Namibia losing its FMD status. The country is a nett exporter of beef, mutton and goat. Should the availability of brucellosis vaccine continue or worsen, Namibia's export market for beef will be jeopardised.
If the prevalence of brucellosis, trichomoniasis and vibriosis increases, herd fertility and productivity will be negatively affected.
Email Jacque Els at [email protected].