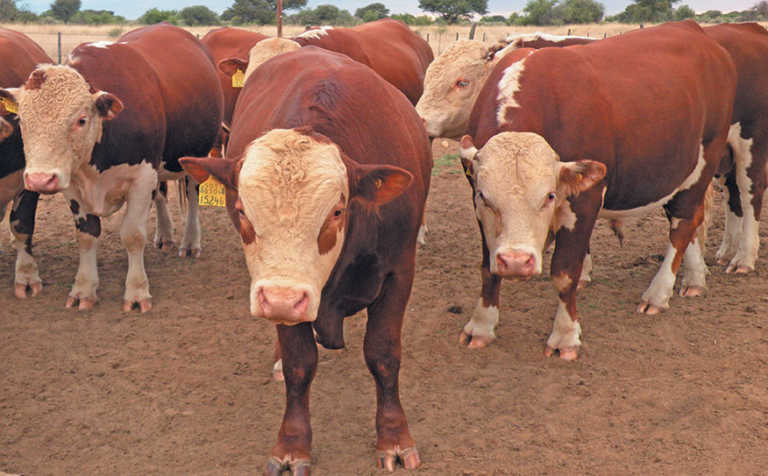 The Hereford, an ancient breed from Herefordshire in England, is now found almost everywhere in the world, from the US prairies to South America's pampas, from Russia's steppes to the Southern African veld.
Herefords were first imported to Namibia by Baron von Wolff from Duwiseb in 1918, and the first stud, Kalahari Rand Herefords, was established in 1954 by Fritz Kuhn. The country's Hereford stud industry currently consists of 459 animals.
Right from the start, in one way or the other, breeders used selection to improve the efficiency of the breed, says Heinz Gruhn, chairperson of the Namibian Hereford Breeders' Society (NHBS).
This saw local Herefords evolving from a fundamentally European breed to excellently adapted African beef cattle.
A thinner coat
One of the problems that had to be tackled from the outset was the Hereford's thick coat. Needless to say, this was ill-suited to the Namibian heat, where temperatures commonly range from the high 30s to low 40s.
The thick coats also resulted in tick infestation.
Through strict selection, Namibia's Herefords now boast short, smooth coats. In winter, small curls are permissible, but in summer the coat must become smooth again.
This has been the main change. Other than that, "the animals still look like the original Herefords, red with a white head, brisket, underline, crest, switch and legs below the knees and hocks," says Heinz.
The NHBS joined Breedplan in 2007. This means that breeding values, including cow and calf weights at birth, 200 days, 400 days and 600 days, are kept on record and managed by the Namibian Stud Breeders' Association (NSBA).
In 2002, the NSBA decided to implement the Breedplan and International Livestock Registry (ILR) systems.
Breedplan membership and services make it possible for Hereford stud breeders to keep track of the genetic progress of the breed both locally and abroad.
Thanks to Semex, the NHBS is able to import semen for artificial insemination, adds Heinz.
Selection principles
Unprotected eyes and a lack of pigmentation around the eyes are penalised in Namibia. Pigmentation of the hide and hair protects against sunburn, particularly in the exposed areas around the eyes.
The selection principles are based on limiting exposure to outside irritants and direct radiation from UV rays. To achieve this, hooded eyes are crucial. Namibian breeders select for strong eye banks and deep-set eyes protected by downward-pointing eyelashes and eyelid pigmentation. The hooded eye prevents contamination by foreign objects, as do the eyelashes.
The Herefords are medium-framed and have strong legs, enabling them to traverse relatively long distances between watering points and grazing on widespread farms, further underscoring the breed's adaption to Namibia's conditions.
"Our Herefords are fertile, efficient and easy to manage because of their even temperament. They also excel in meat quality, and contain ample DNA markers for tenderness," says Heinz.
He adds that the Hereford is unsurpassed at converting grass into meat with a uniform fat covering on the carcass. It is also a first-rate choice for crossbreeding purposes.
Hereford bulls add to increased profitability in a cow-calf operation because of a shorter gestation period. For Hereford-sired calves, this is on average three to five days shorter than for calves sired by most other beef cattle breeds.
The Hereford's low birthweights correlate with the reduction in calving difficulty. Heinz's Otongovi stud, for example, maintained an average inter- calving period of 380 days in 2017, and average birthweight is 38kg to 40kg. Heifers are weaned at 205 days at an average weight of 230kg for 205 days, and bulls at 240kg at the same age.
Livestock production, the mainstay of agriculture in Namibia, is practised under semi-arid conditions characterised by low and highly variable rainfall. According to Heinz, the rainfall varies from as low as 75mm/year in the south-west to an average of 500mm to 550mm/year in the north-east.
"We therefore need to use the best genetics possible to ensure that we make money," he stresses.
Other breeds
Various Bos taurus and Bos indicus breeds have been imported into Namibia over time, notes NSBA manager, Jacque Els. The Simmentaler arrived 120 years ago, the Brahman 63 years ago, the Braunvieh during the 1960s and the Charolais during the 1970s.
These European beef and dual-purpose breeds originally suffered in their new environment.
"They were adapted to cold or temperate climates and environments with enough feed to meet their nutritional needs," explains Jacque.
Nonetheless, producers appreciated the potential benefits of these breeds and were prepared to manage the problems the animals faced.
As a result, they started selecting for animals that could produce under the harsh Namibian climate. This included extreme heat, low and highly variable rainfall, as well as variation in the nutritional value of the grazing.
Fertility is an indication of a breed's adaptation to its environment. Over the years, producers selected and bred for improved fertility by choosing breeding females that calved regularly and preferably annually.
They selected for adaptability by choosing animals with a less woolly coat and those that shed their long winter hair early in spring. Such animals are less susceptible to heat stress.
"Heat stress inhibits feed consumption, which impedes growth," explains Jacque.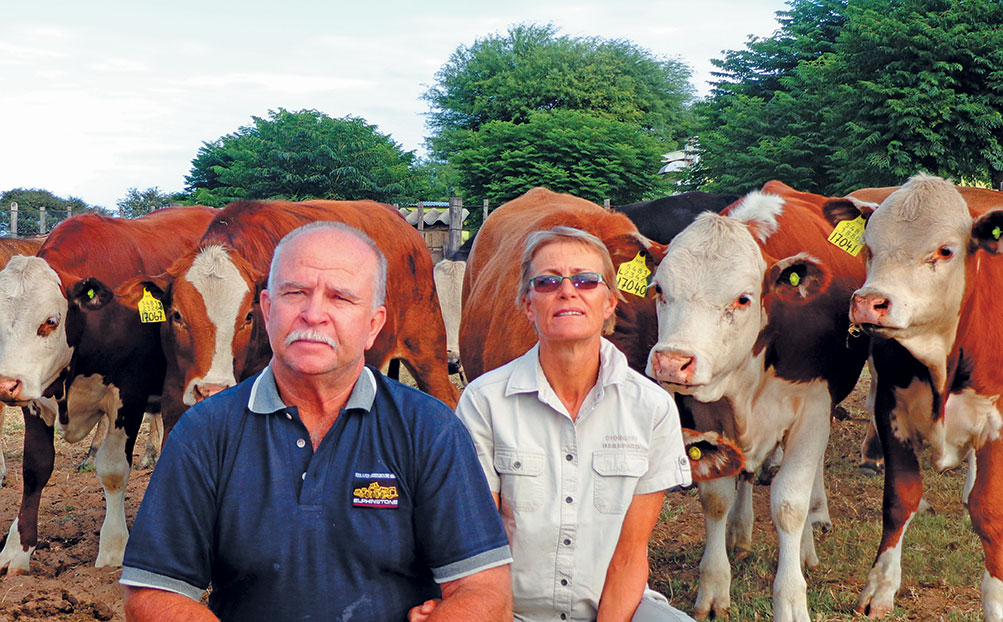 In Namibia, it is important to farm animals that can maintain themselves. This is why producers tend to breed medium-framed animals with good conformation.
The frame size of the imported breeds has decreased markedly over the years, as large-framed animals generally struggle to maintain themselves on the veld.
Namibian producers also pay particular attention to animals' hooves, legs and walking ability. Animals with leg and hoof defects struggle under the country's extensive farming conditions. Due to the complexity of animal breeding, selecting for these different traits remains ongoing.
Economic realities and genomics
The economic realities of beef cattle production under Namibia's extensive farming conditions are such that producers cannot afford to accommodate poorly performing animals.
Informed selection decisions based on genomics, among others, will become increasingly important in future.
This explains why beef producers in Namibia were among the first worldwide to adopt the Single Step method. This makes it possible to include genomic information in BLUP breeding values and has emerged as an important tool in ensuring the long-term sustainability of red meat production in Namibia, says Heinz.
Email Heinz Gruhn at [email protected], and Jacque Els at [email protected].