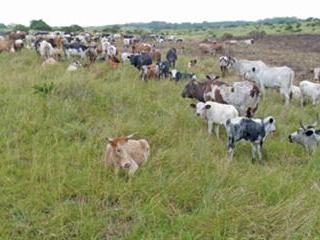 When it comes to livestock farming, Clive Webster of Mkulu Kei Farm has a straightforward, no-nonsense approach. That is – keep it simple and leave it alone. It's not surprising, then, that he's chosen to farm along the Eastern Cape coastal belt near Kei Mouth with Boerperd horses and Nguni cattle – breeds that need little attention.
It's also a beautiful part of the country that has entranced the former city dweller. "What a wonderful shift," he tells me from
his home overlooking land that contains elements of four biomes: the Indian Ocean coastal belt, savanna, Albany thicket and even Afrotemperate forest. There's nowhere else in the world he and his wife, Merry, would rather live, he adds.
Clive purchased Mkulu Kei in 1998, while still living in Johannesburg and managing Objectivity, a marketing business he founded in 1982. "I bought this farm not knowing what to do with it," he admits. Then Clive's daughter, Cheryl, had the idea of establishing horse trails in the Kei Mouth area. By 1999 the farm had become home to about 40 Boerperd geldings and mares, and Cheryl had started Mkulu Kei Horse Trails, a business that remains successful today.
But Mkulu Kei Farm itself was destined to become the semi-retirement home for Clive and Merry. "There's nothing wrong with Joburg – it's just that there's too many people there. I'm a quiet guy and will rather talk to a horse,'' chuckles Clive, who's still CEO of his company. Interestingly, both of the farm's managers – Frans Botha and equine specialist Emma Mullin – are also from Gauteng.
But, as Clive points out, swapping a metropolis for the Eastern Cape platteland has had its challenges, especially when attempting to farm a patch of it commercially. ''You come down from Joburg and everybody thinks you're going to fall flat on your face,'' he says. ''The trick I've found is to ask questions and use your kop.''
Good-tempered trail horses
Soon after arriving on Mkulu Kei, Clive purchased four Friesian stallions and crossed them with the resident Boerperd mares to breed black trail horses. It was a good marketing move, he says. The almost 70 black Friesian/Boerperd crosses have a good temperament, which means they're ideal for even the most inexperienced rider.
But there's more to it than that. According to Emma, who got on to her first horse in Johannesburg at the age of four, the Friesian side brings with it size, strength and good looks, while the Boerperd contributes stamina. For Clive it's also important to breed horses out on the veld and not in the 'artificial' environments in which horses are often kept in and around Glenferness in Midrand, where he used to live.
''Everybody had their horses locked up in prison and stables and everybody had problems with colic and those kinds of things, '' he says. ''I came down here and saw how easy it is.'' On Mkulu Kei, therefore, horses are run on the veld 'unshod'. They receive no inoculations or extra feed and are brought in once a week to be brushed and sprayed for ticks. Furthermore, Emma practises 'natural horsemanshp' and trains the horses without bits.
Doubtless their temperament and her skill as a trainer – she received her first qualification in 'natural horsemanship' at the age of 12 – makes this a little easier. But Emma also believes this method is the best. "Instead of trying to 'humanise' a horse and make it think like a human, it forces you to think like a horse," she explains. It's also a method which moulds trained horses that have been sold for more than R15 000.
Getting going with Ngunis
''Ngunis fitted my philosophy of farming naturally,'' says Clive. "We recognised that this farm's future lay in Nguni cattle.'' He admits he's been deeply influenced by the opinions of controversial cattle expert, Dr André Mentz, who unreservedly advocates a holistic approach to beef production.
Clive believes that farmers should first and foremost focus on managing their veld. This will benefit any beef enterprise, especially if you're farming with a well-adapted indigenous breed such as the Nguni. As for the fact that some farmers criticise the weight of Nguni weaners, he's quick to point out that what truly matters is the kilograms of beef you can produce per hectare, not the individual size of animals.
''I can run twice as many Ngunis as I can run anything else,'' he explains. "So I have two Nguni weaners to one other – I have more meat. It's about kilograms per hectares." For farm manager Frans Botha, the Nguni's most important characteristic is the ease with which cows calve, making management not only easy, but all but unnecessary. ''That's what's so nice about the Nguni – the calf size is small,'' he says. ''You don't have calving problems. They just pop out.''
High density
The Ngunis on Mkulu Kei are run in a single herd that includes 163 breeding females and four bulls in a high density grazing system. Cattle are placed in small 2ha-4ha camps around water sources. They're moved to a new camp every two to three days on average. This reduces grazing and increases hoof action.
According to Clive this grazing technique attempts to mimic what would have happened in a natural and undisturbed ecosystem. In the past, a herd of buffalo would come through and "clean everything up", then man arrived on the scene, divided the land into blocks and stopped the process, he explains. But he has enough land to re-introduce the 'old', natural ways, he adds.
Cattle on Mkulu Kei benefit from a standard inoculation programme. They receive a protein lick in winter and phosphate lick in summer and the herd is spray dipped every two to three weeks on average. The herd isn't managed within defined breeding seasons and calves are weaned at approximately six months. Most heifers are currently retained, as Clive wants to boost the herd to 400 breeding females.
Mkulu Kei is also home to cattle handling facilities based on a design by Temple Grandid, a world leading designer of livestock handling facilities based at Colorado State University in the US. "The facilities are aimed at keeping cattle's stress levels to the bare minimum," explains Frans. The entire facility is covered in black conveyor belting to decrease the possibility of any disturbance from the outside. It's also designed in curves to ensure that animals can't see what is at the end until reaching it.
Contact Clive Webster on 043 841 1382.
Sources: www.grandin-livestockhandlingsystems.com; Guide to Grasses of Southern Africa, by Frits van Oudtshoorn; Trees of Southern Africa, by Keith Coates Palgrave; and Field Guide to Wild Flowers of South Africa, by John Manning.