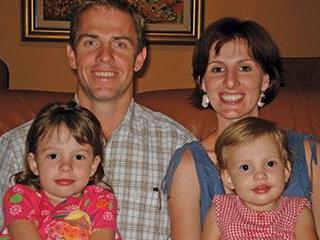 St Blaize, owned by Cobus and Angie van der Merwe, is situated 30km south-east of Gobabis, Namibia.
"Our core business is breeding genetically superior Brahman and Sussex cattle that are functionally efficient, adaptable, fertile and calm," says Cobus. "We aim for outstanding beef quality, backing it up with accurate goal-orientated performance testing."
In order to maintain cattle health, the St Blaize stud herd receives a phosphate lick all year round with an additional protein lick in winter. The only cattle on St Blaize to receive additional supplements are bulls being prepared for the annual production sale.
Cattle are inoculated against anthrax, black quarter and botulism, while heifers are also inoculated against brucellosis. All receive Multimin and Vitamin A injections every four months.
Cobus rotates a pour-on and spray dip to treat ticks and other external parasites, varying the active ingredient to prevent resistance build-up. Sale bulls are inoculated against lumpy skin, rabies, bovine viral diarrhoea and infectious bovine Rhinotracheitis, and are tested for trichomoniasis and vibriosis.
The St Blaize herd is kept on the veld with no additional feed except the usual summer and winter licks.
Anaplasmosis is the main disease affecting the stud. "The Sussex, like other European and British breeds, are not as resistant to tick-borne diseases as the indigenous and Bos indicus breeds are," explains Cobus. "But strict selection has improved our herd's resistance to anaplasmosis. To feed a growing population, increasing production and productivity through improved genetics is essential.
The only way to achieve this, according to Cobus, is to breed and supply genetically superior prototypes to commercial cattlemen to improve the long-term sustainability and profitability of their herds.
Extracted from 'St Blaize Sussex: investing in good genetics pays' by Annelie Coleman (FW, 22 August, 2014).