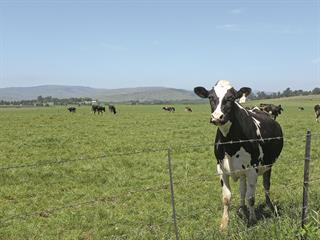 The South African milk industry produces 2,82 billion litres of milk annually, and generates R10,6 billion in turnover. Of South Africa's
1 782 milk producers, only 280 are based in KwaZulu-Natal, and this number is declining. However, these figures are deceiving.
KwaZulu-Natal dairy farmers have the ability to become South Africa's major suppliers, but challenges to the industry, such as cheap imports and departmental incompetency, must first be addressed.
READ: Starting off in dairy farming
Production in the province is increasing, with KwaZulu-Natal dairy farmers now producing nearly a quarter of the country's dairy products. If this trend continues, the province will be the country's major dairy provider within the next five years, says Edsel Hohls, SA Milk Producers' Organisation (MPO) KZN chairperson.
"Each month, we produce about 56 million litres of milk and pay between R11,76 million and R13 million in wages," he says. "It shows the importance of milk, not only as the cheapest form of protein, but as an important contributor to socioeconomic development."
Industry challenges  
The consumer randSkewed distribution of the consumer rand is often cited as an underlying reason for the declining number of dairy farmers. Edsel and the province's MPO say this is true, and that retailers pass inefficiencies on to the producers and consumers.
"The business environment is very tough. The dairy producer earns only 35% of the retail price. There is nothing squeezing the middle man and the retailer to become more efficient," says Hohls.
The hope is that a new initiative established by KZN dairy farmers, Dairy Day, will level the distribution of the consumer rand. Dairy Day has already acquired one dairy in Curry's Post, and the acquisition of a second, larger dairy is under way.
The initiative's business model seeks to offer retailers a better service, creating more value in the industry that can then be better apportioned to the industry as a whole. "Dairy Day will be a massive game changer within the industry," says Hohls.
Concerns for KwaZulu-Natal dairy farmers
Many farmers rely on sophisticated electrical equipment to cool milk, and erratic supply and related costs have a huge impact on the industry.
"Most dairy farmers have generators to keep the dairy cooling system running, but small-scale farmers don't. They're suffering the most," says Hohls.
Sporadic, low-priced imports of subsidised milk products are a challenge.
"We're often threatened with dumping. Tax comparisons put us at a huge disadvantage over other exporting countries, who receive tax export incentives and tax relief," says Hohls.
This brings those countries' input costs down and allows for cheap exports to South Africa.
"We need a tariff-levelling system, including tax policies, to level the playing field, and incentivise growth through exports."
Departmental incompetence
Problems within the KZN Department of Agriculture and Rural Development (DARD) must be addressed, says Hohls.
"We need to find capable and willing replacements who can run departments within DARD, along sound business terms," he says, adding that he often hears of corruption, with extension officers selling inputs such as seed and herbicides to emerging farmers when they should be receiving them at no charge.
Cyril Xaba, KZN MEC for agriculture and rural development, is apparently aware of the problems and working towards solutions.
"We have a sound relationship with Xaba and look forward to building on this and working together," says Hohls. "Making agriculture commercially viable is a huge task. If it's not, land reform will not work."
READ: Dairy farming & economies of scale
Phone the SA Milk Producers' Organisation on 012 843 5600 or email [email protected].