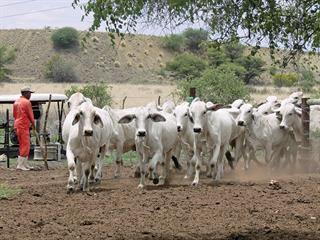 Loriza Brahman at Nietverdiend near the Botswana border in the North West is one of the breed's foundation herds in South Africa. The herd goes back to 1960 when Nico Meyer and his wife Julene imported three Stuart heifers and a Hudgins bull from Texas. Three heifers from Howard Parker's well-known V8 herd followed in 1965, and four years later, a bull from the Sugarlands herd was introduced.
Through performance testing and natural selection on the veld, this genetic base has been moulded into a hardy Brahman herd with remarkable uniformity, predictable fertility, excellent milk production, adaptability and a calm, stable temperament. 'Loriza' is a compound name incorporating the names of the couple's two children, Louis and Mariza. Today, the second and third Meyer generations – Louis, his wife Christa, and their twin sons Louis and Stefan – are actively involved in Tommiesrus, the family's diversified farming enterprise.
This includes 5 000ha under maize, sunflower and soya beans in the Lichtenburg district. Then there is a feedlot, a game ranching operation and recently acquired land near Riversdale in the Western Cape where Louis plans to establish a commercial Brahman herd. The Loriza herd, comprising around 1 500 registered and 4 500 grade Brahman cattle, is run on seven blocks of bushveld totalling about 23 000ha.
The average long-term annual rainfall is 380mm, although the past three years averaged only around 230mm. The forage responds well to good rain and is generally nutritious but not overabundant. Heartwater, gallsickness, redwater, predation and stock theft can be serious challenges. Louis selects strictly for performance under these extensive conditions, culling any cow with an unacceptably high ICP.
At the same time, while pursuing good carcass characteristics and growth in cows, he does not sacrifice fertility and milk production. The average ICP of the herd is 375 days, with heifers first calving at around 26 months. Fertility (scrotum circumference) and rib-eye muscle area are important in bulls. The latest scientific and technological advances, such as Herdmaster breeding and management software, help to further improve production efficiency.
Echoing the great Prof Jan Bonsma's dictum that to measure is to know, Loriza's approach to selection and breeding is firmly grounded in performance recording and evaluation.
Loriza Brahmans is a family concern in the best sense of the word.
The Meyer family, from left: Louis (Jnr), Christa, Louis (Snr), Carli and Stefan.
Breeding philosophy
Nico Meyer started performance testing on a group of 120 calves back in 1978, and today the Loriza stud has one of the largest private databases of recorded Brahman measurements and weights in the world. Since 1978, more than 33 000 calves have been Phase A and B tested while more than 5 000 bulls have been Phase D tested.
Selection, therefore, is based on measured performance recording and testing built up over many decades. This includes hundreds of young bulls subjected annually to Phase D testing on rugged mountain veld that weeds out the slightest weakness or deviation from a well-established norm. This no-nonsense breeding philosophy has enabled the Loriza herd to consistently supply carefully selected high-quality genetics that perform well in a variety of commercial beef production systems.
A display cabinet packed with trophies attests to decades of sustained success at major shows. Despite this, Louis considers show judging criteria as artificial, subjective and of limited production value, and today seldom enters animals in shows, making the odd exception for an international show. He believes that the time, manpower and expense are better channelled into concentrating on economically important factors such as performance.
In any case, he stresses, show champions and their progeny seldom perform well under practical production conditions. The criteria for success in the show ring are simply too far removed from the criteria for economic beef production. Louis runs the stud herd on a practical commercial production system basis.
To maximise the profit margin, he concentrates on fertility and a high weaning weight off the veld, supplemented only by a phosphate lick. To achieve this, a cow must be structurally sound, tenacious and adaptable. Cows and bulls are matched for breeding in October, based on their performance records and a record of every cow's progeny, its ancestors' performance records and estimated breeding values (EBVs).
Every cow, together with her progeny, is visually inspected to establish if her potential is being fully exploited. Should this be the case, she is again mated to the same bull. If not, she is mated to another bull or culled. "A cow's genetic contribution is more than 50%," explains Louis. "We normally sell her bull calves but retain her heifer calves.
As these are so important for the next generation, they have a great influence on average performance and profitability."
Because bulls are sold at 30 months, potential herd sires must be identified at 24 months by combining visual evaluation for confirmation and type with EBVs. Selection is based on the bull's own performance as well as that of his sire, dam and grand-dam.
Praise from top judges
The degree of measured achievement in the Loriza herd is well summarised by SA Stud Book's official EBV values and by comments such as 'superior milk', 'superior growth' and 'even more growth'. But the judges of the prestigious DAFF-ARC National Beef Cattle Improvement Herd of the Year Award, presented to Louis Meyer at the 2014 Spring Show in August (see
panel), provide perhaps the best description of what Louis and Loriza have achieved over the years.
"He is serious about breeding efficient animals under very extensive conditions, and strives to assist in developing capacity and skill in cattlemen from all sectors of the industry," notes the report. "He ploughs back what he has learnt into the beef industry and is intensely involved in mentoring emerging farmers (190 farmers in four different groups!)"
Phone Louis Meyer on 018 011 0282 or email [email protected]. Visit www.loriza.net.