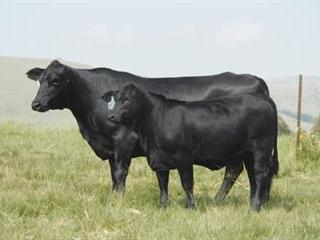 Although John Burgers runs a successful Brangus stud, he doesn't see himself as a stud breeder.
"I'm a commercial cattleman," he explains. "I select animals for my stud from my commercial herd, looking for those that perform well and conform to breed standards.
"In breeding beef cattle in South Africa, no one can afford animals that don't perform optimally on the veld. I breed hardy, fertile animals with exceptional milk production that produce weaners at 230kg at six to seven months."
John Burger Snr, John's father, established the Victory Brangus herd in 1979. He was initially an Angus farmer, but was so impressed by the results of his Angus x Brahman crosses that he became a committed Brangus breeder. "Those weaners were strong and resilient with exceptional growth, and could be marketed directly from the veld," John explains. "My operation is half Brangus cattle and the other half is 3 000 Merino sheep."
A mistake many farmers make when starting out in cattle breeding is buying "stud" animals at the start, he stresses. "This calls for a huge capital outlay which isn't really necessary. I'd much rather advise them to buy top quality, well-adapted commercial females and a good stud bull and develop a stud from that base."
He says there is excellent Brangus genetics available in South Africa. "The bulls are sought after for their hybrid vigour and their progeny are naturally polled. They also produce relatively small calves with few calving problems. "Despite the small calves, weaner weights are good, demonstrating the progeny's excellent growth. More than 80% of South African Brangus bulls are bred for the commercial market."
Call John Burgers on 076 337 6218 or e-mail [email protected].
Read more about commercial conditions and bulls and breeding in the 29 NJuly 2011 issue.