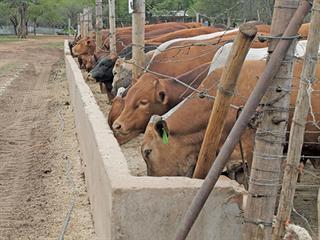 When Mvalo Msiza was retrenched from the former Volkskas Bank in the 1980s, he was forced to make a living in any way he could. So he opened a tuck shop in Kwa-Mhlanga, east of Pretoria. But this was certainly not where his real interest lay.
"My grandfather was a farmer and always advised us to own livestock as an investment," he recalls.
So in 1991, he started buying cattle, one at a time, with his savings. In fact, he equates investing in livestock to putting money in a bank. "When you have an emergency, you can auction a few cattle. It's the same as keeping money in the bank. Although there may be a difference in terms of investment growth, to me, they work out the same," he says.
His approach has certainly paid off. Today, Mvalo is a prominent businessman in Kwa-Mhlanga, with a breeding herd of 200 Bonsmara cows and a 450-animal feedlot. He also owns and runs several other businesses, including two butcheries and a petrol station. Above all, he has learnt the secret of value-adding.
The beginnings
Not long after Mvalo had opened his tuck shop, the former Kwa-Ndebele homeland government offered land to people who were interested in farming. The land was near Rust de Winter, north-east of Pretoria, on the borders of today's Gauteng, Limpopo and Mpumalanga. Mvalo already had about 20 cattle on communal land in Kwa-Mhlanga not far away. Although the homeland system appeared to be nearing its end, he and his brother Lucas, also a cattle farmer, decided to move their herds to the Kwa-Ndebele farm in 1992. But their stay there was short-lived.


Mvalo Msiza
"After 1992, it wasn't clear what was going to happen to this place, as the polls were looming," he recalls. "So Lucas and I moved our farming operations to Kwa-Mhlanga." This is where they remain today. "We're currently leasing just over 1 000ha from the Department of Rural Development and Land Reform (DRDLR)," says Mvalo.
Adding value to the herd
Initially, Mvalo sold his weaners at auctions and bought meat for his butcheries at abattoirs. Then, together with Lucas, who is also a cattle farmer and butchery owner, he started a feedlot under their company Moleki Beef (Pty) Ltd. "We realised that by selling weaners at auctions, we weren't getting the total value of the animals. So we decided to add value and sell them through our butcheries," he says.
The feedlot started as a seasonal activity because the brothers were only processing weaners from their own herds.
"Every time we weaned calves, we'd fatten them in the feedlot and slaughter for our butcheries," he explains. They decided to expand the feedlotting operation. Although using their own weaners solved their problem on the farm, it was only a temporary solution for the butcheries. In 2004, they started feedlotting on a full-time basis, using their weaners and also buying from outside. The feedlot has a capacity of 1 000 animals, but currently feedlots 450.
Challenges
Mvalo emphasises that running a feedlot is difficult and expensive. Due to the high price of maize, one of the main ingredients in the feed, it is difficult to run a profitable operation without capital. As the farm has no arable land, the brothers cannot grow their own maize or soya beans to save costs, so they are forced to buy all the feed. "We buy our maize chop from local milling plants," he says.
Another problem is that quality weaners are scarce and expensive. "We pay around R16,50/ kg for weaners," he laments. "This means that a 240kg weaner costs about R4 000." In addition to this, there is the fluctuating price for finished animals.
A carcass currently sells at just below R30/kg. "This is not the best price, but it is better, as sometimes it goes down to R27,10/kg," he explains.
"During the festive season, when the demand is high, prices improve, sometimes going up to R37/ kg, which is a very good price. But since last year, the price has not gone beyond R33/kg." At one stage, mortality was also a major problem for the brothers. But more recently, with the help of Willem Steyn, a commercial farmer who helps with veterinary matters, they have brought down the rate from more than seven animals a month, to just one in three months. "Bloat, caused by a high-concentrate ration, was the main problem," Mvalo explains.
Feedlotting
"We buy weaners at an average weight of 180kg then background them on veld on a small plot in Bronkhorstspruit," says Mvalo. "We then put them into the feedlot from 220kg to 240kg and sometimes, even 200kg. "When weaners arrive, we give them a mixture of lucerne and pre-mixed feed containing molasses and other ingredients from the local co-operative, as well as hominy chop and grass for 120 days. Each animal should eat between 12kg and 14kg, gain about 1,6kg and drink between 30l and 40l of water per day," he explains.
"The cattle spend between 110 and 120 days in the feedlot. It shouldn't be longer than 120 days, because if the animals are overfed, the meat and prices are affected. "We use almost any beef breed, although the Bonsmara is our favourite. One breed that we never consider is the Nguni, as it struggles to put on the required weight at 120 days."
The cattle are slaughtered at a live weight of between 400kg and 450kg at an abattoir in Bronkhorstspruit.
Their largest client is a distributor in Mookgopong, Limpopo. "He buys between 60 and 100 animals per month," says Mvalo. "For our own butcheries, we slaughter seven or eight animals a week. Since starting this practice, the butcheries' profitability has increased."
Quality heifers
About 150 weaners from Mvalo's Bonsmara herd go into the feedlot annually. Lucas adds another 150 from his own, and since they share the same breeding season, all 300 arrive at once. "We used to have two breeding seasons, but due to lack of rain, we had to abandon the winter calving," he explains. His herd's calving rate varies from 80% to 90%, with a weaning rate of between 90% and 95%. From these, Mvalo selects the best replacement heifers and the rest go into the feedlot.
He uses Bonsmara bulls from various stud breeders.
"As a feedlotter, I have to produce high quality weaners," he emphasises. The farm is bushveld with a mixture of sour and sweet grass. The cattle run in 16 camps, watered from three boreholes. "A large portion of the farm is hilly, so we put the cattle in the hill camps in summer when there are good rains, and reserve the sweet grass for winter," explains Mvalo.
Relocating
Last year, Mvalo's farm was selected for the DRDLR's Recapitalisation and Development Programme. The department advised him to move his operation somewhere else. "The farm we're on now is far from town and the poor roads make it hard to access," explains Mvalo. "There's a river at the entrance. When it rains, it's impossible to enter or exit. And the bad road stresses the animals, which affects their performance."
The department helped Mvalo identify a farm near Bronkhorstspruit. "We're building the feeding paddocks. When they are done, we'll move the feedlot project there," Mvalo concludes.
Phone Mvalo Msiza on 082 679 8630.