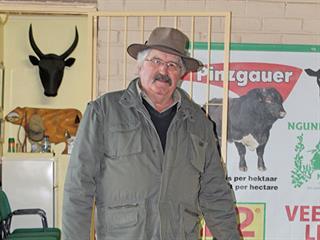 Agricultural heavyweight Paul Bester must rate as belonging to a group of the most respected cattlemen in South Africa. A lifetime of working with stock, a habit of diligence and a fierce commitment to excellence have all given Paul extraordinary stockmanship ability. Combining this with leadership and management skills, and half a dozen African languages in his linguistic repertoire, means that Paul is ideally positioned to make his mark on agricultural transformation in our country.
The director of ZZ2's Mooketsi-based livestock division, Paul runs a number of large herds with stud and commercial components and a dedicated show division. Although entirely at home in the northern Limpopo environment, Paul was born, educated and raised in the Free State. His grandfather took him on his first stock inspection trip, on horseback, when he was just three months old. Since then, he tells Farmer's Weekly, he has learnt from fellow farmers, from scientists and from the stockmen he has formed relationships with over the years.
Herd structure
The ZZ2 herd comprises four Pinzgauer studs, two PinZ2yl studs, a Santa Gertrudis stud and an Nguni stud. There is
a commercial herd, a study group herd and a commercial weaner production system.
READ MORE: From Aristotle to avocados – ZZ2's business model
Shows and marketing
"Shows are the advertising window for ZZ2's cattle business, and there are usually about 50 cattle in the show team," Paul says. "It's a beauty competition where we show off our good-looking animals. Show animals are generally pampered to get them into condition."
According to Paul, in some breeds cows in production will not be shown. "But our standards require capable, productive animals – they're bred to work." Show cattle are penned or camped and kept in condition year-round with a strictly measured and formulated ration. "But it's a mistake to destroy good genetics in a quest for the perfect show animal. You have to know where to draw the line and stay clear of breeding yourself into a corner," he says.
Showing cattle is Paul's 'sport' and he sees himself as the team coach. And, judging by the number of trophies in ZZ2's Mooketsi cattle division office, he knows how to pick winners.
Adaptive breeding
In the late 1990s, Bertie van Zyl, founder of ZZ2, asked Paul to take over the management of his Pinzgauer herds. The Pinzgauer is a Bos taurus type, with good meat and milk qualities, but the climate and disease burden in the Mooketsi region is hard on such cattle. As a starting point, Paul began to breed Pinzgauers for better calving ease and a more medium frame – fitting the Pinzgauers to their habitat.
"I said to myself, these 'Europeans' will not thrive here, and I decided to 'South Africanise' them to a better adapted animal. That was phase one." In 2004 when Paul's first 'Africanised' Pinzgauers came through, there were three Pinzgauer breeders in the country. Today, there are 112 breeders, testimony to the success of adapting a breed.
Phase two: the PinZ²yls
The aim of the new synthetic breed, the PinZ²yls, was to combine the veld hardiness and disease-resistance of the Nguni with the beef capacity and milking ability of the Pinzgauer. "There's a recipe for breeding, but there's no guaranteed formula," says Paul. "In breeding, genetics must be in line with productivity."
"When I started developing the PinZ²yls I looked at various splits and then decided on a 50% Pinzgauer, 50% Nguni split," says Paul. "Last year during the world congress, Prof Michiel Scholtz of the ARC pointed out that this is a sound cross-breeding method." The PinZ²yl 'recipe' works by breeding an Nguni cow to a Pinzgauer bull. The female offspring of this cross (F1s) are bred to an F1, F2, F3 or F4 bull.
"Of course, in the beginning there were not many F2 bulls but that has changed. An F2 female must be bred to an F3 bull, and an F3 female to an F4 bull. F4 onto F4 gives you a full-blooded PinZ²yl." He adds that it is possible that in future, farmers will need to add more meat or more milk, and use Pinzgauer strategically on a once-off basis. "This kind of decision is quite acceptable in our breeding plan."
Improvement
The improvement of stock in tribal areas requires flexibility and accommodation, Paul explains. Breeding mixed Sanga-type cows to a PinZ²yl bull will result in F0 offspring, and breeding these F0s to a PinZ2yl bull will deliver F1s. "In this way, we help to upgrade the stock of rural communities. Often, the animals are hardy, but they need improvement." The ZZ2 ethos encourages openness and knowledge-sharing and Paul says that much of what is learned through experience and discovery can be passed onto other farmers.
Breed establishment
According to Paul, most societies and breeders accept that a productive cow may skip a season or two in her lifetime. The Pinzgauer society allows for two skipped seasons. "Sometimes, a cow just won't take to the bull – that's nature. Of course you can cull the cow, but if she's a good cow, why cull her? Perhaps she has given the breeder two top bulls. What's the sense in culling her?"
The PinZ²ylbreeders allow for only one skipped season, because of the strong reproductive ability of the Nguni. Currently, the PinZ²yl is a breed under evaluation – accepted as a breed but still being assessed. "We had to study, measure and record traits before the registrar would accept it as a breed under evaluation, which he did on 2 October 2009," recalls Paul.
In addition, the PinZ2yl has to prove itself in other regions of South Africa.

READ MORE: Shaking things up at Mooketsi
A month after the breed was accepted, the PinZ2yl Breeders' Club was established under the auspices of the Pinzgauer Breeders' Association."This won't change as long as I live, because the one breed needs the other. Financially, it makes more sense to run both breeds from one office. Separate administration means double the costs. "On top of this you can get jealousy between breeds, which is not productive, but while they are run together, they work together," explains Paul.
He adds that the PinZ2yl has the ability to become one of South Africa's most popular breeds, but that Pinzgauers must be kept in good shape so that there is always a fit genetic pool to draw from. "This is particularly relevant if the government joins us in uplifting rural herds. In a big project, a demand for 50 bulls would be possible, and hopefully there'll be many projects."

Fitting the system to the resource
"My whole thrust in 2004 was to start looking for a market," he explains. "In 1998 we worked to breed the right type of animal for the market. Once we had that right, we looked at market expansion." Established weaner production farmers do not change their systems that easily, says Paul. In the ZZ2 weaner system he runs a three-way cross with Pinzgauer bulls on Brahman females, Santa Gertrudis on the cross-bred offspring, back to Brahman, and then back to Pinzgauer.
"I keep replacement Pinzgauer/Brahman heifers and put the Santas onto them. These animals are sold by the kilogram."
Every area has different resources and requirements and it's vital to adapt to these. During winter, ZZ2 cattle move to the warmer mountainous areas where they survive on sweet grass and browse. In summer they graze self-sown Panicum pastures on old tomato lands. The higher-lying bushveld areas can carry 1MLU/10ha while the Panicum pastures can carry 1MLU/5ha. Paul and his team increase this slightly depending on the season and the age of the grazing.
There is no expensive supplementation in ZZ2's herds. "My mother herd of PinZ²yl cows from 2003 and 2004 have never seen any form of lick. No commercial cattle – PinZ²yl, Nguni or Santa stud animals – get lick on this farm," says Paul. "Luckily, we have good phosphate in our soils so we don't need to put in trace elements." Cattle must be able to survive on the veld and raise a good calf, he adds.
In the late 1990s, the average weaning weight was 208kg at eight months. "I played with rations and got to a weaning weight of 274kg, but actually I was buying the kilos," Paul says. Financially, it is more sensible to wean at 220kg with no inputs, which can be done with PinZ²yls. "My daughter is an animal nutritionist and they don't like me because I am not a potential client," says Paul. "In a commercial business you must keep costs as low as possible."
Email Paul Bester at [email protected] or phone Sue Bester at 083 326 7702.