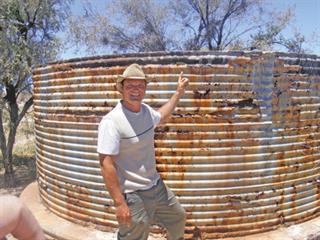 Johann Bekker (34) and his wife Monique took over the Laventelvlei Boerdery family business six years ago. They farm on Laventelvlei (7 085ha) and Ka-Kolk (7 195ha), near Noenieput in Northern Cape. About 60% of Johann's land lies east of the Molopo River amid red Kalahari dunes. The other 40% lies in the broken veld west of the river towards the Namibian border.
Johann, the Agri Northern Cape Young Farmer of the Year finalist and vice-president of the Orange River Farmers Union, runs a flock of 2 700 commercial Dorper ewes. And early on in his career he realised a reliable water supply would be his most important investment.
Challenges
"The western Kalahari is prone to regular and severe drought," explains Johann. "Our average annual rainfall is only 150mm, but we've had as much as 600mm and as little as 40mm." Winter temperatures average as low as -7°C and as high as 47°C in midsummer.
"On 8 January this year we recorded 47,2°C in the shade, with the maximum fluctuating between 45°C and 46°C from 7 to 12 January," notes Johann. "With a carrying capacity of 6ha/SSU (small-stock unit), we have to make provision for such extremes," he continues. "It takes its toll on man and beast and that's why water is so important to us."
In such extreme heat one ewe easily drinks 10l of water a day, he adds. "For this reason, water conservation plays an integral role in my management. I simply can't afford to lose or waste a drop of rain falling on my land."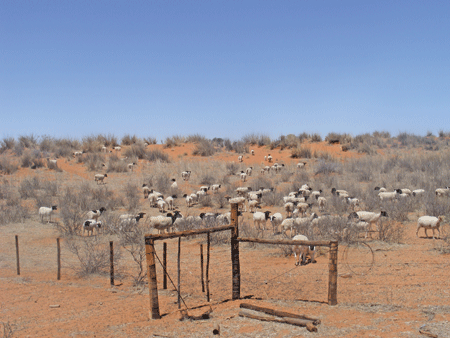 Dams and boreholes
Johann's most important infrastructure items are the two dams on Laventelvlei. "They were excavated by donkey-drawn dam scoops some 55 years ago, when my father Ouboet Bekker was a young man. The dams can hold water for between eight months and a year after good rain," he explains.
"The excavated material was deposited in a ridge to form a dam wall of sorts. Over the years, these excavations were deepened to about 6m with 2m walls. I regularly clean and deepen them further."
Johann is replacing the traditional open corrugated iron reservoirs – 12 on Laventelvlei and five on Ka-Kolk – with 5 000l water tanks to reduce evaporation and to keep the water clean. The seven active boreholes on his land, which provide potable water, are a huge blessing.
"We've sunk many boreholes over the years, but more often than not the water was so brackish that no sheep would touch it. That's why I need to take good care of the existing boreholes. The water from the quarry dams enables us to reserve the boreholes for drier times," he says.
Pipeline system
All the watering points in the sandy veld east of the Molopo are part of a 20km-long pipeline system. Of this, 7km are on Laventelvlei, 8km on Ka-Kolk and 5km connecting the main lines. Of this 20km, the veld to the west has a 13km-long line that caters for 70% of the demand.
The 32mm and 40mm Class 3 PVC piping has been buried 60cm underground to avoid damage from wildlife such as porcupines, the sun and extremely cold winters. Water is pumped from the quarry dams until they run dry and then Johann switches to the boreholes.
The pipeline network is not yet complete, but nine of the 10 Ka-Kolk watering points and the eight on Laventelvlei are already connected to provide water to all 35 camps as and when needed. The flock is divided into groups of between 600 and 800 animals and rotated every three to six weeks, depending on the size of the camps. Camp sizes vary between 300ha and 900ha. After being grazed, a camp is rested for 12 to 18 months.
Five Watermax and Lorentz solar pumps, augmented by windmills, bring the water to the surface and are connected to the pipeline system to supply water troughs in the camps where the sheep are grazing. Each camp has its own drinking troughs, reducing animal traffic to and from central troughs and preventing path trampling.
Expansion
Johann wants to expand his flock to between 3 000 and 4 000 ewes. In the meantime he monitors the markets to ensure optimum profitability. He usually markets weaned lambs at between 10 and 14 months. "This means better grades and higher weights for better prices," he says.
"Keeping predators such as black-backed jackal and caracal at bay is an ongoing struggle," he adds. And another priority is to improve boundary fences. I follow a rotational grazing programme and plan to fine-tune it in the near future to increase production per hectare," continues Johann.
"I constantly evaluate and adapt my farming practices to ensure long-term sustainability and profitability. "It requires 10 to 15 years for a young farmer to find his feet," he says. The first years are about building the enterprise and gaining experience.
"Young farmers should first obtain a relevant degree, which must include training on how to manage a business," says Johann. He has a BCom (Agricultural Economics) and a number of other diplomas and certificate.
"But remember, older farmers such as your father or neighbour have amassed a wealth of knowledge and experience over the years. This can't be found in any textbook. Learn from them," he says. "Farming is a tough taskmaster. "Don't lose hope when things don't go well. Persevere and try again!"
Labour issues
A shortage of labour is another reason why Johann has developed his extensive water supply network. "Due to social grants and alcoholism, we can no longer find workers prepared to stay on our farms. The remoteness of the area is also a deterrent. We're 80km from Mier, where most of the workers live," he explains.
"I worked on my own for an entire year, with occasional temporary help. I now have some excellent men in my service, but they also aren't keen to live permanently on the farm. So I had to establish a reliable water supply system that I can operate by myself.
Contact Johann Bekker on 083 264 6809. •FW