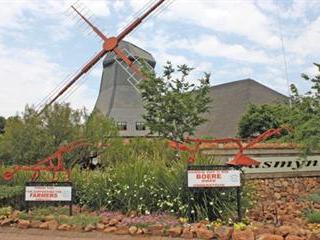 Jasmyn farm stall was started 11 years ago with the aim of providing quality produce to the public as cheaply as possible. A 25ha farm in Marikana first supplied the stall before the 200ha Jasmyn farm in Hartbeespoort. The humble stall has grown into a farmer's market that stocks mostly Jasmyn's own products, but also sells products from other producers.
Jasmyn is a family business, co-owned by three brothers, Des, Derick and Raymond Erasmus with everyone, from their wives, Michelle, Hannelie and Joy, to their father, John involved in one way or the other. The business employs 150 people to run the dairy, jam factory, the store and the farm. Raymond says that when they started the farm stall in Hartbeespoort they had no idea the area would grow so quickly.
"We had to adapt to changes, but it has also brought the customers to our doorstep. We have never had to advertise; word-of-mouth has worked very well." Jasmyn farm also provides educational tours to spark children's interest in food production and fresh food, ensuring a growing market.
Making dairy profitable
Jasmyn's dairy consists of a closed herd of Jerseys, selected for high protein and fat in their milk. This is necessary for the cheese production. Cows that don't perform are replaced with others reared on the farm. Jasmyn artificially inseminates its cows with semen from the US and Canada. All bull calves that are born are sold after three days.
Jasmyn has 320 cows that each produce on average 33l of milk a day. The 60 highest producing cows are milked three times a day and the remaining cows twice a day. About 40% of the milk is sold to Clover. Of the remaining milk, 70% is used to make cheese and yoghurt. "We add value to our milk and create a market for those products. That is why we can still make a profit from milk," says John.
A variety of herbs are added to the cow feed to stimulate milk production and prevent mastitis. Raymond says that although the dairy industry is going through a tough time, Jasmyn is still doing okay. "But our profit margin is very small. We have to make sure we grow continually. "We keep the dairy and the cheese and yoghurt factory separate so that the one does not end up carrying the others."
One of Jasmyn's main expenses is the cost of bringing in feed for the cows, since the farm only has 10ha under lucerne. "We don't have a pasture herd and buy in 95% of the fodder. This is a problem and people with the space to produce their own feed are in a better position than us.
"We spent R300 000 on transport to bring in fodder in 2010. Hartbeespoort is not a big fodder producing area so we have to bring it in from various other places. Between 17% and 20% of the cost of the milk goes to buying feed," Raymond explains.
The cows are on Afgri's Kempen system, which provides them with a balanced diet and includes all minerals and supplements. They also receive concentrates which, when they lick it, produces saliva, aiding digestion and fermentation in the rumen. Rations are carefully balanced to prevent bloating.

Vegetable production
Jasmyn has 25ha of vegetables on rotation. This includes pumpkin, marrows, spanspek, watermelon, brassicas, sweetcorn, lettuce and onions. Crops are irrigated with water pumped from the nearby Hartbeespoort Dam. Jasmyn is helping to finance a community project to ensure that the water quality in the dam remains good as there have been problems in the past.
"There has been a big improvement in the water but we still take extra precautions such as washing the vegetables before they are sent to the shop," adds Raymond.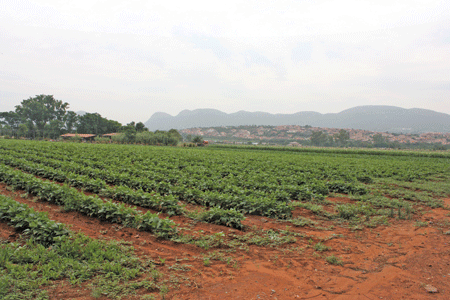 All the manure collected from the dairy is pumped into a dam on the farm and then used to fertilise the vegetables. From time to time, supplements are needed to correct the pH of the soil as it can get too alkaline from the manure. Since each cow produces about 30kg of wet manure a day, Jasmyn has no need to buy additional fertiliser.
The brothers also use grass clippings which are delivered to the farm by garden services in the area, for compost. "This is the benefit of being surrounded by golf estates," laughs Raymond.
Farmers' market
The Jasmyn farm shop was opened in 2006 and has grown to include two restaurants, a bookshop and a wine- and cheese-tasting facility. The business has an in-house butchery, bakery and deli and offers an extensive range of fruit, vegetables and dairy products. The shop absorbs most of the vegetables produced on the farm and 60% of its milk.
Raymond says that even if they produce a surplus of vegetables, it all goes to the shop, albeit then at lower prices. "That which we can't provide we get from the Tshwane Fresh Produce Market or directly from farmers in the area. Sourcing from farmers cuts out the middleman and results in a 12% reduction in price compared to what we pay at the market."
Because the shop is next to the farm, transport costs are minimal so Jasmyn can come in lower than most retailers. "We don't compare prices with supermarkets. We price our produce according to what we think it is worth and what is fair," says Raymond.
Cost saving
Jasmyn implements several cost cutting mechanisms to further ensure a higher profit margin and lower prices for the public. This includes keeping pigs to eat all waste generated on the farm and at the shop. These pigs are later slaughtered and the meat sold at the farm shop. Fruit that has reached its sell-by date is made into jam and preserves at the on-site jam factory.
The Erasmus's hands-on approach also means that theft at the farm shop is kept to a minimum. "A supermarket in Johannesburg loses R30 000 a month just in cheese theft. This cost is ultimately passed on to the consumer. We don't have that problem," says Raymond. Jasmyn recently bought a power supply corrector, which will pay itself off in five months just on the savings in electricity.
Raymond explains, "When the homogeniser starts up, it draws a lot of electricity and our usage spikes. Eskom then uses that figure as a base for electricity use. The corrector prevents that spike." Raymond has just finished putting gutters on all the sheds to collect rainwater to minimise dependency on Hartbeespoort Dam.
John believes in cultivating a passion for the land and that "people will eat it [the produce] because it's lekker and not just because it is healthy". Judging by the popularity of Jasmyn's farm shop, it definitely is lekker.
Contact Jasmyn on 012 259 1183 or email [email protected]