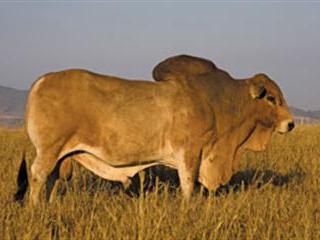 Studies by the International Livestock Research Institute have discovered that the modern Kenyan Boran, increasingly known as the East African (EA) Boran, has a unique genetic composition. This comprises three distinct influences – predominantly Zebu, European-Middle East Bos taurus and African Bos taurus – which are believed to go back 2 000 years.
These early cattle gave rise to the original Boran of Southern Ethiopia and Northern Kenya, popular for centuries with pastoralist tribes there. Over the past 60 or so years, commercial cattlemen and breeders in Kenya began exerting their influence on this Boran, breeding for specific traits, and so developed the distinctive modern EA Boran. One such modern breeder is Mark Myatt-Taylor of Selous Farming Limited in the Ifunda area of Tanzania's southern highlands.
He is enthusiastic about the EA Boran and is determined to maintain and even improve its positive production traits. His association with the breed goes back to 1995 when he and his wife Nicky managed a mixed farm on the slopes of Mount Kenya. "We established the Woragus Boran Stud [WBS] on leased land there," Mark explains.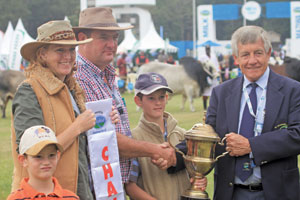 Oli, Nicky, Mark and Tom Myatt- Taylor receive the Boran Cattle Breeders' Society's Almatix Perpetual Trophy for the Champion Boran Bull on Show, Woragus 147, in Kenya in 2011 from SA judge, Martin Seyfferdt.
"For our nucleus breeding herd, we bought 20 registered Boran heifers from various ranches in Kenya. Our first bull was the excellent Gianni 2812 from Miles Fletcher's famous Suguroi Stud in Kenya. Miles was a pioneer in developing the modern EA Boran, and to this day our stud is based on this bull's traits."
WBS was based in Kenya for 10 years and worked with South African livestock improvement company Embryo Plus to export embryos to South African breeders. WBS genetics can be found in several local Boran herds. In 2005 the Myatt-Taylors, in partnership with Mark's brother David Gagney and retired Tanzanian politician Dr Ben Moshi, established the mixed farming enterprise Selous Farming Ltd in Tanzania.
Mark and Nicky, assisted by Nicky's late brother Alistair, carved a farm – Ifunda – out of the virgin bushveld and moved their entire Boran stud, farming equipment and personal belongings by truck from Kenya to the farm, a 60-hour trip. WBS was subsequently placed in a trust as a lasting legacy for Mark and Nicky's children, Paige, Tom and Oli.
Hardiness, fertility
The Boran herd had performed well on the plains of Mt Kenya, despite its cold and windy weather and a relatively low annual rainfall of 625mm. In addition to facing these less than ideal conditions, they had to be kraaled at night against predators and stock thieves, so could not graze for a full 24 hours. They were also subject to East Coast fever and redwater. Notwithstanding these challenges, the cattle thrived, delivering top quality progeny and enabling Mark to build a stud herd of 160 EA Boran breeding cows.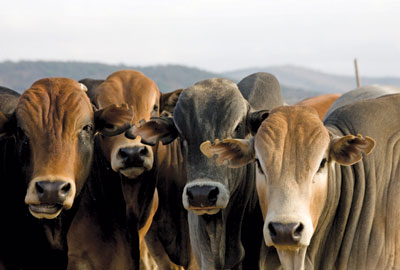 Oli, Nicky, Mark and Tom Myatt- Taylor receive the Boran Cattle Breeders' Society's Almatix Perpetual Trophy for the Champion Boran Bull on Show, Woragus 147, in Kenya in 2011 from SA judge, Martin Seyfferdt.
Since its arrival in Tanzania, the stud has gone from strength to strength, thanks to its remarkable hardiness. One reason for its success, according to Mark, is that the breed evolved with the droughts and tick-borne diseases that typify Africa's subtropics, so it is tolerant of these. Another, as already mentioned, is that it thrives despite being kraaled at night and so being partially deprived of grazing.
"The Boran is a low maintenance breed that efficiently grazes low quality forage and browses new shrub and tree growth," Mark explains. "But what I especially like are its maternal ability and fertility. You get a high calf survival rate and a high calf-to-dam weaning weight ratio. The cows produce so much milk that a calf's appetite, and not its dam's milk supply, determines its weaning weight. The calves wean at around 220kg at 240 days.
"I'm equally impressed by the Boran's meat-to-bone ratio." Mark has no fixed breeding season and his bulls run year-round with the females to take advantage of their quick re-conception. The stud's average inter-calving period (ICP) is down to 353 days. The stud is run as three herds of about 50 females each. Herds A and B consist of second or more calvers, separated according to their genetic lines.
Herd C consists of heifers and first calvers. Mark matches bulls with cows in the A and B herds on their ability to complement or correct the cows' traits, and sire calves meeting specific breeding goals. These are a medium-framed animal (cows 380kg to 400kg; bulls 680kg to 750kg liveweight) with length and functionality in terms of fertility and hardiness. The ability to efficiently convert fibrous forage – common in Tanzania's southern highland sourveld in the middle to late dry season – into mass is equally important.
At 240 days, a weaner must be more than 50% of its dam's weight. A cow's average ICP may not exceed 380 days and the average weaning weight must be at least 200kg. WBS's heifers are put to the bull at 2 years old, not according to their weight. Mark believes that any heifer bred younger than 2 years old will never recover fully from the stress of breeding. By contrast, an EA Boran heifer bred at the correct age is likely to remain highly productive for the rest of her life.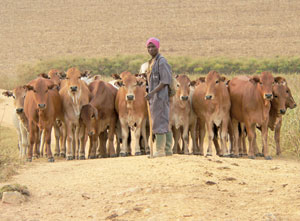 Easy handling. A group of WBS heifers calmly wait to cross the river with herder Kassim Keptanga.
Bulls are run year-round with the females to maximise the breed's fertility by following its natural breeding cycle. A female is given only one chance to conceive; if she fails to do so, she is culled from the herd. The Myatt-Taylors use their own EA Boran stud bulls on their females. In addition, they buy a top stud bull every three years to introduce unrelated genetics, and use artificial insemination with semen imported from Kenya in about 5% of matings for specific traits or improvements.
"I usually use the live bull on about 25 females initially," explains Mark. "If his calves are to my liking, I'll use him more extensively; if not, I'll sell him. But any bull we buy must be proven and about six years old. Boran bulls typically reach peak performance at five years. "However, we use our three best own-bred bulls from when they are about 30 months old to test them. Any that are not suited to our stud I sell."
Bull selection starts at weaning when Mark does preliminary grading. Those not making the grade are sent for rounding off in Ifunda farm's feedlot. WBS produces about 70 bull calves annually. About 40 saleable young bulls remain of this group after two years, and these will have gone through three strict gradings during this period. A breed inspector from the Kenya-headquartered Boran Cattle Breeders' Society visits WBS for the final grading, officially registering bulls meeting EA Boran stud breeding standards.
As mentioned, Mark retains the best three bulls in the WBS herd for breeding. "The late Jane Kenyon, a respected founder of the Boran breed in Kenya, said, 'Once you get a bull that clicks with your cows, use it as much as possible'. This is what I do," explains Mark. WBS produces about 70 heifer calves annually. Those not culled and sent to the feedlot would have passed three selections on the farm by the time the inspector does the final grading and approval for registration. Mark sells 20 or so of his registered heifers a year, keeping about 35 as replacements.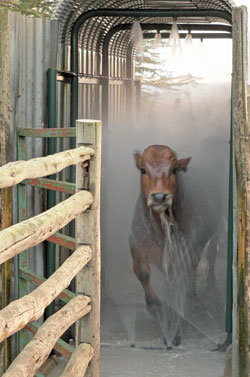 In summer, the herd is spray-dipped every seven days with Amitraz against ticks. In winter, the interval is 30 days, and a pyrethroid product is used.
Most stud Boran bulls bred in the herd are sold directly from Ifunda farm. The stud reinforces its established reputation by offering a top bull at the BCBS's prestigious annual bull sale in Kenya and another at the annual bull sale in Zambia. Other bulls are sold in Zambia, Malawi, Uganda and Kenya, often to repeat buyers. WBS has received many show awards for its cattle, but has achieved particular success this year.
At the BCBS bull auction, the 30-month-old WBS bull, Woragus 317, out of the Suguroi bloodline, sold for 400 000 Kenyan shillings (R39 649), setting a new Kenyan record for a Boran bull. The buyer was Aiden Hartley of Tango Maos Boran Stud in Kenya. At the Zambian bull auction, the 30-month-old bull, Woragus 276, sold for US$11 600 (R98 000) to Damian Roberts of Capital Fisheries in Lusaka, Zambia to set a new record for a Boran sold outside South Africa. WBS sells its ranch bulls, of which there are about 20 a year, to Masai pastoralists in Tanzania.
Feed and health
Grazing resources for cattle, sheep and goats on the 1 481ha Ifunda farm consist of 230ha rainfed pasture – Smuts finger grass (Digitaria eriantha), Guinea grass (Panicum maximum, Gatton cultivar) and Rhodes grass (Chloris gayana, Boma cultivar) – and about 1 000ha of natural sourveld. Guinea grass and Smuts are typically grazed for much of the year, the latter well into June in the early dry season as it is a highly persistent grower. The cattle rotate between planted pasture and the sourveld to allow the pasture to regenerate.
At the first rain in early December, Mark broadcast-fertilises the pasture with 220kg/ha (17:17:17) nitrogen: phosphorus:potassium. After the first heavy grazing, he applies 80kg/ha ammonium sulphate and 100kg/ha urea in February.
Grazing mature cattle are supplemented at 100g/animal/day with a 26% protein powder imported from Israel. They also receive a daily supplement of maize meal milled on-farm at 300g/animal and maize silage at 3kg/animal.
From the end of July to the end of October, mature cattle graze 150ha of maize stover and when this is depleted they receive Rhodes grass hay ad lib until mid-November when the dry season ends. Throughout the year the cattle receive an ad lib mineral lick, custom-formulated by a company in Kenya. "This lick is especially important because the veld is short on phosphate and boron," explains Mark.
A major herd health challenge is liver fluke, due to the swampy areas on and bordering Ifunda farm. To counter this, Mark treats the cattle with a drench every four months. Other regular veterinary treatments include Ivermectin and tapeworm drenches as well as black quarter, anthrax and contagious abortion vaccinations at weaning. At the age of two years, the cattle are again vaccinated against black quarter and anthrax.
"To control ticks in summer from November to May, we spray-dip all the cattle every seven days with Amitraz," Mark says. "During the winter months we spray-dip them every 30 days against biting insects, especially mosquitoes, using a pyrethroid product. Borans have fewer veterinary requirements than many other breeds."
Contact Mark Myatt-Taylor on +255 784 281 224 or email [email protected] Visit Kenya's Boran Cattle Breeders' Society at www.borankenya.org