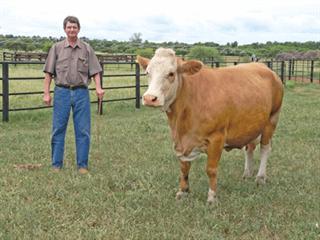 What can a cattle farmer do when he wants to expand his herd and the price of land simply makes it impossible?
If you're Callie Lee, you expand the area under irrigated pasture to stock more animals per hectare – and manage the entire process very carefully indeed.
"Land prices here have climbed as high as R10 000/ ha, due to the popularity of game ranching in this area. So this was our solution," he says. Callie is co-owner with his wife Erika of the Simlee Simmentaler Stud in Limpopo's Thabazimbi district. Although most farmers in the district run Brahman and Bonsmara, the couple prefer Simmentalers and Simbras – and their passion for their chosen breeds shows. Their herd (including calves) numbers around 300 Simmentalers and 200 Simbras, and they've built up leading studs that have produced prize-winning animals, including three national champions last year.
Callie, a former schoolteacher and the son of a farmer, started farming part-time with four cows in 1973. The next year, together with his father and brother-in-law, he bought the entire stud herd from a breeder who had imported his stock from Namibia. They distributed the 60-odd animals among themselves, he recalls. Callie also attended a course in artificial insemination at the Potchefstroom Agricultural College.
"I had to drive 60km to my father's farm and back to perform AI every time a cow was on heat," he laughs. For the next 25 years, he continued using AI, buying some semen from Taurus in Irene and importing the rest from Germany and Austria.

FULL-TIME FARMING
In 1979, Callie started farming full-time, and a year later bought the 800ha farm Faure on the Crocodile River near Makoppa outside Thabazimbi. He later inherited his father's farm, Groenendal, 30km away, where today he runs his Simbra herd.
According to Callie, Simmentaler bulls are highly popular for cross-breeding. Because of their high milk production, calmness, good growth potential, fertility and good maternal characteristics, Simmentalers produce excellent breeding cows for commercial herds and terminal calves for slaughter. A Simbra breed – developed from Simmentaler and Brahman genetics – is an example.
As the Simmentaler is highly fertile, Callie has to guard against heifers being served at too early an age, as this can cause calving problems or affect re-conception.
He calls the breed's growth potential "outstanding", especially in cross-breeding and for the feedlot industry. But, as with all farming, good results depend on sound management. This is especially so with farming with Simmentalers in the bushveld. Unlike more tropical breeds such as the Brahman, the Simmentaler does not have smooth fine hair, oily skin or the other characteristics that help cattle survive in these hot conditions.
EXPANDING PASTURES
Callie's approach to expanding his carrying capacity has produced excellent results. He has 70ha under irrigation – 20ha of maize or silage, and 50ha under the Gatton cultivar of buffalo grass (Cenchrus ciliaris), Guinea grass (Panicum maximum), and Nutrifeed, an easily established summer fodder crop.
In winter, he plants oats. The cattle graze this for about three hours at a time before being let out to the veld. Callie stresses that irrigated pasture can easily carry six to eight animals per hectare, and believes he can increase this to 10 animals.
Pastures under irrigation mean high input costs, but the benefit is that the weaners weigh on average 50kg more on weaning than those on veld.
Callie says an animal cannot produce to its full potential if the feed is sub-standard. "I don't mean over-feeding or using expensive supplements – just good grazing with the correct supplement," he explains.
In summer the cattle are run full-time on planted pasture and rotated in groups. The grazing is divided into a three-camp system: two camps of planted irrigated pastures and one bushveld camp. The animals are put into the latter to maintain their tick resistance and adaptation to the area.
BREEDING
Callie uses two breeding seasons. The first is from early December to early March. The second extends from July to September. However, Callie wants to shorten both to 60 days. "In summer it's better to calve before the grass matures," he explains.
"You want the calves to grow with the grass. The heaviest calves at weaning are the mid-November calves. The December calves, even when weaned at seven months, still average 50kg less than the earlier calves. When calves are born while the grass is already mature, the milk demand is reduced, while the mother's milk production is at its peak."
Callie puts his heifers to the bull when they weigh at least 60% of their average mature weight of 400kg. "However they mustn't calve within 24 months, but ideally at 27 months," he says. The younger or smaller heifers are skipped and mated only in the following season.
WEANING
Callie weans the calves when the oldest is eight months and the youngest five months. On average, bull calves wean at 290kg and heifers at 275kg.
However, with improved grazing, the Simmentaler has a potential weaning weight of 320kg, which is what he's aiming for.
The younger calves are weaned in a kraal on feed. "We wean all the calves as a group to give the dams time to recover," says Callie. "That next calf is the more important one. We aim to get the dam pregnant again and a 100% re-conception rate should be every farmer's target.
"Of course, this isn't possible as there will often be problems. But it should be a goal nonetheless and farmers should give the cows the best chance to conceive."
He adds that the winter conception rate – which can exceed 90% – is always better than that of summer, which tends to hover around 90%. This is because there are fewer diseases during the colder months.
Callie is strict about dipping, and in wet summers, dips the cattle every seven to 14 days. In winter, he repeats the task every three weeks. "A Simmentaler has long, coarse hair and must get properly wet, so we use a plunge dip," he says.
"We used to have a 20 000l dip tank, but because of the cost of filling it, I built a 10 000l tank. We use citronella oil for mosquitoes and flies."

SELECTION
"Animals change all the time," Callie points out. "Our first selection is at weaning, when we eliminate heifers with pigmentation problems and bad conformation. The second selection takes place after the heifers are mated. We check for pregnancy, and cull those with conception problems.
"The final selection is after calving to target any difficulty in calving and milk production. A good cow has a wide pelvic opening for easy calving. Also very important are strong legs, good pigmentation, well-developed eye ridges and a smooth, fine hair coat."
• Contact Callie Lee on 083 417 8342