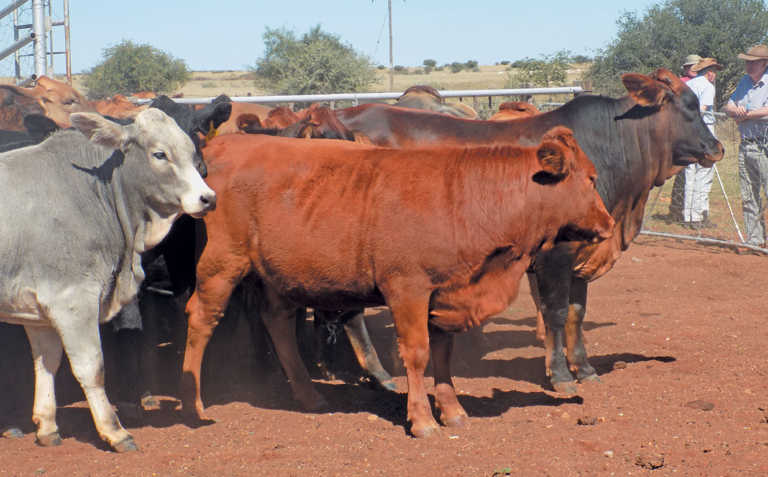 "This is the beef cattle breed to make money with from the veld. It's a supremely fertile, easy-calving breed that excels in the most taxing conditions of South Africa, from the Northern Cape, where we farm, to the Eastern Cape and the Free State."
So says Barrie van Zyl, owner of Johstep South Devon stud and a commercial beef herd near Windsorton in the Northern Cape. He adds that since he and his brother Gielie have included South Devons in their business, profits have increased markedly.
Origins and history
The South Devon breed originated in South West England, from where it spread across the counties of Devon and Cornwall. The South Devon Herd Book Society was founded in 1891, and the breed is one of just 14 cattle breeds with herd books dating back to the second half of the 19th century.
South Devon cattle were first imported into South Africa in 1897, and the South Devon Cattle Breeders' Society of SA was founded in Pietermaritzburg in 1914.
The first animals that arrived here were typical of the British breed at that stage: a large, dual-purpose animal. It has since been developed in South Africa into a hardy, medium-framed breed that excels under extensive African farming conditions.
WHY SOUTH DEVONS?
The main benefit of the South Devon in a cross-breeding system is that it maintains hybrid vigour over each generation.
"The South Devon is known for the fact that all the breed's positive attributes, including its even temperament, are carried over in cross-breeding, adding singular value to any commercial herd," Barrie explains.
Gielie adds that one of the most valuable South Devon attributes is its low inter-calving period (ICP). He says that the Breedingmajority of South Devon herds
in South Africa maintain an average ICP under 400 days.
The average Johstep ICP is 382 days (second-best of all Devon studs in the country), and the breed's top milk production results in high weaning weights.
This, with its docile temperament, makes the South Devon an ideal beef breed for extensive conditions.
Gielie first encountered the breed in 1984 at the annual Nampo Harvest day near Bothaville.
"In the same year, we bought our first 18 cows from the Charmujo stud. Our first breeding bull came from the then Van Abo stud. We've never looked back and are now more convinced than ever that the South Devon is the perfect breed for beef production in South Africa."
Milk production
In the UK, South Devons were originally bred for the dairy industry, and this is to beef producers' advantage today; they have outstanding milk production and hence accelerated calf growth. In fact, the breed has the highest milk production values of any beef cattle breed in the world.
The fact that the bulls contribute to increased milk production in a crossbred commercial cattle herd is a plus, and the breed's weaner weight consistently exceeds 45% of the dam's weight.
The South Devon cow is hardy and long-lived, and will drop a calf every year up to 15 years. These factors, coupled with the breed's top feed conversion rates, ensure that it is ideal for maximum meat production per hectare.
"The South Devon's even temperament and high milk production makes it ideally
suited to cross-breeding with the Bos indicus breeds," says Gielie.
According to Barrie, female South Devon crosses are highly sought after by commercial breeders, as the average birth weight for the breed in South Africa has dropped from 38kg during the past five calving seasons to the current 35,6kg, while weaner weights are on the increase.
He believes that South Devons have adapted to the harsh South African environment to such an extent that they can compete with indigenous cattle breeds.
"The average birth weight at Johstep is 24kg, with an average weaning weight of 245kg at 210 days. The average weaning weight for the commercial herd is 265kg at 210 days," he says.
As a crossing sire, the South Devon bull is unsurpassed and the breed has no sheath problems.
Johstep's approach to herd improvement
Gielie and Barrie believe in continual, consistent evaluation and improvement, and conduct Phase D growth tests on the farm. With commercial stockmen as their main clients, they are committed to providing the best possible genetics for the commercial market.
The Van Zyls' cattle operation consists of a 500-strong crossbred commercial herd, including 50 replacement heifers.
The stud currently comprises 66 cows, 12 replacement heifers, two stud bulls, seven two-year-old bulls ready to be sold, and nine one-year-old bulls that were recently weaned. The stud herd numbers are augmented by up-breeding females that are phenotypically sound, and bulls are obtained from other South Devon studs.
Slaughtering
Twenty-three years ago, the Van Zyls expanded their business to include a wholesale butchery in Kimberley. Although relatively few of the beef carcasses they produce go to the butchery, they regularly slaughter some of their own animals to determine, among others, marbling and slaughter percentages.
They also regularly check for fat deposits and prefer a large carcass without excess fat. The South Devon crosses deliver top-quality carcasses with high slaughter-out percentages of about 60% on average. The crosses produce lean but well-marbled meat.
Gielie stresses that they monitor slaughtering percentages, conformation, and economic value continually.
Grazing and herd management
The Johstep stud is based on the brothers' 2 000ha farm between Windsorton and Boshof, and the commercial herd is run on a 1 000ha farm closer to Boshof and a further 2 500ha leased land also near Boshof.
Grazing includes grasses, shrubs and trees, such as jackalberry (Diospyros mespiliformis), gannabos (Salsola aphylla), borseltjie grass (Anthephora pubescens), and assegai grass (Heteropogon contortus).
The stud farm is divided into 12 camps, each with its own watering point. These are supplied by a total of 12 windmills, five catchment dams and one submersible pump.
Both the stud and commercial animals are divided into herds of about 50 animals each, and the camps are stocked at an average of one MLU/8ha.
The herds are rotated from camp to camp according to veld conditions. During summer, the Van Zyls supply a phosphate lick, and between June and September they put out a high-protein winter lick.
Due to the extensive farming conditions in the Northern Cape, the bulls are put to the breeding herds in November, so that calves are born from August onwards. A single-sire breeding programme is used for the stud animals and a multi-sire system for the commercial herd.
One bull is used for every 30 cows in both the commercial and stud herds. This year, to expand the herd's genetic base and raise conception rates, the Van Zyls will use multi-siring.
Vaccinations
The animals are inoculated annually against diseases such as brucellosis, lumpy skin, anthrax and botulism. The bulls are tested for fertility, cerebellar abiotrophy and bovine tuberculosis, sheath-washed for trichomoniasis and vibriosis, and certified disease-free by a veterinarian before going on sale.
Barrie is especially concerned about the spread of trichomoniasis and vibriosis, and emphasises that cattle farmers should have their herds tested.
"These diseases are a very real danger. Keep the herds closed and don't allow any bull that's not certified disease-free onto your land. It could wipe out your entire cattle herd."
Phone Gielie van Zyl on 082 441 1297.