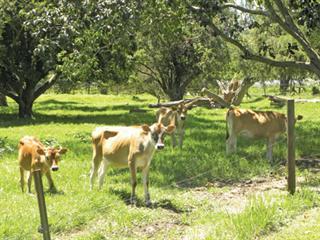 Milking only 37 Jersey cows a day on 56ha of land, KZN farmer Richard Bruton admits that his farming operation could be considered small. Yet at a time when economic pressure has forced many small dairy farmers out of the industry, Richard and his wife Jane have bucked the trend.
They have done so by running the ARC Top Producing Jersey Herd in the country for 2008/09 and 2009/10, and by establishing a niche market. Tetbury Farm is located in Killarney Isles between Durban and Pietermaritzburg. Umlazi, KwaMashu, Hammarsdale and Inanda are on their doorstep, making the Brutons ideally placed to tap into the somewhat lucrative amasi markets.
In fact, 80% of their milk goes into amasi production. Their second major line is ice cream, manufactured for upmarket Italian ice cream brand Mozart and marketed at its stores nationwide. Fresh milk and drinking yoghurt, produced to a lesser extent, round off a balanced product offering.
Tetbury produces about 30 000l/month and buys additional milk from Melda Dairy, a distributor in the Midlands. "Trying to get enough milk every day from a small herd to be profitable is virtually impossible because of seasonal demands and slumps. Ice cream has a seasonal market that can double or even treble during the summer holidays.

Fortunately, Melda Dairy balances our supply with good quality milk, giving us leeway to take as much or as little milk as we need. We do, of course, pay a premium for this leeway, but it enables us to react quickly to consumer demand." Processing enables the Brutons to be price makers rather than price takers. This also benefits the cows as they can get the best feed and the best genetics.
"A specialist hoof trimmer visits the herd twice a year and we follow a comprehensive vaccination programme. The cows come first; we try not to let them want for anything."
Pushing volume
Over the last 12 years, Richard started pushing volume in the herd by focusing on genetics and feed. The herd consists of some very old and very good bloodlines, notably the Lobelia, Darling, Lisa and Quality families. This genetic heritage is continually improved by using the best semen. And it is paying off. "We are very excited about the young heifers coming through, with even better genetics," says Richard.
He also switched from conventional total mixed rations (TMR) to the Kempen system, a high-fibre ration from Afgri Animal Feeds. The ration is in the form of 8ml-sized pellets which, together with ample clean water and quality roughage, form the basic components of the diet. The cows lick pellets from a specially designed Kempen feeder, forcing them to eat smaller amounts more frequently, resulting in less acidosis and a more stable rumen pH.
"I was very skeptical about the Kempen system at first and gradually introduced it to the cows at the end of 2010. After a month, we were fully into the system and have not looked back. Average daily cow production increased by 3l over the first two months. We are now just about 12 months into the system and yield is still increasing."
Pellet intake averages about 15,5kg/cow/day. "It sounds like a lot, but 1kg of pellets equals 1,7l of milk. The milk:feed ratio is highly favourable. The cows are probably taking another 6kg to 7kg dry matter from whatever grazing we have, which at the moment is kikuyu. We supplement with good quality hay all year, of which they take in about 0,8kg/day in summer and more in winter."
The disadvantage of the Kempen system is that the butterfat content of milk has slipped from 4,3% to 4,1%, which is poor for a Jersey. "That is to be expected when some cows produce more than 45l/ day," he points out. "But then we don't sell milk on butterfat content." Monthly ARC reports and performance testing give Tetbury a projected herd average of 8 380l/lactation, or 27,5l/cow/day for 2012.
"This is higher than the registered Jersey national average of about 5 947l/lactation, or 19,5l/cow/day," explains Richard. "We have to milk three times a day to relieve the load on the udders." The Brutons hope to expand their herd from the current 37 milking cows with 40 followers to 60 milking cows and 60 followers, achievable with the Kempen system alleviating demand on available grazing. Having reached this carrying capacity, they will sell off excess breeding stock.
This makes Tetbury Farm something of an anomaly where commercial farmers have to milk 400 or more cows to stay viable. "We have been fortunate in that we have established niche markets. We would not have survived without that," concludes Richard.
A love for Jerseys
Richard Bruton's herd of elite Jersey cows is his pride and joy. "We have been showing Jerseys on and off for 50 years. My farm manager Nick Glasscoe and I are passionate about these animals. They are good converters of feed to milk and can tolerate the heat and humidity, which we experience a lot here.
They also live long – it is not unusual to find Jersey cows in their 10th to 12th lactations." Tetbury has won many show awards over the years. It won the Champion Heifer and Reserve Champion Heifer classes at the Royal Show as well as the Champion Heifer class at the Underberg Show in 2010. In 2011, it won the 16-20 Month Heifer class at the National Championships in Bloemfontein as well as the Champion Heifer and Most Points on Show by an Exhibitor classes at the Royal Show.
At the inaugural KZN On-Farm Herd competition in 2011, it won first place for First Calvers, first place for Third Calvers and first place overall. Nick says several heifers are coming in at the correct breeding weight at 10 months, which is too young for breeding. "They should be 14 months old at insemination and one year and 11 months at first calving.
"But in the not too distant future we will be down to one year and 10 months at first calving. The herd's average intercalving period is 384 days, with an average of 1,7 straws per conception." The herd is registered, all animals are tattooed and their names and family lines are known off by heart. "When I have to start thinking about the cow's number instead of its name, it's not fun for me anymore," says Nick.
Contact Richard Bruton, on 031 785 4700 or email [email protected]