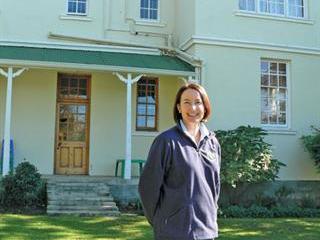 Bedford, 100km north-west of Grahamstown and 200km north of Port Elizabeth, is a long way from anywhere. And up until three years ago, its isolation was felt more keenly by young couples with children than anyone else. The reason?
They were forced to send their tots to distant boarding schools because there was no suitable lower primary school (Grades 1 to 3) in the town. In 2009, this changed forever, thanks to the hard work and generosity of a determined community. A new school appeared out of nowhere, and its success, according to its principal Rene Park, has exceeded everyone's expectations.
Skills on tap
Although new, the Bedford Country School is a natural extension of the previous Bedford Pre-Primary School (Grade R), which served the community for well over 20 years, 10 of these under Rene. But this extension didn't simply morph into being. For starters, there was the matter of teachers: in addition to Rene, at least two others were needed.
Fortunately, Rene and her governing body did not have far to look: two farmer's wives were qualified teachers, and needed little persuasion to return to the classroom. A more serious problem was the lack of a suitable venue – the pre-primary school was run in a small house and space was at a premium. Then, in 2008, a couple who had been running a B&B in town decided to put their property on the market.
Here was a building just begging to be turned into a school. And the reason is obvious: it had been built in 1900 as the Bedford Public School! After this, the gracious old building, with its large shady grounds, had been put to various uses. It became a boarding house when the school was relocated, then a Presbyterian manse, and finally a B&B.
Clearly, it was tailor-made for the proposed Bedford Country School. But buying and restoring it would cost a great deal of money. Enter Piet du Toit and Richard Aucamp, both former teachers and now businessmen in Rustenburg. In 2008, while visiting JJ and Rene Park on their game farm, the two men showed an interest when the subject came up.
"OK," Piet told Rene, "let's go and see the place." They drove to town, walked around the building, and Piet said, "Yes, we'll buy it." Nine months later, the Bedford Country School opened with 30 children. And this year – 2012 – no fewer than 50 have enrolled.
Loving learning
The school's motto is "Learning and Loving It." And, judging by the children's faces, that's exactly what's happening. The youngsters learn to operate computers from the age of three, thanks to a software programme called Knowledge Network, and there's plenty of opportunity too for old-fashioned gooey paint and gummy cardboard.
The school also offers a comprehensive music programme that teaches the children to read and perform music with confidence. During breaks, all the pupils play in the spacious garden, while a couple of adults keep an eye them.
Dedicated teachers
The staff comprises three teachers in all: Rene takes Grade 1, Adri van Niekerk is responsible for the pre-primary children, and Ammie Pringle, takes Grades 2 and 3. Ammie, an ex-high school teacher, admits she has never worked so hard in the classroom. "The preparation is huge," she says. "You've got to keep the kids interested. In a way, you're competing with what they see on TV."
Ammie is also the eco-fundi. "We're affiliated to the Wildlife and Environment Society of SA," she explains. "Each year we do eco-courses such as recycling and conservation. When we finish all of them, the school is entitled to fly the official green eco flag." The children are even lecturing their parents, telling them to switch off lights and turn off taps.
The eco-courses are designed to be as much fun as possible. The children grow plants and have even made a bird feeder with mealie meal, peanut butter and syrup. "It took a few days for the birds to find this, then wow!" says Ammie. In addition to the three teachers, there are two assistants – Phindi Patosi, who works with Adri, and Taryn Foulds, who helps Rene. Both are studying to improve their qualifications.
Giving more
The Bedford Country School is registered with the education department and with the Independent Schools' Association of SA, and follows the national education syllabus, but with generous extra input. The fees are R900 a month for pre-schoolers, R1 100 for Grade R and R1 400 for Grades 1 to 3. There's a fund to subsidise children whose parents need financial help.
Rene says the school could never have started without the community, and reels off local benefactors. Jean, who owns a plot, allows the school to use it as a sportsground. Children get swimming lessons in Sylvia's pool. Bruce offers tennis coaching. Mike teaches fishing. And Bash, an ex-Kaizer Chiefs player, coaches soccer.
There have been donations too. Computers were passed on from another school that was upgrading. And at the school's fund-raising auctions, bidders pay, then return their purchases to be auctioned again. Most of the children and all the teachers live on farms nearby. Six children come from a town 60km away; their parents have formed a lift club.
All together
Bridges of tolerance are being built too, with children of all races and both sexes interacting naturally. "When the children leave us after Grade 3, they'll probably go to schools in Grahamstown or in Port Elizabeth," says Rene. One thing's for certain: they'll miss this school.
Contact the Bedford Country School on 046 685 1605 or Rene Park on 082 853 6077.