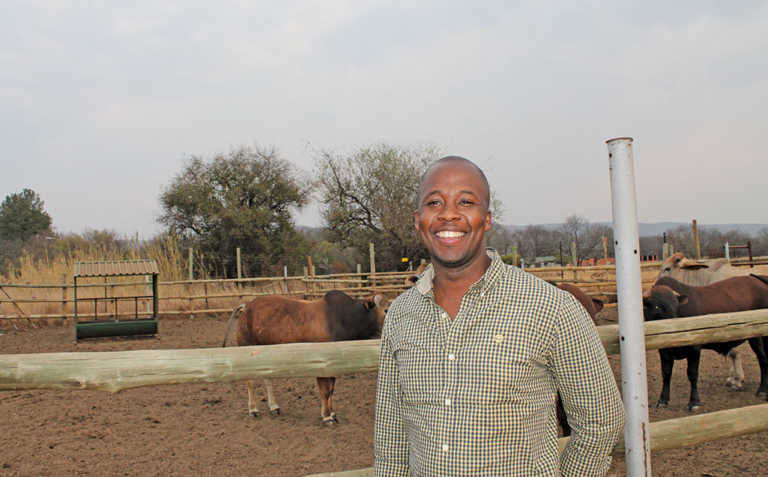 "Own the value chain," farmers are often told. This allows one to control the price of inputs and increase profits substantially.
Jerry Boshoga of Bifteck Farm in Kameeldrift West near Pretoria has taken this advice seriously – and reaped the rewards. Jerry has run a thriving shisa nyama (buy and braai) in Mamelodi for years.
After developing an interest in farming some years ago, he used his savings to buy three adjoining plots in 2010, thinking that one day he could focus on farming. He was undecided, though, on what he would grow on them.
Then, faced with rising meat prices last year, it dawned on him that having the land gave him the ideal opportunity to produce his own meat, through feedlotting.
"I used to buy meat from an abattoir but to make a profit I had to increase my price substantially. This wasn't good for business," explains Jerry. He incorporated the three plots into one 21ha farm, and last year built a feedlot.
He says that although feedlotting comes with a certain amount of risk, it can also be profitable. And it has two other distinct advantages: it can be established on a small area, and there is no need for arable land. All that's required is a gently sloping site with a good, secure water supply. And fortunately, Jerry has two boreholes with a minimum capacity of 4 000l/ hour.
He started by building two kraals with a total capacity of 200 cattle and a 150m² feed mixing/storage facility.
Next, he purchased a hammer mill, tractor, mower, 4t truck, and 10 troughs for feed and water, all with his own money. Jerry believes it's better to start a business with little or no debt. Because he did not know much about feedlots, he looked for a mentor. As it happened, his neighbour Seun Liebenberg is also a feedlotter, and was more than happy to help Jerry out.
Quality animals
Currently, Jerry turns out slaughter cattle at the rate of 200 per four-month cycle. He wants to increase this to 500, but realises that it's important to grow slowly as his experience increases.
Jerry buys his weaners mainly at auctions, mostly those that are close by. "With feedlotting, I need to save as much as I can where possible," he explains.
"Factors affecting profit include the purchase price and transport cost of cattle for the feedlot. I buy weaners at a weight of 200kg to 240kg and prefer Simmentaler, Simbra, Bonsmara and Brahman cattle. I'd like to buy more Bonsmaras, but every feedlotter seems to prefer them, so there's a lot of competition at the auctions."
For Jerry, the success of a feedlot operation lies in the availability and price of quality animals.
"This can be a challenge, because established commercial feedlotters also buy their animals at the auctions and I have to compete against them," he says.
"Commercial feedlots have strong financial resources, and good animals are scarce." Jerry explains that cattle can be put in a feedlot at any age, but after weaning is best. This could be any time between seven and nine months of age.
Feeding for profit
According to Jerry, the price of feed remains an ongoing challenge. "A feedlot's loss or profit depends on how you use the feed," he explains.
"The daily weight gain in relation to feed cost is crucial: each day, an animal has to put on a minimum amount of weight from a specific amount of feed. My cattle have to gain at least 1,2kg per day during their first two and half months. From 80 days, they must have an average daily weight gain of at least 2,5kg. I aim to put 200kg to 250kg on each animal during the 120 days they spend in the feedlot."
Achieving this requires strict management – and using the right amount of feed for a targeted live weight of between 500kg and 580kg at finishing.
"If at some point I find myself using more feed and not achieving these weight gains at the targeted time, then I'm not doing it right," says Jerry.
Mixing the feed
On arrival, weaners and other cattle are processed for the feedlot. This includes weighing, ear tagging for record purposes, de-worming, dipping for ticks and inoculation against black quarter, a common feedlot disease.
During the first week, the cattle are fed only hay before being treated with a growth hormone. The latter takes about a week to kick in before the feedlot ration is supplied.
Although smaller feedlots commonly buy pre-mixed feed from feed companies or larger feedlots, Jerry prefers to mix his own. He buys the ingredients from his mentor, Seun, who also helps him with the mixing.
From the second week onwards, each tonne of mixed rations consists of five 25kg-bags wheat bran, five 25kg-bags maize chop, 300kg hay and two 25kg-bags molasses.
Marketing
For his shisa nyama, Jerry slaughters about five cattle a week at the Strydfontein abattoir in Pretoria North, paying for this service with the offal. He uses A2 beef, which has less fat.
"Most township people prefer meat with less fat, in contrast to the suburban market, which prefers more fat in the meat," he explains.
Jerry also supplies five A3 carcasses a week to Henmar Butchery in Pretoria North. Other customers are Ledwaba Funeral Parlour and the general public.
Jerry recently signed an agreement with Karan Beef to supply its abattoir. "We agreed to start with at least 20 cattle a week.
I'd like to increase this to at least 350 a week," he says. But Jerry admits that expansion comes with its own challenges.
"As I grow, my resources also need to grow. I'll need at least a larger feed mixer and loader, more water troughs, insulated shelter, a well-equipped emergency room, another tractor and an additional kraal for 400 cattle."
Phone Jerry Boshoga at 079 238 7917.