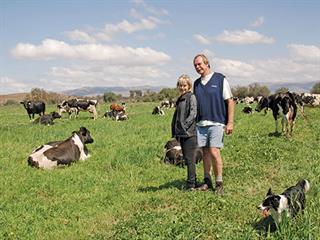 A further 11 cows are approaching the 100 000kg mark, while the highest-producing cow recorded 136 333kg.
"To achieve these figures in our area, the cows must be tough as well as productive," says Wait-and-See owner John Sieberhagen.
Temperatures are known to fall below freezing in winter, while summer temperatures can be extremely high, with an increased risk of contracting tick-borne diseases (redwater, gall sickness and heartwater). An inoculation programme is in place as a preventative measure.
The Wait-and-See herd has produced five of SA Holstein's number one indexing cows, South Africa's highest classified cow and a bull with the highest breeding value for type.
"About a year ago, we began to realise there were cows in our herd that had broken the 100000kg barrier," says John. "Globally, there are few farms that have attained this production."
There are cows in North American herds that attain this figure, he explains, but they have a far kinder environment in many ways and their cows are housed.
"US farmers don't face the same climate and disease challenges faced by SA farmers. Local is lekker, and it's comparative, under conditions that are far more stressful for cows," he says.
Looking more closely at his high producers, John discovered that there was a commonality to the cows.
"They're not too big. They're broad and deep-bodied, with good capacity. They can put on condition in late lactation. This is a Holstein suitable for African dairying conditions," he says.
John selects sires for strength, breadth and depth, and sources semen locally (including home-bred bulls) and internationally. He says that SA farmers tend to look abroad for sires, while there are good local bulls that can do the job just as well or perhaps better than sires from other countries.
"The genetics for longevity and production have been selected from cow families on the farm for generations," he adds.
Good udder attachment is a high-value trait in dairy cows and John says that this is a feature of his Holsteins. "The better the attachment, the lower the chance of a dairy cow getting mastitis or damaging the udder."
Proactive mastitis prevention and control is critical to any dairy parlour and cow management plan. "The milking parlour has to be an hygienic environment," says John.
Good movement is another important trait, as the cows must be able to walk easily from the pasture to the dairy.
* Adapted from 'Getting it right with Holsteins', by Heather Dugmore (FW, 3 October 2014).