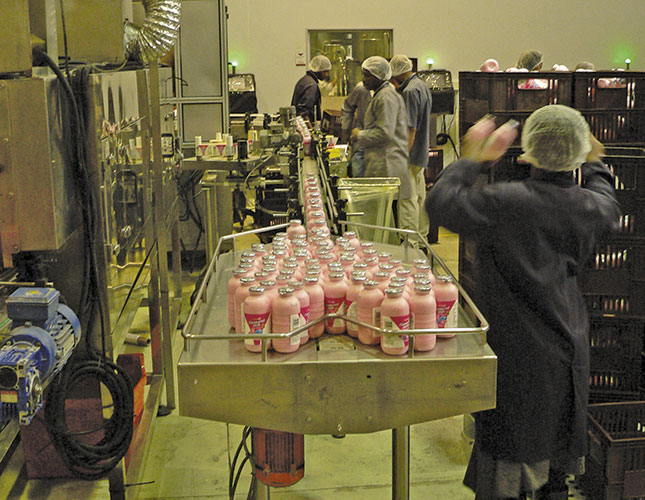 In 1987, when Kevin Lang and his wife, Shannon, bought Fairfield Farm near Curry's Post in the KwaZulu-Natal Midlands, they took over an existing vegetable growing enterprise. Adding value by pre-packing, he sold his produce to Woolworths, Pick n Pay, Spar and Checkers.
As profits came in, Kevin started developing a plan for running a commercial dairy alongside the veggie business. From his first purchase of 50 Holstein heifers in 1990, through necessity and a talent for planning and implementing value added products, Kevin now owns a 3,2 million litre a month milk processing plant, as well as a thriving Holstein and Ayrshire dairy stud, a Red Angus beef stud, and a small Quarter Horse stud.
Marketing and planning
Kevin's first intended milk buyer, Clover, turned him down because it was not recruiting new milk suppliers at the time. Fortunately, through his existing business relationship with Pick n Pay, Kevin was able to secure an initial outlet for his milk to Pick n Pay shops in nearby Pietermaritzburg. But the milk had to be pasteurised and bottled.
"I had to invest in an on-farm pasteuriser and early on the bottling was done by hand," recalls Kevin. "We were doing about 1 000l of milk a day but almost immediately demand outgrew supply, forcing me to find other milk suppliers in the area."
Kevin offered a premium price and quickly found farmers keen to supply him.
Growth was so rapid that in 1992 he began to focus solely on milk production and processing. Fairfield's 100 stud Ayrshire cows and 200 stud Holstein cows supply 210 000l a month to the processing plant; the rest of the milk comes from nine other Midlands dairy farmers.
Quality in all fields
The winner of a number of awards for its top quality products, especially yoghurts and soft cheeses, Fairfield Dairy – a growing landmark alongside the N3 highway at Howick – continues to supply Woolworths, Pick n Pay and Spar with products manufactured to the strictest hygiene and ethical standards.
Kevin developed his Ayrshire herd to cater for Woolworth's requirements and uses top genetics in both Ayrshire and Holstein herds to improve production.
"I breed show type animals. Showing cows is a hobby that I enjoy in addition to farming. A valuable spin-off to this is that my studs are advertised to potential clients at the shows," adds Kevin.
Kevin's dairy studs, Grace Valley Ayrshires and Grace Valley Holsteins, sell a number of stud bulls every year. Stud females generally go for premium prices. After achieving his breeding goals for the Ayrshire herd, Kevin began to bring his Holstein herd up to the same standard. He is happy with the progress he, farm manager, Bruce Braithwaite, and assistant dairy manager, Nelson Ndabeni, have made towards the Holstein herd's improvement.
"The top genetics we use in both our dairy herds add value to the business by helping us to achieve high producing, fertile, efficient and productive cows, with good legs and udders. These attributes are also valuable in the show arena. Basically, we want productive, no-hassle cows in our herds," explains Kevin.
He sticks with breeding goals to produce the most desirable Holstein cows that can do well in any farming system.
READ: High-volume Holsteins on the West Coast
"We are trying to avoid extremes of size and want a medium-framed cow that can do well on a pasture-based system and win in a show. Each time we AI a cow or a heifer we are planning to breed a champion. We keep throwing the dice and every now and then we get it right and that is really exciting."
Holstein and Ayrshire Nutrition
The Fairfield Farm herd is run on a pasture-based system coupled with the strategic use of TMR at various times of the year. In peak production, the Ayrshires average 25l/day, with 3,7% butterfat and 3,3% protein content, and an average lactation of 7 346kg per cow. The Holsteins average up to 32l/day, with 3,4% butterfat and 3,2% protein content, and an average lactation of 9 144kg milk per cow.
READ: Feeding dairy cows – Part 1
"From December to March, in their first 100 days of lactation, cows spend half the day in the shed on 15kg of maize silage, 2kg of brewer's grain and 1,5kg ryegrass silage. The rest of the day they graze on ryegrass or kikuyu pastures," says Kevin.
"The kikuyu is grazed during warmer summer months. In the cooler winter season the cows graze mostly ryegrass pastures, sown with a mix of 22kg/ha of annual ryegrass seed, 8 kg/ ha of perennial ryegrass seed and 1,5kg/ha of white and red clover seed."
Kevin appreciates that the 300 cow milking herd is not large enough to be economically viable on milk production alone.
The income from selling quality stud animals supplements the milk income. Kevin's two dairy studs collectively market about 30 bulls and 40 females annually.
Careful sire selection
On the Holsteins he uses bulls from different AI companies and shops around to find bulls that will fit into Fairfield Farm's breeding programme. Kevin, Bruce and Nelson have used a lot of Shottle and Goldwyn semen in the past and currently their frontline bulls are Berryhill, Goldchip, Braxton, Windbrook, Lauthority, Sid, Superstition and Domain. World Wide Sires is working on genomic profiles for some of the Fairfield cows. Kevin believes that this is the way forward and will revolutionise breeding.
Bulls of choice for the Ayrshires are Burdette, Dreamer, Charleston and Distinction.
"We use about 20% genomically tested young sires on our Holsteins in order to stay ahead of the game. For the rest we use internationally proven AI sires," adds Kevin. "When selecting bulls I travel overseas to see a bull's daughters on the ground. But at the end of the day breeding good cows is not an exact science."
Kevin feels it is important to see the daughters of a bull before using him.
"Bull proofs don't always tell the full story and I like to get a better idea from seeing actual daughters."
Environmental sense
Fairfield increasingly practices biological farming methods. On the advice of consultant Rory Milbank, soil and leaf samples are analysed at Brookside Laboratories. Recommendations help with pasture and crop planning. Kevin and his team try to keep the use of agro-chemicals and nitrogen to a minimum, and avoid using glyphosate products where they can.
"We use as little conventional tillage as possible. Soils are fed with green manure, livestock manure and crop residues," says Kevin.
This visionary farmer says that reliable and capable staff who share his views are key to the success of his business. He prefers to have others manage the detail once he has set the ball rolling.
"It's important to know your strengths and weaknesses. I'm fortunate to have good people to keep my various business ideas running successfully."
Phone Kevin Lang on 082 556 8090, or email him at [email protected].
This article was originally published in the 11 May 2012 issue of Farmer's Weekly.