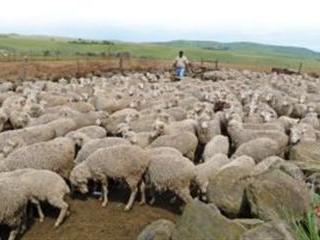 "I like working in the rural areas and helping the people so that they can help themselves. I enjoy my job 100%," says Mlungisi Khohlani, an extension officer from the Eastern Cape Department of Rural Development and Agrarian Reform (DRDAR). He explains that working with dedicated farmers like those from the Lunyaweni area, near Ugie in the former Transkei, is not only a pleasure, but also very rewarding.
Khohlani's colleague, Nosisi Mbambalala, agrees and tells how the farmers – mainly elderly men and women – produced 42 wool bales in the 2011/2012 season, generating R93 000 to add to their income from the sale of slaughter sheep. According to Raphael Sophazi, chairperson of the Lunyaweni Farmers' Group (LFG), the group owns 5 415 sheep (including rams, ewes and lambs), and the support the farmers have received from government and NGOs has played a central role in the increasing success of their small-stock initiative.
Jerry Wayi still believes in the value of using oxen instead of tractors to plough the lands. Here he shows some of the yokes he uses.
In fact, he explains that the group was officially created in 2010 to leverage external support for its agricultural initiatives the government prefers smallholder farmers to operate in a co-op set-up. Currently, Lunyaweni is covered by the DRDAR's sheep scab treatment campaigns covering the former Transkei area and the LFG is also waiting for the completion of a new shearing shed funded by the Elundini Local Municipality.
New rams
However, the National Wool Growers' Association (NWGA) Ram Breeding Project (supported by the DRDAR) – which aims at introducing commercially bred rams into communal flocks – that's probably had the most telling impact on production, says Raphael. The LFG received 18 rams last year, and these have made a big difference. "You can see it with the quality of the lambs and the wool," says Raphael.
The rams are very important, he adds, as the LFG wants to take advantage of their quality genetics and base future production on the rams. More assistance came a year ago, when Pfizer Animal Health began training farmers in the area on how to establish and maintain effective animal health programmes for their sheep in order to improve production.
Reduced mortality
Raphael says the impact of Pfizer's involvement was illustrated by LFG's most recent crop of lambs. "When we started using Pfizer we saw improvements in our sheep," he notes. "We used to lose about 70% of the lambs, but now we only lose 20%." Naturally, this decrease in mortality not only benefits wool production but also the ability to market more sheep to a vibrant local market for slaughter sheep – especially during the festive season. "We sell a lot of sheep over December, because everybody is partying," says Raphael.
Since the 2007/2008 season, BKB has offered wool sorting and classing courses and has been transporting and marketing the Lunyaweni farmers' wool. According to Raphael, BKB's training has allowed farmers to take more control of their wool by preparing it more effectively for the market place.
Oxen returning from a long day's work in the household gardens in Lunyaweni.
Before, he had seen wool simply as a raw product and admits that, like many others in the area, he sold all his wool to private buyers who paid upfront. "We were selling our wool to those cars that drive through the region hooting and calling for uboya [wool]," he says. "It's a problem, because they get our wool for nothing and then they sell it for something."
He says that communal farmers should rather partner with recognised brokers which have the skill to market wool effectively. "You get much more when your wool has been sorted properly," he explains. "Farmers must go straight to BKB and other recognised brokers."
Greater volumes
LFG aims to produce increasingly better quality wool in greater volumes, says Raphael. To achieve this, he adds, sheep must be healthy and supported with supplementary feed whenever needed. Therefore, aside from the Pfizer animal health regimes, the LFG attempts to support ewes and lambs by planting oats and turnips in household gardens – and, when the budget allows, offer salt and licks as well.
Ploughing is done with Raphael's tractor and Jerry Wayi's beloved span of oxen. Now in his 70s, Jerry insists that a span of oxen isn't only a cheap method of getting your ploughing done, but also helps preserve the soil. "Tractors mess up the soil," he explains. "They turn up the soil to expose rocks. It's far better to plough with these oxen." Farming in the Lunyaweni area has its own unique challenges. For example, veld fires are practically unstoppable. And Ugie is 40km away, making buying of products a time-consuming and costly affair.
Furthermore, unable to separate their sheep from other livestock in the communal grazing areas, the combating of diseases such as sheep scab is an ongoing problem. As is keeping other and inferior rams away from their ewes. "Those are the problems because they are grazing in the same land," says Raphael. "There is nothing we can do because we don't have [commercial] farms here."

From left: Unathi Sibeko (farmer), Mhlobo Faca (farmer), Nosisi Mbambalala (DRDAR), Raphael Sophazi (chairperson of the Lunyaweni Farmers' Group), Mlungisi Khohlani (DRDAR) and Wilson Ngedle (farmer) with two rams from the NWGA Ram Breeding Project taht have been successfully incorporated into the group's communal flock of sheep.
Jackal & stock theft
Then, despite the farmers hunting jackal (and caracal to a lesser degree) with packs of dogs, predators continue to thrive in the area, which is bordered by commercial forest plantations. "There are many jackals here. They come out of the forests and by 7pm you can hear them howling," says Raphael. ''It's risky to farm over those mountains because you're taking them [the sheep] next to the wolves [jackals].''
Then, of course, there's the age-old problem of stock theft. This remains a major stumbling block to wealth accumulation in the area. Sheep losses to brazen thieves are common, says Raphael. For example, in July this year, the community lost more than 20 sheep, of which eight belonged to Raphael.
In July 2011, meanwhile, the community experienced its worst raid to date by stock thieves, with some 40 cattle being stolen (again, eight of these belonged to Raphael). Interestingly, some of these cattle were eventually linked to an abattoir in Port Elizabeth, suggesting they were probably stolen by a relatively sophisticated syndicate with significant logistic capabilities.
Disturbingly, though, theft isn't confined to livestock. In recent years, favourable wool prices have seen thieves raiding shearing sheds, including the one at nearby Ncembu, built by the DRDAR. It was cleaned out of wool last year, says Raphael. So for for the time being, they keep their wool at home.
Contact Mlungisi Kholani on 076 410 2386.