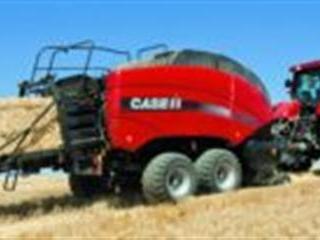 Case IH's new LB4 range of large square balers consists of four models: the LB324 (bale dimensions 80cm x 70 cm), the LB 334 (80cm x 90cm), the LB 424 (120cm x 70cm) and LB 434 (120cm x 90 cm). Virtually all key areas have been revised or redeveloped. For the first time, extremely rugged composite synthetic materials have been used for the body panels. In addition to saving weight, this greatly reduces the quantity of dust that enters the baler.
A new option is a compressed air-cleaning system that keeps Case IH's double knotter system clear of debris, thereby increasing reliability. The crop flow rate has been boosted with a faster straight-line crop flow within the baler, optimising transfer from pickup to pre-compression chamber and the ability to handle the large capacity efficiently. The plunger speed has been increased to 48 strokes/minute to provide the higher capacity.
The result is better performance, depending on operating conditions. There are two bale ejection options. The standard bale ejector empties the chamber, while the partial bale ejector ejects only the finished bale, keeping the next incomplete bale in the chamber and allowing the bale chute to be folded away for transport. Storage space has been increased to accommodate 32 balls of twine, meaning fewer stops for refilling.
The entire front section of the body can now be easily opened upwards to provide access to all drives for maintenance and servicing. At the rear of the balers is a new service deck, accessed by convenient steps, allowing maintenance work to be performed safely. An optional 'comfort package' includes a deck safety rail, large dustproof toolbox and a water tank for hand washing. The baler will be arriving in SA in May 2013 but can already be ordered now.

Compact and manoeuvrable
In spite of their higher performance and capacity, the new LB series balers are less than 3m wide on 600mm-wide tyres. Transport speeds of 40km/h are possible. Advanced Farming Systems (AFS) are standard on LB balers, with a choice between AFS300 and top-of-the-range AFS700 colour monitors to control the ISOBUS-compatible machines. You can also operate the balers through the terminals of other manufacturers' ISOBUS-compatible tractors.
The Case IH AFS continuously monitors and displays all key baler functions. On LB4 models, a new visual steering aid assists operators in picking up very small or irregular swathes and ensures uniform, sturdy bales are formed even in difficult conditions. On the AFS700 monitor, images from several video cameras can be displayed simultaneously. A GPS logger is available as an option for recording bale moisture and, together with a bale weighing system, can be used for complete bale documenting. Data can be exported onto a USB drive if required.
Better pickup performance
Many of the LB4 balers' key innovations can be found in the new pickup, which now has a 2,4m working width. A swathe windguard, available in a rake or roller version, and manually-adjustable to match crop conditions, works with an additional intake auger and central feed roller to ensure rapid, loss-free transfer, even with bulky harvest material.
The pneumatic jockey wheels on the pickup can be adjusted for different working conditions without the need for tools. Pickup height is easily adjusted for thorough crop collection whatever the type or condition, and minimises the risk of damage to the pickup. The large pneumatic jockey wheels, together with the adjustable suspension system, ensure maximum protection to the pickup, even when working at high speeds in rough lands.