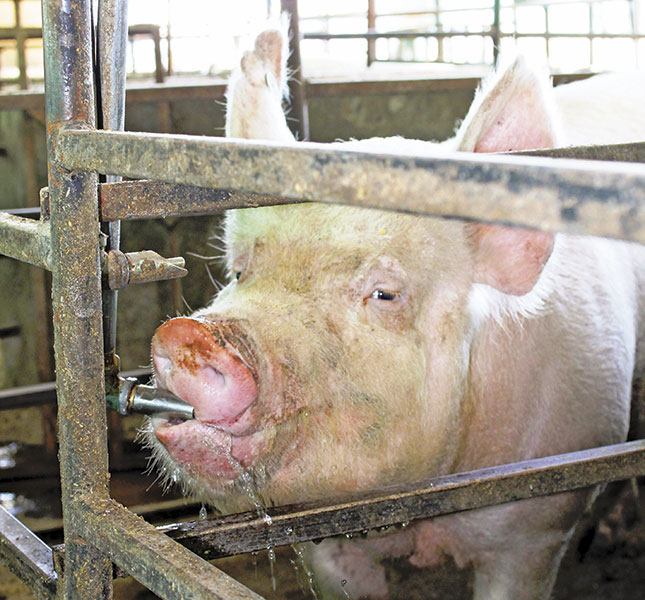 The first thing that one notices when walking into Thami Zimu's piggery sheds is how clean they are – and virtually free of the strong ammonia smell normally associated with a commercial piggery. Thami decided to use commercial pig production as a quick income-generating alternative to her long-term commercial forestry enterprise.
READ: Building a piggery with patience & passion
Thami, who has been farming pigs for only two years, admits that she still has much to learn. But she is keen to do her best in her farming enterprise as far as her finances and knowledge will allow.
A full-time commercial farmer since 2001, originally focusing on sugarcane and commercial forestry enterprises on her first farm at Umzinto in KwaZulu-Natal, Thami is no stranger to agriculture. She eventually sold that farm to develop her recently-acquired 2 500ha Ntuso Projects Holdings farm between Bulwer and Underberg.
Since 2003, about 1 000ha of this farm has been planted to a 50/50 mix of commercial pine and eucalyptus timber. While financial returns from commercial forestry are generally good, they are years in coming. So to generate income, she invested in producing marketable livestock.
"I currently have about 57 beef cattle, 150 goats and 150 sheep on natural grazing," she explains. "But a piggery is now my passion. When I realised that I had the space for a commercial piggery and could find a market for my animals – about two years before it was built – I began planning this business.
"I took a big risk because I was entirely self-taught about pig production. I'd found the information on the Internet."

A former National Female Farmer of the Year, Thami is passionate about her pig production enterprise.
Getting help
Thami knows how important it is to ask experts for advice and guidance. She approached the South African Pork Producers' Organisation (Sappo) for plans for a piggery best suited to her production conditions, finances and skills.
READ: How SAPPO is helping small-scale pig farmers
While these plans proved an invaluable foundation to work from, Thami adapted them to further accommodate her limited financial resources and to meet her ideas of a user- and pig-friendly production facility.
Since opening her 70-breeding sow piggery, Thami has expanded her knowledge and skills base by attending information days and courses hosted by Sappo's Baynesfield Training Academy in KZN, and the KZN Department of Agriculture and Environmental Affairs. Her piggery is registered as Khwezi Sugar Estates, trading as KP Piggery.
Thami is also grateful for the ongoing mentorship on all aspects of commercial pig production provided by expert Dr Edgar Ortmann, a veterinarian from Howick Veterinary Clinic. The Agricultural Development Agency in Pietermaritzburg and the Ingwe Local Municipality, where she farms, have also been firm supporters of KP Piggery.
Breeding for commercial pig production
"I farm mainly with Landrace x Large White pigs because my research found the breeds to have great mothering instincts and a good milk supply for their piglets. They're also said to have good feed-to-weight conversion," Thami says.
READ: Superior genetics ensures pig breeding profits
"I'm still in the process of calculating my average feed conversion, but my piggery is not yet generating a decent profit.
"I'm planning to change this situation within the next three years as my management skills and experience improve."
Thami sourced her original – and still current – breeding sows from Hogan Stud in Howick. From opening the piggery, until mid-August of this year, she also used the same three boars.
Two of these were from Hogan Stud and the third from Kanhym in Middelburg, Mpumalanga. She has since retired the two Hogan Stud animals and replaced them with four Landrace x Large White boars from Mthonjeni Stud in Eston, KZN.
Conception
Thami adds that until she is trained in collecting boar semen and artificially inseminating her sows in line with more modern commercial piggery practices, she will continue to implement natural sow servicing.
"My natural servicing methods are working well," she explains. "I select a boar to cover a sow of a similar size. When I had only three boars, we had three to four sows serviced a week. Now, with the new and growing boar numbers, we service about five sows a week.
"These groups will farrow down within days of each other about three months, three weeks and three days after conceiving," she says.
Thami stresses that to maximise boar and sow fertility, as well as conception, the animals must be healthy and well-fed, but not overweight.
To improve conception, the animals are serviced three times, at 12-hour intervals, in a 24-hour period by the same boar.
"I usually conduct the first service at about 6am before the sow and boar are fed at 8am. The second one is at 6pm, three hours after the 3pm feeding. The third is at 6am the following morning. On a really hot day, I might delay the evening service by an hour or two until it's cooler and the morning service might be an hour or two earlier before the day gets too hot," she says.

From left, Thami's employees, Sizwe Ndaba (front) and Lu Mukwambe, vaccinating one of the new Landrace x Large White boars from Mthonjeni Stud before the boar enters the piggery. The sack keeps the boar calm.

To maximise the chance of conception, Thami also gives the animals manual assistance. She, or one of her staff, guides the boar's penis into the sow, ensuring that it remains in place for about five minutes for proper insemination.
"Our breeding management seems to be getting better. When we first started, we were getting an average of 10 piglets per litter, but we now get 12 piglets per litter," she says.
KP Piggery's piglets spend their first 30 days of life suckling from their mother. From three days, they are also given ad lib access to a piglet starter feed, Asa 1. This is to ensure that when weaned at 30 days, they are accustomed to solid feed, have had early access to crucial nutrients and will be less likely to experience stress.
Once weaned, all piglets born in the same week are placed in a single large growing pen. If there are any that are underweight, they are separated from the larger group and placed in a special pen to catch up without being bullied by larger piglets.
For their first 14 days away from their mothers, Thami continues to feed all piglets ad lib on Asa 1 feed.
From day 15 to 45 post-weaning, she changes their feed to an ad lib ration of Epol's Econo Weaner 180.
From day 46, the large group is split into three to four groups of similar size and each is moved into its own growing-out pen.
The piglets then start receiving an ad lib ration of Epol's Econo Porker 155 feed.
Deliveries
Once piglets reach 95kg to 100kg liveweight – when they are about 180 days old – Thami delivers 50 of them, now called baconers, to Oscar's Deli Meats in Pietermaritzburg, where they are slaughtered and processed.
These deliveries are currently made once a fortnight, saving the piggery money on transport costs. However, as the piggery grows, they will have to be made every week.
"Obviously, the sooner my pigs get to their slaughter weight, the greater the feed cost savings," she says. "On occasion, I've been able to get a group of porkers to baconer weight 14 days earlier than usual. This is a huge saving for me."
The future
Thami admits that she spends much of her time focused on her pigs.
"Even my children complain that I think too much about my piggery. I aim to eventually have 300 sows.
"I'm growing the piggery as my finances allow. With funding from Old Mutual's Masisizane Fund, I'm already levelling ground next to the existing piggery to build two more grower houses to accommodate my growing numbers."

Phone Thami Zimu on 072 228 7035 or email her at [email protected].
This article was origionally published in the 6 September 2013 issue of Farmers Weekly.