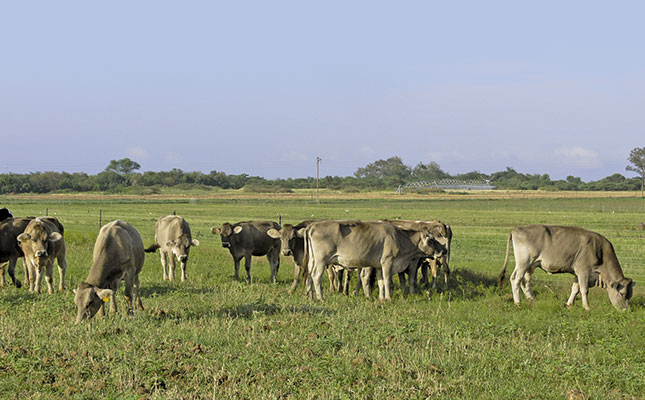 Michael Duckitt, from Darling in the Western Cape, swopped high-risk traditional crop farming for farming low-risk, grass-fed Nguni cattle. In so doing, he is also restoring the natural vegetation on his farm.
The farm, Waylands, in the Darling area of the Western Cape has been in the Duckitt family since 1865. As is typical of the area, it was traditionally a wheat and dairy farm. The area receives an annual winter rainfall of 480mm, has a moderate climate and fertile mixed soils, and is well-suited to the production of wine grapes, sheep and pigs.
Although Michael Duckitt produces all three on his 1 232ha farm, he is most passionate about his Nguni cattle. He maintains that the breed has completely changed his views on cattle farming.
"Everything about Nguni cattle is remarkable and favourable, not least their survival rate in adverse conditions," he says.
Michael, the sixth-generation Duckitt to farm on Waylands, started farming with his father, John, in 2002.
"We closed our dairy in 2003 as Darling has huge dairy farms and we simply couldn't keep up," he recalls. "In 2008, we also started scaling down wheat.
Farmer Michael Duckitt, of Waylands farm in Darling, is a senior Nguni breed stud inspector.
"When we sold the dairy herd, we first bought mixed cattle and then the first 11 Nguni heifers from the renowned breeder, Cedric Stoch, who farms nearby. So, we did a slow switchover from high-risk crop farming to low-risk Nguni cattle farming."
He is convinced that he made the switch just in time.
"I didn't sow any wheat last year, which I believe saved us, and all my stock survived the drought. I gave the Merinos supplementary feed so they'd survive, but the Ngunis had nothing extra and pulled through with no problems."
Nature-based farming
"My entire farming model is based on restoring the farm's natural veld, and to do this I simply farm with Nguni cattle. They're even taking care of the small patch of Port Jackson willow on the farm. They're not fussy eaters," says Michael.
Waylands has 400ha of mixed fynbos veld consisting mainly of West Coast renosterveld and seasonal wetland areas. The cattle graze on fynbos, mixed grasses and wheat stubble.
"They clean up all the debris at the base of fynbos plants. This stimulates growth and regular burning isn't necessary because the Ngunis do the work."
Michael follows a strictly managed intensive rotational grazing (MIRG) programme, and the cattle graze on wheat stubble after harvesting in early summer.
"When animals graze a little, it stimulates growth and the vegetation recovers very quickly. But if you leave animals in a camp until there's nothing left, it takes years to recover."
Realising the breed's potential
Michael currently has 150 Nguni cows, excluding heifers and calves, as his core breeding herd. He had 200 cows, but sold off the older animals when the drought hit. His entire Nguni herd survived the drought, and all his cows calved.
"Ngunis utilise food wisely," he explains. "I used to think they were small, ugly cattle, but when I learnt about them I very quickly realised their potential. Now I'm a senior stud inspector and my only farming regret is that I didn't start farming Ngunis sooner. There's a market for every part of the Nguni too.
"I see commercial cattle production in South Africa as being all about weaner weight at the expense of everything else. To me, this isn't sustainable for the farmer, only for the feedlots and butcheries."
Farming Ngunis requires a change of mindset, he stresses.
"With Ngunis, you talk of a carrying capacity in kg/ha, not animals/ha. You don't count how many animals you load on the truck for slaughter, but how many kilograms there are."
Waylands' carrying capacity can accommodate three Ngunis for every one animal of a European breed.
"For most European breeds, calf weaner weights are between 200kg and 220kg, whereas the Nguni weaner will probably weigh 180kg. But three Ngunis totalling 540kg far outweigh one weaner of 220kg."
Nguni cattle maintenance costs
According to Michael, Nguni cattle production should also be looked at in terms of cost/kg. The breed can fend for itself and lives off the veld, eating natural mixed grasses, bush and fynbos.
In addition, production costs are kept low because Ngunis are naturally resistant to disease and more resistant to parasites than some other breeds.
"We live in parasite heaven here, but I break parasite cycles with my grazing programme by moving my cattle constantly."
He adds, however, that a compromised animal, or one that has been in a fight or has injured itself, will be more susceptible to parasites. While he treats individual animals where necessary, he does not keep any medicines on the farm.
"If I need something, I'll go to the vet and get the required dosage, but my healthcare bills have gone down to virtually nothing. Each animal also gets only two chances."
Although ticks occur in the area, they do not pose a real threat as the cattle egrets keep them in check.
"Since we stopped using pour-on dips, the birds have started coming back and sorted out the ticks," Michael explains.
Production
Waylands Ngunis are normally kept in one herd. Calves are born at the end of winter and bulls stay with the herd.
"I leave calves with their mothers longer to wean naturally. I also put animals to be sold to the abattoir in a separate camp, so they can relax a bit before they are sold. Stress plays a huge part in meat quality and tenderness, much more so than age."
Michael seldom sells off animals younger than 20 months. This, he says, is what works for him in his farming system, because he has the necessary space and grazing.
"This is how I can produce the most kilograms of beef per hectare."
He explains that commercial farmers sell off weaners so they can keep more cows and hence get more calves, but for him it pays to keep fewer cows and rather keep weaners longer, so he can sell them off directly.
"This is how I can produce the most kg/ha. Every farm will have a different scenario, but I believe in focusing on kg/ha."
Production ranges from 250kg to 350kg (it has reached 500kg) of beef and mutton per hectare with no supplementary feeding. This year, because of the drought, it will take three to four months longer to get the animals market-ready, according to Michael.
Feedlots
Michael says that feedlots pay less for Ngunis.
"There is a difference in feeding Nguni cattle in feedlots. Ngunis put on fat faster than other breeds, but you have to feed them differently, so feedlots don't like them so much. A way around this is to keep animals a little longer and sell off long weaners, or keep them until they're market-ready and have them slaughtered directly."
To comply with health regulations, all Waylands Ngunis are slaughtered and processed off the farm. Steak, burgers, mince and wors, among other products, are packaged for sale to the public. Nguni meat has a rich colour and is tender and full of flavour.
Commercial and niche markets 

Most of Michael's animals go into the commercial market, but he also supplies 'clean food' markets such as The Palms Market in Cape Town. He plans to supply more of these kinds of markets in the near future, along with delis and select butcheries. At present he does not have the product continuity to supply supermarket chains.
Michael's short-term plan is to supply his free-range, Nguni cattle products to markets and delis in a move away from the commercial meat market. His soon-to-be 'certified free-range, grass-fed Ngunis' will feed the current and growing need for clean, drug-free beef.
"More and more people want traceable food and are willing to go to some effort to get it. They would rather have good, real food, spend the money and eat less of it if need be.
"Producing organic beef is potentially cheaper than producing commercial beef, but you need a lot of space and time. Certifying organic beef in South Africa is impossibly difficult, but my Ngunis are as close to organic as you can get. More and more people want to eat healthy food and know its origin."
Sheep, pigs and vines
In addition to Ngunis, Waylands has a commercial flock of 600 Merinos for wool and mutton.
"They also mostly do their own thing and are part of the rotational grazing system – which destroys parasite breeding cycles – so their medical bills have also been reduced dramatically," says Michael.
Pork produced from Waylands' crossbred free-range pigs is marketed mainly through a local deli.
Although they do fit in with the Ngunis and Waylands' farming system, Michael did have to provide them with supplementary feed during the drought.
Merinos are shorn every six months in March and September, and lambs are born at the start of winter.
"I keep my Merinos a little longer than most, and don't sell lambs directly after weaning. I prefer to sell them at about a year old, so that I can get more wool from them. I have the space and grazing, so it works for me."
One of the greatest challenges of farming sheep in the Darling area is theft, says Michael.
"Sheep theft is a huge problem with the farm being next to a tar road, so I'm cutting back on the Merinos to make them more manageable and safer from theft."
Waylands' crossbred pigs were originally produced for staff rations, but Michael now also supplies a local deli with his free-range pork. Waylands has seven sows for breeding, and plants some barley for pig feed. Apart from this, the animals are free-range.
Michael produces 10ha of Shiraz and 2ha of Mourvèdre wine grapes, which he supplies to Darling Cellars. Most vineyards are bush vines, and are harvested in February. Unirrigated bush vines are renowned for their intensely flavoured grapes, which make unique wines.
Income from several sources
Currently the Ngunis and Merinos provide the bulk of Michael's income from his farming operations on Waylands, with the cattle offering long-term profits and the sheep short-term. In addition, Michael earns a fixed monthly income by renting out cropland to other farmers.
"I don't have an overdraft and don't want one, which you have to have if you want to farm crops in our area," he says.
"However, the good soils and different soil types in the Darling area mean we also have good natural grazing for stock."
Michael is considering introducing Pedi sheep to his farming operation, but will first have to phase out the Merinos.
"I'm hugely in favour of indigenous breeds, because they're bred to survive."
Email Michael Duckitt at [email protected].
This article was originally published in the 12 February 2016 issue of Farmers Weekly.