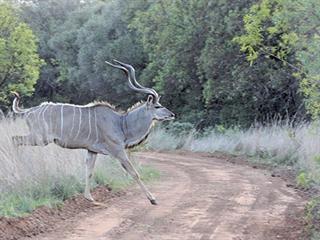 Anyone driving past the dusty little village of Derby in North West is unlikely to expect to find a restored indigenous bushveld and savannah gem 10km from the town. That is what game rancher and professional hunter Stan Burger and his wife Jacqueline have created on their farm Iwamanzi. "Blood, sweat and tears is what it cost us to take Iwamanzi back to nature," says Stan.
"Looking back, I can scarcely believe how hard we worked to wipe out all the traces of an overgrazed livestock farm. But it was worth it. The indigenous vegetation is thriving and wildlife has returned." Stan and Jacqueline bought the 3 700ha property from their friend, John van der Meulen, in 2004. "John, who passed away recently, was a highly-valued friend, who put his trust in us and with a handshake made the Iwamanzi dream come true."
Alien vegetation
When the Burgers bought the farm, about 500ha had been invaded by alien vegetation, mostly black wattle. Other alien species were poplars, eucalypts, Sesbania and willows, which were concentrated in the wetland areas and along the banks of the Selons River, the source of which are springs found on Iwamanzi.
"We set about eradicating the poplar and wattle trees nearest to the river and springs, which was a costly exercise," recalls Stan. "It took labour, chain saws, herbicides, maintenance and the removal of stumps, logs and branches. Eight years later we are still not quite rid of the wattle, as the seed keeps germinating after every veld fire or controlled burn. Fortunately, our Damara sheep have helped by browsing the seedlings and small trees until they eventually die," explains Stan.
He bought his first Damaras in 2004, specifically to combat the wattle. "They eat virtually anything and have to a great extent managed to get rid of the wattle. They literally ate the trees into the ground, browsing on leaves and shoots as soon as these emerge." The soils on Iwamanzi range from white quartz sand on top of weathered ouklip (a laterite conglomerate), to heavy black clay and just about everything in between. The annual average rainfall is 600mm and temperatures vary between -6°C in winter and 38°C in summer.
The farm gate is at the highest point on the farm, 1 645m above sea level. The lowest point is 1 215m above sea level, so altitudinal variation is significant at 430m. The rehabilitated areas now have a lush cover of indigenous grass and the wetlands have rehydrated to become 'sponges' again, says Stan. "After removing the alien vegetation, the level of all the water sources increased almost immediately. Before that, the river would stop flowing at the end of May and only flow again after the first good rains in September or October. Now it flows year-round with only a slight drop in winter. We are considering installing a mini hydro-electric plant to use the flow to generate electricity."
Hard work brings rewards
An unintended result of removing a 4ha section of eucalyptus was the appearance of a strong spring under the floor of a 30m x 40m storage shed Stan had been building, forcing him to relocate it. "If anybody would have told me that removing those eucalyptus trees would cause dry springs to flow so strongly again, I would have been hard pressed to believe them," he says. "The days just weren't long enough for all the work we had to do.

Stan and Jacqueline Burger. Photo by Annelie Coleman
We erected game fences – 50km in all – made 80km of roads and built a 10-bed, five-chalet lodge in the gorge, all within 11 months. We also removed the internal cattle fences and undertook an extensive environmental study conducted by two post-graduate students from the University of Pretoria, in preparation for the introduction of the first game animals to Iwamanzi."
Read: Clearing alien vegetation the environmentally friendly way
Stan started re-introducing game in 2005. Species such as bushbuck, kudu, bushpig and warthog returned on their own. The current recommended stocking rate for the area is 5ha per LSU. "Iwamanzi is currently stocked at about 50% of its carrying capacity," he explains.
"That is where I would like to keep it to reduce damage to the vegetation should we have a drought or dry season in the future. The carrying capacity has slowly improved over the years as a result of alien vegetation removal, rehabilitation of badly eroded areas, and properly timed and managed burning. The above-average rainfall received from 2009 to 2011 played a major role in the general improvement of the veld," says Stan.
The first game species to be relocated to Iwamanzi were blesbok and giraffe, followed by a further 23 species. Iwamanzi has many different habitat types. Highveld grassland supports herds of black wildebeest, gemsbok, springbok, mountain reedbuck and common reedbuck in the top section of the farm, where there are also large herds of blesbok. Mixed bushveld in the central section is home to red hartebeest, impala, zebra, blue wildebeest, sable, buffalo and hippo.
The sweet bushveld of the lower lying areas makes good winter grazing for many species and is home to kudu, nyala and bushbuck. Stan has also invested in high-value game such as west Zambian sable and Madikwe buffalo, which he calls his 'pension plan'.
"The environmental study indicated which species would do well on Iwamanzi and we followed the recommendations. Each species we stocked was sourced from three different areas to ensure genetic diversity. For example, the impala came from Limpopo, North West and Zululand," Stan says.
Setbacks
"Of course we've suffered some setbacks," says Stan. "We had a giraffe bull struck and killed by lightning. "One of our hippo went for a walk through Koster, much to the consternation of the townsfolk, before disappearing into the maize lands, never to be seen again. Leopard, caracal and other predators have taken their share of our game over the years. Not long ago we found a 4,6m python on the farm, which nearly scared the life out of Jacqueline and the staff," he says.
Profitable venture
According to Stan, game ranching on a large, well-stocked game ranch is far more profitable than conventional livestock farming. This is particularly true on marginal land and when breeding rare species is factored into the operation.It is also more labour-intensive and creates desperately needed jobs in deep rural areas. "The hunting industry in this country makes a huge contribution to the economy," he explains. "It earns about R9 billion annually on mostly marginal land, according to research done by North-West University. We cater for international trophy hunters under the banner of Stan Burger Safaris.
"The weaker rand has had a very positive impact on our international hunting season this year. However, it's always a double-edged sword when escalating fuel and other input costs are taken into account. It's difficult for a small business to cope with fickle international markets and a volatile currency. Hosting local biltong hunters brings some stability to our bottom line and helps us remove excess non-trophy animals."
Stan identifies the many regulations governing the game ranching and hunting industry as a potential problem to the industry. He says that if game animals cannot be traded and moved around freely, they will lose their value and their numbers will decline.
"I find it ironic that you can put as many cattle and sheep on your land as you like and overgraze and abuse the land," he says. But stocking a farm with game animals needs a wide range of permits and plans. Iwamanzi's success can be partly attributed to ongoing staff training and development. All the trackers on the farm are now licensed, professional hunters. To see someone succeed against all odds is very rewarding, says Stan.
Nature restored
"The highlights on Iwamanzi have been the simple incidents. The first time I saw red-billed oxpeckers on the game I knew we were on the right track. Then the fish eagles arrived and stayed. I saw this as the final reward and an endorsement of all the effort we put into creating this special place.
"South Africa is poised to become the hunting and conservation mecca of the world by embracing the sustainable use of its natural resources. With two of the largest professional hunting and game ranching organisations in the world, the Professional Hunters' Association of SA and Wildlife Ranching SA, guiding our industry, we can achieve new heights and secure the future for generations to come."
Phone Stan Burger on 014 549 2248 or email [email protected].